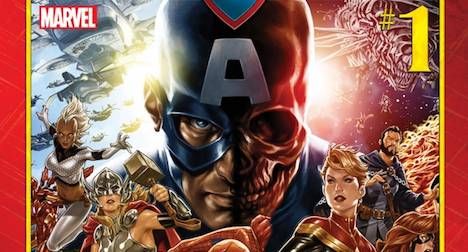 It's May, so that means it's time for the annual launch of Marvel's summer event. This time, it's Secret Empire, which has somehow managed to make the prospect of yet another Marvel event seem even less appetizing than it already sounded. And, while some readers have been genuinely excited for Secret Empire, many have understandably been offended by the prospect of having Captain America retconned to be a HYDRA agent or by the antagonistic PR Marvel has used to push the story. At this point, many of us are just waiting anxiously for this event to be over…
Until that happens, here are some comics I wish I could be reading instead:
Secret Armoire
The scene: a manor house in 1940s England, where four refugee children discover a magical armoire while playing hide-and-go-seek. But, rather than taking them to a mystical land that rhymes with Shmarnia, the Secret Armoire brings them to a dark future where the world has been conquered by an evil fascist organization named C.U.T.T.L.E.F.I.S.H. Fortunately, the four kids team up with the resistance and save the future in time for tea and crumpets. Except the evil mansplaining kid, who gets left behind, because, ugh, he is the absolute worst.
Seacrest Empire
For years, he was America's idol, the face that helped them ring in the new year and who announced the most important election results. But, beneath that smiling façade, he held a dark secret: Ryan Seacrest was really the public face of the Illuminati, and he would soon remake the world in his image using the powers of the Transdimensional Tetrahedron. Now, only one person can stop him: pop idol Kelly Clarkson, who has been quietly biding her time, waiting for a moment like this to take Seacrest down.
Secret Vampire
It's 2017 and an alt-right, borderline fascist businessman has been elected President of the United States. Almost immediately, President Drumpf begins a campaign of terror against the American people: stripping them of healthcare, denying entry to legal immigrants, and threatening to build a wall to keep new immigrants out. But, is the wall really meant to keep others out, or to keep us in? Former Department of Justice head Sally Bates discovers the dark secret at the center of the new administration: the president's shadowy advisor, Ben Stevens, is a vampire, and he'll stop at nothing to turn the United States into a giant feeding lot for his evil master, Russian President and dark lord Vlad Putinsky. Can Sally Bates stop them in time?
Scarlet Umpire
Roger Stevens was that greatest of heroes: an MLB umpire who called them like he saw them. But, not all umpires shared his stringent ethical code. A shadowy cabal of umpires calling themselves Cerberus have conspired to fix baseball games, thus bringing down the national pastime. Now, Stevens must stop them before Americans are forced to resort to watching soccer.
Starlet Empire
It's 1949 and the end of World War II has brought the world's acting elite have all come to Hollywood. But, behind the glitter and tinsel lies a secret world, where everything is controlled by an elite group of studio bosses who can make or break careers with a single phone call. Into this den of iniquity steps our hero, the 22 year-old emigre actress Kateřina Svobodová—redubbed Kate Summers—who is determined to build a new career in America. But, will the lascivious studio bosses be any better than the communist apparatchiks back in Prague?
Piglet Squire
Young Hamlet has always wanted to be a knight. But, as the runt of his litter, the dream seemed out of reach. Until the fateful day when Hamlet is recruited to serve as squire for Sir Porksival, and taken to the capitol city of Hamelot. There, Hamlet learns of a secret conspiracy to kidnap Queen Swinevere. But can the runt of the litter save the queen, or will he need someone to pull his own bacon out of the fire?
Secret Satire
Shhh! It's a secret!