This content contains affiliate links. When you buy through these links, we may earn an affiliate commission.
For lo, it came unto the most wonderful time of the year: the month within which dwells…HALLOWEEN. What better way to to get in the spirit than with some comics for Halloween?
There is no better way. Seriously.
These comics aren't all about Halloween specifically (in fact, going over my list, exactly zero of them are) but each of them does capture a different aspect of that delicious, autumnal chill which never loses its appeal no matter how old, empirical, and practical we become. Here are a few of my favorite Halloween comics (and if you're interested, there are plenty more where these came from):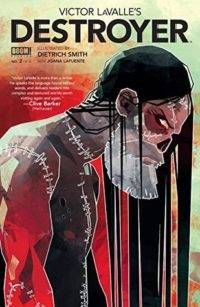 Destroyer: Victor LaValle, Dietrich Smith, and Joanna LeFuente (BOOM! Studios)
Older teens (parental discretion) and up
One would think the last living descendent of Victor Frankenstein would have learned not to mess with things which ought not to be messed with. Unfortunately for her, and fortunately for us, not only has she not learned, she's a genius scientist who trades in nanobots. LaValle brings his singular, signature style to Destroyer, grounding the terrifying and fantastic firmly in near-reality, crafting an entirely plausible only-just-to-the-left-of-here world which will creep you right the heck out. And yes, the monster of legend is very much alive and present and he is less than thrilled with the way events played out all those years ago. Smith and LeFuente's art is somehow both solid and suggestively diffuse, the dark, shadowy color palette setting and maintaining the story's mood perfectly. Definitely in my top five horror comics ever.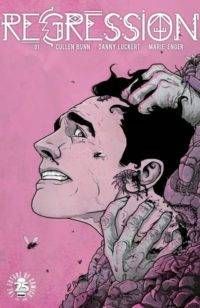 Regression: Cullen Bunn, Danny Luckert, Marie Engler (Image)
Mature Readers
From Bunn, author of another lauded genre project (Harrow County) comes Regression. This one starts with bugs and blood, travels through violent past life regression, and comes back around to satanic ritual murder, so if you have a sensitive stomach or avoid visual horror like a plague of gross, slimy bugs with pincers and glowing evil eyes, I'd recommend skipping this one. If old school horror is your thing, Regression is classic B-movie stuff (that's a compliment, by the way) and this is the comic you're looking for. There's a bit of The X-Files-type action thrown in for good measure, which brings the story into the here and now in a way that will make the hairs on the back of your neck stand up in that fantastic, shivery way. In a bit of a twist, the female lead kicks demon butt instead of damsel-ing the place up and another woman fills the role of "character strong enough to contain the evil by any means necessary." Add in Bunn's real-world experience with Regression Hypnosis (his father was a preforming regression hypnotist among other things) and it's pretty much the perfectly crafted, terrifying tale.
Through the Woods: Emily Carroll (Margaret K. McElderry Books)
Teen (parental discretion) and up
Carroll presents us with another type of creepy story: the fairy tale, Grimm style. These are not prettied up, talking-animal remasters with happy endings. These are dark tales featuring mysterious forests, dead first wives, monstrous sisters-in-law, and disappearing families. The simple, but far from simplistic, artistic style is a perfect complement to the short, bare-bones stories, the combination creating an interactive reading experience by freeing the reader to fill in the gaps with her own imagination. I very much appreciate a writer who trusts her readers to complete the story and, where stories such as these are concerned, I appreciate the opportunity to let my mind immerse fully and escape from reality for a while.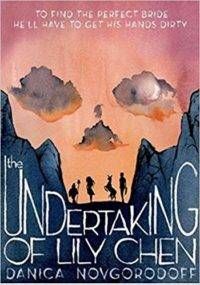 Teen (parental discretion) and up
For centuries, in Chinese tradition, when a man died a bachelor, his family, if financially able, would purchase the corpse of a recently deceased young woman, marry them post mortem, and inter them together that the man might be enjoy a happy afterlife and his surviving relatives be free of any lingering resentment on his part. Less often, a living woman would be married to the spirit of the deceased, existing as his wife until she died and joined him in the Beyond. When there was no suitable corpse to be found, a woman was sometimes murdered for the express purpose of becoming a "ghost bride" (as recently as as 2016 the BBC reported such murders taking place in China, the victims often disabled either physically or neurologically) which I find thoroughly chilling. Yes, I know, I'm imposing my own cultural values on someone else's cultural practice but keep in mind, the Chinese government outlawed all iterations of the practice decades ago). And while The Undertaking of Lily Chen isn't based in the here and now, it does feature a young man, a good young man, so pressured by filial piety he is willing to murder a young woman to satisfy his parents' demands and his brother's shade. I am not knocking anyone's belief system, here, please know that. What I'm acknowledging are the depths anyone is capable of going to when the weight of familial expectation becomes to much to shoulder. It could happen to anyone, which is what makes the whole framework for this story so terrifying. True crime, Crimson Peak-ish flourishes, and even some cultural education. I'm still thinking about this one three years after finishing it.
Pick your poison, boys and ghouls. And enjoy the thrills, chills, and spills of the season with these comics for Halloween. Get even more reading in with these comics for horror movie lovers.