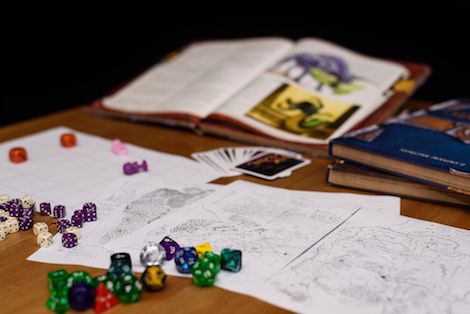 This content contains affiliate links. When you buy through these links, we may earn an affiliate commission.
Today's Free Comic Book Day coverage is sponsored by All Summer Long by Hope Larson, published by First Second.
Thirteen-year-old Bina has a long summer ahead of her. She and her best friend, Austin, usually do everything together, but he's off to soccer camp for a month, and he's been acting kind of weird lately anyway. So it's up to Bina to see how much fun she can have on her own. At first it's a lot of guitar playing, boredom, and bad TV, but things look up when she finds an unlikely companion in Austin's older sister, who enjoys music just as much as Bina. But then Austin comes home from camp, and he's acting even weirder than when he left. How Bina and Austin rise above their growing pains and reestablish their friendship and respect for their differences makes for a touching and funny coming-of-age story.
---
Hello, my beautiful nerds! As Free Comic Book Day approaches, you may find yourself wanting to spread your wings and expand into other, nerdy avenues like Dungeons and Dragons (D&D), Pathfinder, and lesser known but no less cool tabletop roleplaying games (TTRPG). And while you could read these articles that I and other contributors have posted, you could also read some really cool comics that give you examples of what it's like to be a an RGP'er, what to expect in your D&D game, and what a D&D-esque fantasy world is like. Below is a short list of web comics and print comics focused on the D&D/fantasy world. Give them a look, put some requests in at your local comic book store, and read on!
Elfquest by Wendy and Richard Pini
Elfquest, currently being published by Dark Horse Comics, is the longest running independent fantasy graphic novel series in the U.S. It follows feral, forest-dwelling elves as they search for other companions and fight foes. It's also a thoroughly gorgeous series and instrumental for developing your fantasy comics taste.
Elf & Warrior by AC Stuart and Victor Rosas II
This web comic hosted by Webtoon follows Basri, a magically inept elf; Hector, his brutal warrior uncle; and an eclectic cast of characters and friends as they try to survive in their fantasy world. Sometimes they're saving princesses, sometimes they're stealing all the gold in the keep, and other times they're just learning what it means to be a band of adventurers. It's funny, well drawn, and clearly gets inspiration from the tabletop RPG world.
This series is a throwback to Advanced Dungeons and Dragons, which came out back in the '70s. It's also a reprint from a comic published in the '80s, so if you're looking for nostalgia appeal, this is your comic. However, it's also a fun and silly adventure and, since it's now much easier to find, worth the read.
Drizzt is arguably one of the most well-known and beloved characters within the D&D multiverse. This dark elf ranger defies his corrupt society to pursue truth and integrity and battle evil. It's also a beautiful series and brings to life a lot of what R.A. Salvatore wrote in his Drizzt trilogy.
This officially released D&D graphic novel includes one of the most well-known members of the D&D pantheon, the ranger Minsc and his adorable hamster Boo, as well as a cast of new characters who must save the city and, indeed, the Forgotten Realms. It's fun, not too heavy, and great for people who want to start learning about the complex background of the D&D multiverse.
This adorable web comic is a series of one-panel vignettes about the unexpected and even unsavory side of being an RPGer. We don't always eat what we kill, upgrade our weapons, or think about the poor monsters we're terrorizing. It can cause problems.
This volume is a fun, Pathfinder-based adventuring comic about a ragtag group of adventurers who have to get their shiz together. Along the way, they'll battle goblins, start bar fights, and generally try to figure out how to get along. What makes this comic even cooler is that it comes with a fold out map, NPC stats, and adventuring hooks, giving you a little something extra to add to your campaign. Very cool.
This online comic followers a group of tabletop gamers as they learn how to be a party, play the game, and brave their DM's world. It's extremely well done and gives you a behind-the-scenes look at what playing and creating a tabletop campaign is like.
AC Stuart, who you'll remember also writes Elf & Warrior, likes to collect stories about people playing D&D and illustrate the silly and just plain weird things they get up to. It shows how light-hearted and absurd playing D&D can be and is super funny. He's only got a few dozen up, but, maybe if you email him, he'll add your story too!
Any other fantasy or RPG-related comics you think should be added to this list? Any TTRPG stories you'd like someone to illustrate? Comment below, Rioters, and happy reading!