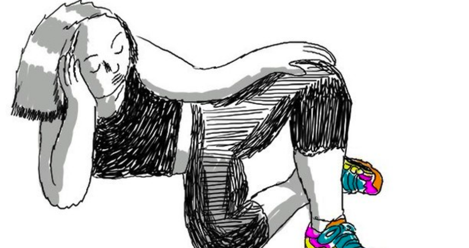 There are myriad places to follow your favorite comics people on social media, but my go-to place these days is Instagram. It seems a little bit lower pressure—no need to post an explainer or talk about other things going on in the world—the picture and work speaks for itself. There are hundreds and hundreds of comics people you could follow, but Instagram is especially well suited to comic artists and illustrators. Here are five to check out today!
Best known for her graphic memoirs, it's no surprise that Lucy Knisley's Instagram is chock full of simple, slice-of-life comics from her life. You'll find delightful comics following the escapades of her one-year-old son, and her life now as a parent. Knisley crafts comics that take full advantage of the multi-image format, and her simple line work makes it easy to enjoy the art whilst scrolling through on your phone.
If you've never read a daily journal comic, I highly recommend you give Kevin Budnik a follow. He posts a full color, four-panel comic daily, full of quiet, thoughtful moments. Recently, he chronicled the decline of his father's health, and it was moving to see the comics pop up in my Instagram feed, following along with the sadness and anticipation of losing a loved one, with the banality of hospital life captured in those small panels.
Fans of This One Summer and SuperMutant Magic Academy should definitely be following Jillian Tamaki on Instagram. Tamaki's Instagram is full of random characters and creatures from her sketchbook, with an occasional rough comic thrown in for good measure. It's fascinating to see what an artist works on in their free time between illustrations and books, and fun to see in-progress glimpses at her work as well.
I recently stumbled on Andrea Bell's comics whilst scrolling through the explore tab on Instagram, which goes to show you that good things can be found randomly on the internet. Bell's comics are currently focused on self-care and processing through her mental health, using colors on the cooler spectrum, which I am instantly drawn towards. Whether it's a reminder to look after yourself, or a small moment of reflection, I look forward to Bell's comics appearing in my feed.
Connie Sun describes her daily comics as an "illustrated status message." Sun's comics are less about following her daily life and more about her personal state of mind. Often accompanied by an elephant friend, her comics explore the thoughts and struggles of a young, single, creative person, just trying to make it through the day. With a loose, sketchy style that compliments her stream of conscience style message, it's lovely to see them pop up and I often find myself thinking "oh good, someone else is feeling this way too." There's real comfort in that, and makes her Instagram well worth a follow.
Save