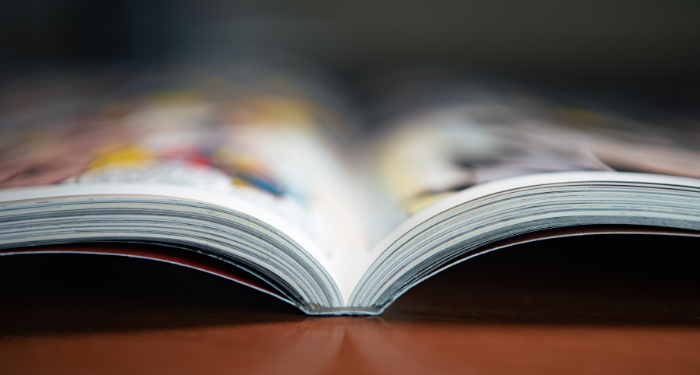 This content contains affiliate links. When you buy through these links, we may earn an affiliate commission.
A few months ago, after a stressful week during which I couldn't concentrate on a single book, I did something I do fairly regularly when I'm feeling this way: I placed holds at my library for about 15 graphic novels. I can't remember now what was going on in my life at the moment or why every book I picked up just wasn't the right book. But you know the feeling I'm talking about. It's that desperate feeling you get when all you want is the comfort of escaping into a good book, but your brain isn't letting you do the escaping. You read a few pages and set a book aside, pick up another one and do the same. Readers, we've all been there: the reading slump.
I'm all for leaning into slumps when they come. Sometimes taking a break from reading is nice. Sometimes it actually feels better to spend a week watching TV instead or focusing on a creative project. Sometimes life is simply life, and there is no time for reading, and it's not awful; it's just the reality of being a human. But sometimes reading slumps feel terrible. Sometimes being in a reading slump feels like when you're super exhausted, but you can't fall asleep. It sucks. And that's where comics come in.
I started using graphic novels to break myself out of reading slumps years ago, and now it's a natural and delightful part of my reading life. There are so many reasons why this works so well for me, and I'm sure there's even more I haven't even thought of yet!
First of all, whether you're reading single-issue comics or graphic novels, they're often short. You can easily read a bunch of them in one weekend. When I'm stuck in a book, or I just can't get into a book, it is immensely satisfying to pick up a graphic novel and read it cover to cover in one sitting. I get a little adrenaline jolt from finishing a book so fast. Reading isn't a race, but there's no denying that for most of us, finishing books feels nice. When I'm deep in a reading slump, and I haven't been able to finish a book in weeks, reading three or four graphic novels over the course of a weekend feels like a small miracle.
I also love the way that reading comics and graphic novels uses a different part of my brain. Reading a visual story forces me to pay attention in unique ways. Looking at art can be restful. Sometimes it feels like it requires less translation. This isn't to say that graphic novels don't take work to read or that they can't be complicated and challenging — many are. It's only that switching modes helps me settle into something I've been struggling with. I do the same thing with genre to help me get out of reading slumps: if contemporary fiction isn't working, I try fantasy or historical romance instead. Graphic novels serve a similar purpose, but they come in all genres. For me, this is key. Often, in the depths of a slump, I really want to read a meaty contemporary queer novel, and I'm not in the mood for a breezy fantasy. Sometimes all it takes to be able to get into the kind of book I actually want to read is picking a different format.
This happened during my most recent slump-busting graphic novel marathon. One of the books I checked out of the library was Shubeik Lubeik by Deena Mohamed. It's not a light read. It's over 500 pages, for starters, and it's also an incredibly intricate and complex story about some intense themes. The art is beautifully detailed. It's not the kind of book you want to quickly speed through. I read it in one long and glorious sitting. It was exactly what I needed to refresh, restart, and recalibrate.
Then there's the fact that it's so easy to find graphic novels that are the opposite of a book like Shubeik Lubeik — fun, cozy, joyful, silly reads. Reading a whole bunch of books purely for joy is another way I've vaulted myself out of reading slumps over and over again. During that same graphic novel marathon, I read Garlic and the Vampire and Garlic and the Witch by Bree Paulsen (100/10, perfect, no notes); Snapdragon by Kat Leyh (a dream); and Wash Day Diaries by Jamila Rowser and Robyn Smith (the most beautiful celebration of friendship among Black women).
The best thing about this whole strategy, though, is that reading a bunch of graphic novels all at once is a) possible even if you're busy and b) a ton of fun, even if doesn't do a thing to break your reading slump. Best case scenario: you spend an afternoon reading some great books, and it's exactly what you need to get excited about reading again. Worst case scenario: you spend an afternoon reading some great books. It's a win-win.