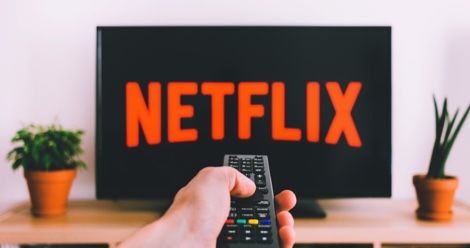 This list of comics that should be adapted to Netflix is sponsored by The Umbrella Academy, published by Dark Horse Comics.
In an inexplicable worldwide event, 47 children are born to women who had shown no signs of pregnancy. Millionaire inventor Reginald Hargreeves adopted seven of these extraordinary children. This dysfunctional family of superheroes formed the Umbrella Academy. At age ten, they defeated their first enemy. A decade later, they disbanded. But when their father dies mysteriously, the siblings reunite to face the threat of the apocalypse and save the world. The Umbrella Academy is an Eisner Award-winning comic series created by Gerard Way and Gabriel Bá, now being adapted into a live-action TV series, coming to Netflix February 15, 2019!
---
It's been proven time and time again that movies and shows based on books are clear winners when it comes to popularity (I see you, Game of Thrones and To All the Boys I've Loved Before). We also know that comic books translate really well to both films and television series (Hello, Marvel Cinematic Universe and Batman everything since what, 1966?) Since seeing comics on screen seems to be increasing in frequency, here are some great comics that should be adapted to Netflix.
The Wicked + The Divine by Kieron Gillen and Jamie McKelvie
I need this to be a show with my whole heart. The costumes. The original music. The characters. It easily lends itself to a fandom in the way that Hogwarts and Westeros have houses. Choose a god to stan and lose yourself in the music.
Kindred: A Graphic Novel Adaptation by Octavia Butler (Author), Damian Duffy (Adapter), and John Jennings (Illustrator)
Okay, so I'm bending the rules a bit as this graphic novel is based on the brilliant novel by Octavia Butler. Kindred as a show would be compelling and amazing. It would excel in all the ways that the Siempre Bruja show has missed the mark.
Lumberjanes by Noelle Stevenson, Shannon Watters, Grace Ellis, and Brooke A. Allen
Lumberjanes would be excellent as an animated series. These comics have something for readers of every age, and a show would be entertaining to a wide range as well. Silly, subversive, and totally empowering, Lumberjanes offers diverse characters, monsters, and opportunities to learn.
Saga by Brian K. Vaughan and Fiona Staples
We all heard that Vaughan's Y: The Last Man was ordered to series, but I think Saga would be a far superior choice, without the tiresome gender binary rubbish. Saga has phenomenal characters and gripping story lines that reach beyond a solely science fiction fan base.
The Prince and the Dressmaker by Jen Wang
I'm head over heels for this book and I am totally convinced that it would be dazzling and sweet on screen, like To All the Boys I've Loved Before but with fashion. It explores so many kinds of love, not just romance. It's a story about loving your true self, having the courage to put yourself first, and loving others as they are.
Paper Girls by Brian K. Vaughan and Cliff Chiang
Yes, I know it's another Vaughan, but hear me out: a sci-fi, 1980s-heavy coming of age. Think of Stranger Things but with more girls, fewer dudes, and time travel. The story is solid, the characters are fantastic, and I'm always a fan of seeing more girls and women in shows.
Bingo Love by Tee Franklin, Jenn St. Onge, Joy San, and Genevieve FT
Okay, so yes, maybe I cried through this entire comic, but it is just so beautiful. There isn't enough Black queer love on screen and this would make a wonderful movie. I'm also hungry for more films featuring Black women that aren't about slavery, racism, or centered around men.
Bitch Planet by Kelly Sue DeConnick and Valentine De Landro
I hesitated to add Bitch Planet to this list. Don't get me wrong: I LOVE Bitch Planet. It's such an important comic and I know many of us are craving more of it. I debated whether or not to add this because it would be so incredibly hard to watch as a show. But then I remember that people watch the show based on The Handmaid's Tale, and dystopian shows tend to do really well. Knowing that, Bitch Planet would fit right in.