Given the divisive state of the DCEU prior to Wonder Woman's theatrical release, people were hopeful but unsure of WW's ability to set things right and give WB the critical (and fan-adored) darling they needed; a lot of pressure was riding on the shoulders of DC's Amazonian First Lady. In the aftermath, of course, Wonder Woman met and exceeded all expectations, smashing records, inspiring fan movements, and even getting a hilarious congratulatory missive from Deadpool himself. Unsurprisingly, a new current of fans are ravenous for more of Wonder Woman, and she definitely deserves the uptick in popularity and recognition. But just in case you're on the hunt for more badass women from DC's universe (there are many) here's a list of titles you should check out (all of these have been collected into trades. I'll be using info from the first volumes when it comes to credentials):
Batgirl by Gail Simone (writer), Ardian Syaf, Vicente Cifuentes (artists)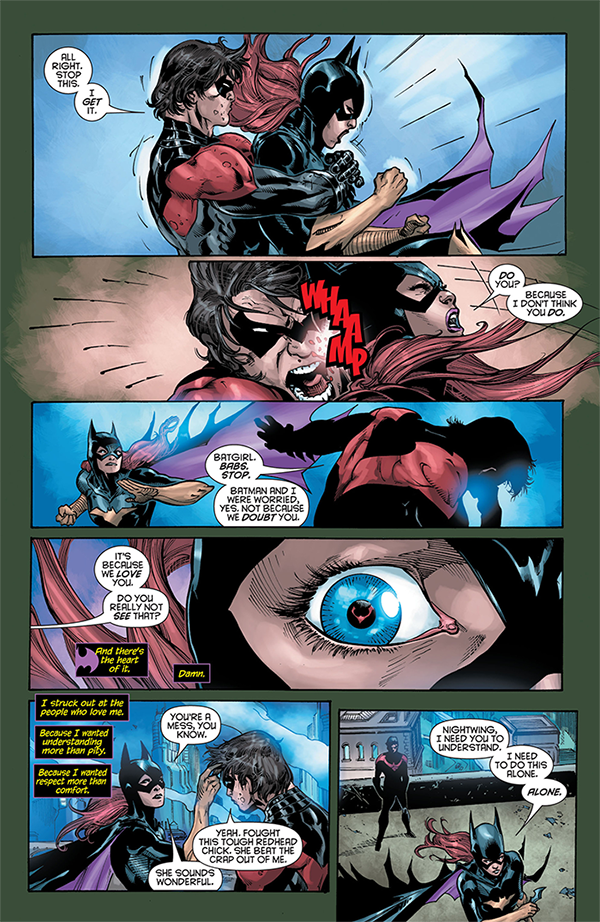 If you're new to comics, or to DC in general, Gail Simone's run is as good a place to start as any. One of the books that continually delivered excellence during DC's New 52 era, Simone's Batgirl follows Barbara Gordon as she faces her fears and dons her cowl and cape once more. The first volume sees her facing off against Mirror, a death-happy individual with a hit-list that Barbara happens to be on. One of the things brand new readers might get confused over are the references made to Alan Moore's The Killing Joke, but Simone fills in all the gaps for those who might not be well-versed in Batfamily lore.
Zatanna by Paul Dini, Adam Beechen, Matthew Sturges, Derek Fridolfs (writers), Stephanie Roux, Jamal Igle, Chad Hardin, Cliff Chiang, Rick Mays, Jesus Saiz, Victor Ibáñez, Wayne Faucher, Jon Sibal, Karl Story, John Dell, Robin Riggs, Travis Moore, Dustin Nguyen (artists)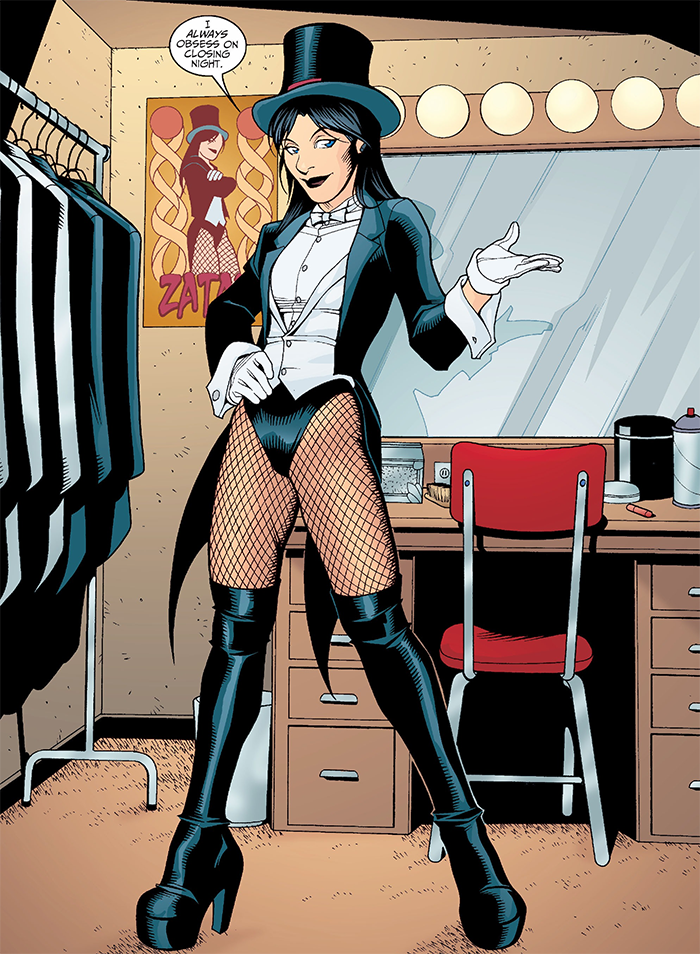 Zatanna Zatara originally made her debut in the 1960s, searching for her missing father, renowned magician Giovanni Zatara. Father and daughter are both privy to a brand of magic that works by uttering things backwards. Mainstream audiences may be more familiar with Zatanna from her appearances in other media properties, like Young Justice, Justice League Dark, or even her handful of spots on long-running TV series Smallville. Paul Dini has worked in both comics and animation (he's a co-creator of the beloved Suicide Squad member Harley Quinn, who got her start on Batman: The Animated Series), and his run on Zatanna is hailed as a fan favourite. In Dini's run, Zatanna works as a stage magician in Las Vegas, a lucrative facade that comes to a screeching halt when deadly supernatural forces come into play.
Black Canary and Zatanna: Bloodspell by Paul Dini and Joe Quinones
This original graphic novel was announced back in 2006, scheduled for release in 2012, and delayed until 2014. Bloodspell sees Dinah Lance (the future Black Canary) and Zatanna meeting at the top of Mount Everest. Fast forward 15 years, and Dinah's in hot water. A year ago, she was working undercover, pretending to be a member of an all-female gang. Their leader, Tina Spettro, a highly-skilled physical fighter, is also deep into the occult, messing with black magic that's a little out of Black Canary's wheelhouse— which is a shame, considering Spettro's using it to kill all the women who double-crossed her. Dinah turns to Zatanna in her hour of need. Bloodspell is a great jumping-on point for new readers, as it's a standalone that doesn't tie directly into anything else. Campy, goofy, and fun, Bloodspell ticked off all of my boxes.
DC Comics: Bombshells by Marguerite Bennett (author) and Marguerite Sauvage (artist)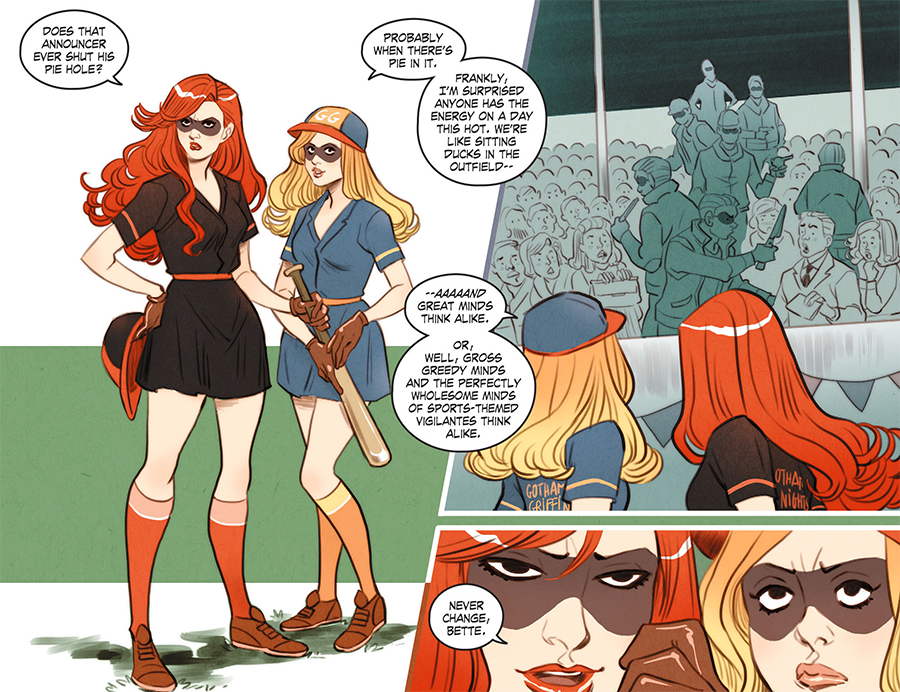 Okay, despite the title of this list, Wonder Woman is totally part of this story. Also, I am a sucker for WWI and II imaginings, and Marguerite Bennett's digital-first Bombshells series is no exception. It's the year 1940, and Amanda Waller has recruited the greatest heroes the world has ever known to end the war, including Batwoman, Wonder Woman, and Mera. There is something absolutely timeless about this story (I want the omnibus edition stat). In 20 years, I bet it's going to be considered a classic.
Starfire by Jimmy Palmiotti (writer), Amanda Conner (co-writer and artist), Emanuela Lupacchino, Ray McCarthy (artists)
Part of the short-lived DC You lineup, Starfire sees the Tamaranian princess and former Outlaw making a new life for herself in Key West. This fun, outgoing take on the bubbly extraterrestrial royalty is a blend of alien-meets-Earth, superheroine shenanigans, and slice of life. It's the perfect beach read! If you enjoyed Palmiotti and Conner's 12-issue run on Starfire, you'll want to check out the husband-and-wife duo's take on Power Girl and Harley Quinn (they also worked on the N52 Harley Quinn).
Black Canary by Brenden Fletcher (writer) and Annie Wu (artist)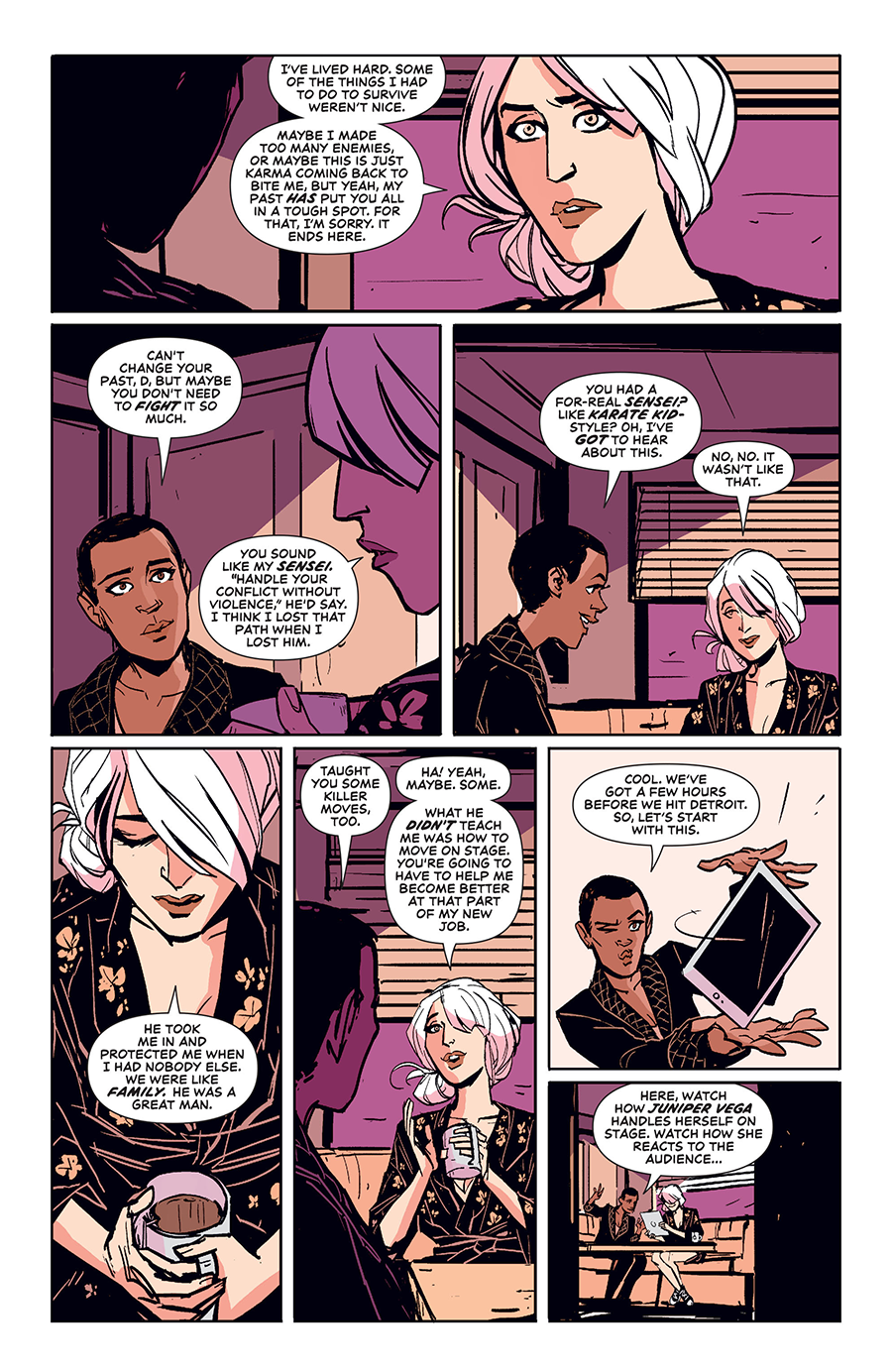 Another DC You title, Black Canary reimagines street-smart vigilante Dinah Lance as the lead singer of a hot new band! I'm not well-versed in the life and times of the Emerald Archer (luckily, there's a sort-of recommendation post for that), or the Black Canary, and what I do know is precursory and vague. As such, I can tell you with certainty that if you've never picked up a Green Arrow or Birds Of Prey book in your life: you'll be just fine. Fletcher stays true to Dinah's tough roots, making her a sassy, fight-first-ask-questions-later songbird, and Wu's art makes the characters and their world pop right off the page.