AAPI Heritage Month would not exist without Asian immigrants. According to Ronald Takaki's Strangers from a Different Shore: A History of Asian Americans, the first Asians to move to the U.S. in large numbers were Chinese laborers recruited to work on sugar plantations and railroads in the early to mid-1800s. Workers from other Asian nations followed, as did families.
Each wave faced — and continues to face — discrimination of all kinds, and yet they survived. They endured. They raised families, built homes and careers, and made a place for themselves in their new country. That's why the immigrant experience continues to be such fertile ground for excellent storytelling.
There are all sorts of ways to talk about the immigrant experience. You can tell a nonfiction story about real people, or you can give those experiences to fictional characters. You can focus on the positive aspects of immigrating (meeting new people, having new experiences), or you can highlight the negative aspects (alienation, bigotry, homesickness). You can talk about immigrants themselves, or you can focus on the stories of their children to show how the shock waves of immigration reverberate for generations.
Perhaps the most famous example of a comic about Asian immigrants is Gene Luen Yang's award-winning American Born Chinese, now a live-action (and, it must be said, somewhat controversial) series on Disney+. But there's plenty more where that came from, I promise! I tried to include comics about people from as many different countries as I could, but as I'm sure you are aware, certain regions get more attention than others. (As it is, I had to bend the rules and include a comic about immigration to England just to increase the diversity of countries represented.)
In other words, this list has some gaps, most particularly when it comes to the stories of Pacific Islanders. If you would like to read books by and about Pacific Islanders, you can browse this list. You can also check out the anthology comic The Night Marchers and Other Oceanian Stories, which highlights folktales and myths from across that region.
Before you leave, though, don't forget to check out the amazing comics below!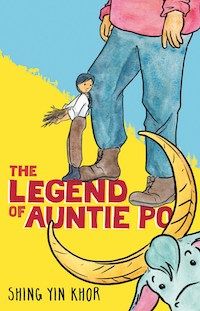 The Legend of Auntie Po by Shing Yin Khor
In this charming work of historical fiction, Mei is a Chinese teenager working at a logging camp. The Chinese Exclusion Act is now law, her job is rough, and her feelings for her best friend Bee are getting more confusing by the day. Mei's one refuge is in the stories of Paul Bunyon, whom she reimagines as a Chinese woman, Po Pan Yin. Maybe these stories will give Mei the strength she needs to make mature decisions and move her life in the direction she wants.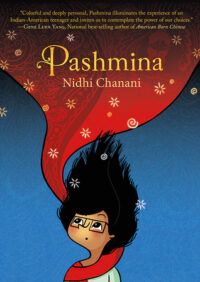 Pashmina by Nidhi Chanani
Priyanka was born in America, but her mother is from India — and she never talks about it, no matter how much Pri asks. When Pri finds a strange pashmina that apparently transports her to India, it seems like all her questions are about to be answered. But where is the pashmina really taking her? And is she ready to learn the truth about her mother's life and the reason she left India?
In Limbo by Deb JJ Lee
Lee moved from Seoul, South Korea to New Jersey as a child, and it was never easy. The older she got, the less she felt like she belonged in her new country, and the deeper she fell into mental illness, culminating in a suicide attempt. But Lee proves to be tougher than she thought, and she fights her way through her illness to finally find the peace and self-acceptance she has long craved.
Halina Filipina by Arnold Arre
Halina grew up in America and knows almost nothing about her Filipino roots. When she goes to the Philippines to change that, she finds an unexpected friend in Cris, a cynical movie reviewer who soon becomes her unofficial tour guide. But while Cris has become jaded about his home country, Halina views everything as an exciting adventure — one that might end up taking her far away from Cris.
Vietnamerica by GB Tran
Born and raised in America, Tran never thought much about the nation his parents fled, or the situation they left behind in Vietnam. His parents never talked about it, either. It's not until he travels to Vietnam after his grandparents' deaths that he starts to unpack his contentious family history and answer questions that have bothered him for years.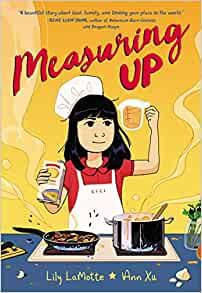 Measuring Up by Lily LaMotte and Ann Xu
Cici and her parents live in America now, so if she is going to reunite with her grandma (a-má) back in Taiwan in time for A-má's birthday, she'll have to get creative. And she does: Cici will win the money for a plane ticket for A-má through a children's cooking contest! But Cici can only cook Taiwanese food, and she has learned through painful experience that Americans don't appreciate that. How can she win the contest while staying true to her heritage?
Bounce Back Volume One by Misako Rocks!
In Japan, Lilico had lots of friends and was looking forward to the high school basketball finals. But when her parents abruptly decide to move to New York, she finds herself at a loss. Fortunately, she isn't alone for long: she soon makes new friends, and she receives guidance from Nico, a cat-shaped guardian spirit who is determined to help Lilico find her place in America!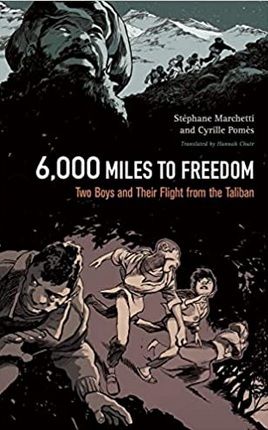 6,000 Miles to Freedom: Two Boys and Their Flight from the Taliban by Stéphane Marchetti and Cyrille Pomès (Translated by Hannah Chute)
This one is not an Asian American immigrant story, but it is about immigrating from Asia to the UK. Though a work of fiction, this harrowing comic is based on the true stories of young men who fled Afghanistan. It tells the story of a boy, Adel, whose extremist uncle tries to turn him into a martyr. When something goes wrong, Adel and his cousin Shafi must flee the country. Their only hope is to travel the 6,000 miles from Afghanistan — by themselves — to join Shafi's brother in England.
---
For more immigrant stories in comics, check out this list!