This content contains affiliate links. When you buy through these links, we may earn an affiliate commission.
Everyone knows that books can be adapted into movies. It happens all the time. But did you know they can be adapted into graphic novels, too? In this series, I'll be taking a look at classic novels and their illustrated counterparts to determine what each did well, what each did wrong, and how they approach the same story decades apart and in such different media.
Unlike previous entries, today we'll be looking at a story I have never read before, though I have seen the Muppet adaptation enough times to get the gist: Robert Louis Stevenson's 1883 novel Treasure Island!
After the sudden death of an unsavory lodger, Jim Hawkins, the innkeepers' young son, finds a treasure map among the dead man's belongings. A family friend and the local squire, excited by the find, help Jim acquire a ship and crew to sail to Treasure Island. But the ship's cook, Long John Silver, and much of the rest of the crew turn out to be pirates who want the treasure for themselves. Only through bravery and youthful rashness can Jim hope to defeat the pirates, find the treasure, and return home alive.
The Book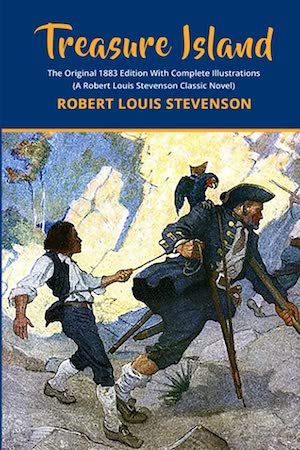 I underestimated how much of an effect Muppet Treasure Island had on my brain. I had a really rough time trying to read this with fresh eyes. In fact, I failed most of the time. Even with constant thoughts of "that doesn't sound like something Tim Curry would say" rattling in my brain, I enjoyed the book very much.
I can definitely see why Long John Silver has become a cultural icon. Aside from the cool name, he was a fun character to read about. He's almost a trickster figure, ready to switch from one side to the other and back again to save his own hide. Jim is a good character, too: cocky and impulsive, but also brave, clever, and remarkably sympathetic towards even the people who try to kill him.
That said, the MVP of this book is Jim Hawkins's mother. When the lodger dies without paying his bill, she roots through his things and takes exactly what is owed her — no more, no less — even with pirates banging down her door. When she tries to get help from the neighbors, she yells at them for being too cowardly to help and goes back to defend the inn herself. Rock star.
I had trouble getting into the chapters narrated by Dr. Livesey, but there were only three of them, so it doesn't matter much. Not sure why I had that trouble. Maybe just because he didn't interest me as a character. I see why the Muppet version cut his role significantly, and why Treasure Planet retooled him as the far more engaging Doctor Doppler.
Aside from the usual dose of old-timey prejudices, Treasure Island is a good read. You might want to keep a dictionary handy for all those nautical terms, though. Maybe a Victorian audience would have known them, but they went over my head.
The Comic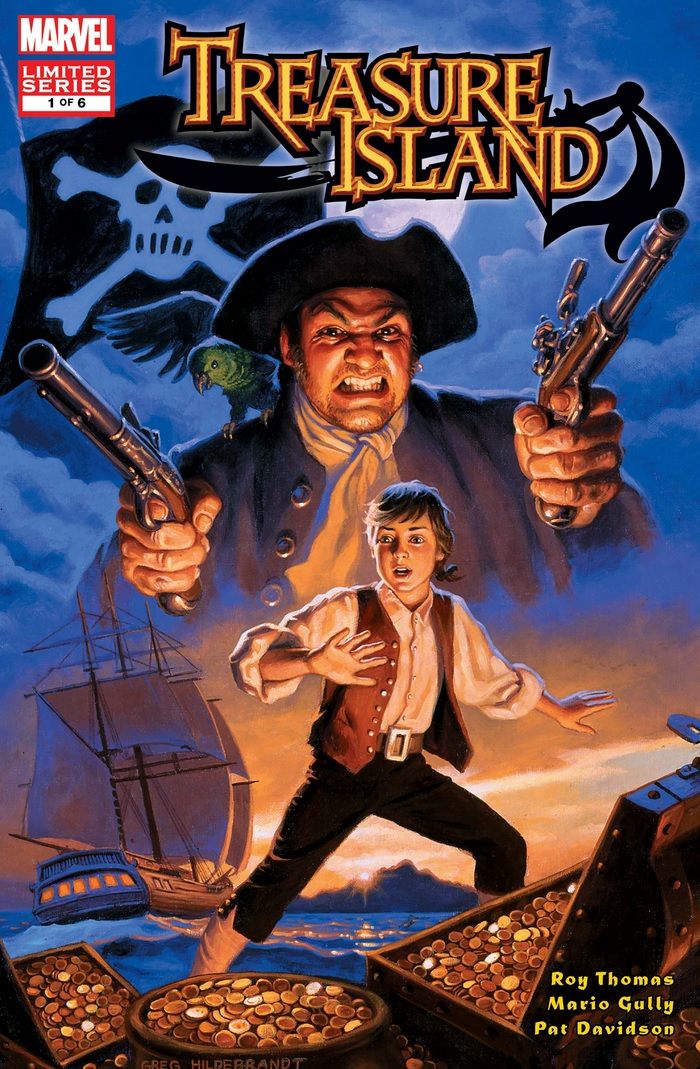 I'm sure there have been many graphic adaptations of this book, but I'll be looking at the 2007 Marvel version, a six-issue limited series written by Roy Thomas and illustrated by Mario Gully.
A lot of limited series are six issues, but it works especially well with Treasure Island since it was divided into six parts originally. The issues do not correspond directly to each part: it cuts a lot of the more inconsequential stuff, like the really long conversations between characters, so we can get to the adventure portions of the story faster. That works well: modern stories do have faster pacing, and who wants to look at pages and pages of people talking in what's supposed to be an exciting story?
The art, while not terrible, can be distracting. The proportions are wonky in spots, and Gully can't seem to decide what time period we're in. The book is set in the 1700s, and some men wear britches and buckled shoes accordingly, but for some reason, Dr. Livesey just looks like some Victorian dude, complete with a modern tie. He'd make a passable Dr. Watson in a Sherlock Holmes comic.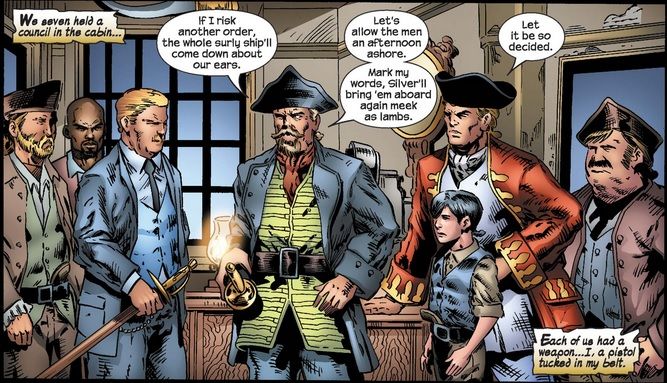 The art's one true moment of glory comes at the end of Issue Four when Jim kills Israel Hands. The bit where we see Hands's vicious smile, frozen forever thanks to the bullet hole in his forehead, followed by him falling into the sea and then bobbing to the surface again, was downright chilling. And some of the reaction shots from Silver's parrot are kind of cute, too.
At least Mrs. Hawkins gets her 15 minutes: her scenes are kept more or less intact.
The Takeaways
If you're going to go for any version of Treasure Island, this comic would be pretty low down on my list of recommendations. The comic wasn't bad by any means, but the novel that I read was illustrated anyway, so the comic really doesn't have anything to offer that you couldn't get from the original novel.
The only reason I'd suggest the comic is if you really want to see a faithful version of the original but can't (or don't want to) parse the flowery language. The comic does take text from the novel (including an outdated term for disabled people, unfortunately), but there's less of it, so it's not as overwhelming as an entire Victorian novel. It even defines a couple of the nautical terms for us landlubbers.
If you want a version of the story with fun visuals, though, I'd stick with the two movies I mentioned — Treasure Planet and Muppet Treasure Island — which did much more creative things with the source material than the comic did.
Both the novel and the comic are pretty accessible: the novel is free on Gutenberg, and the comic is available online as part of Marvel Unlimited. Feel free to check them out for yourself and decide which one you like best!
---
Check out previous Comic vs. Book showdowns: To Kill a Mockingbird and The Hobbit