This content contains affiliate links. When you buy through these links, we may earn an affiliate commission.
I first clued into the Comic-To-Movies-To-YA-Books adaptation trend when Margaret Stohl's Black Widow: Forever Red was introduced at a spring titles release in 2015. I just figured that since Black Widow had been, until recently, the token female character of the Avengers, her backstory deserved to be explored in a novel, if not several. I just didn't think these kinds of adaptations were going to be a Thing. And when I figured it was going to be, I had questions. One, is there something to be gained by writing specifically for an YA audience? Two, if yes, why change the format from illustrated to novelized?
With 2017's YA adaptations though, I've decided on an answer to both: I don't care. I see the plots the novels cover and I see the names attached to them—all authors I've read before and loved—and I just could not be more excited.
It started with Guardians of the Galaxy: Collect Them All. It was honestly a little tough for me to even click on the Goodreads link for this one because, despite trash panda and talking tree's best efforts, the first movie did not dazzle me. But, you know what did dazzle? Corinne Duyvis' two published novels. I especially love Otherbound, which is the kind of well-crafted debut that most authors can only dream of writing. Her books have characters that are so complex they practically leap off the page and she deals with issues like racism, sexism, and ableism so well. Imagining Duyvis bringing her skills to a different universe? I'd read it even if it were a superhero I absolutely loathed. (Hmm, okay, maybe there is no redeeming Iron Fist, though?) As expected: the book delivered in spades and I think it may have even enhanced my experience of the second movie, which was pretty awesome to begin with.
Leigh Bardugo's Wonder Woman: Warbringer is definitely next on my TBR list, partially because I think this summer's movies may be influencing my interests a little. Okay, a lot. Funnily enough, when the project was initially announced, I wasn't terribly interested? I know, I know. I just never grew up with Wonder Woman, but damn if the movie trailer isn't making me wish I had! But Bardugo's writing? *attempts to whistle appreciatively* I don't think I've loved female characters in action/adventure books as much as I've loved Bardugo's female characters. (I could honestly read a seven book series, with each novel the size of a refrigerator, if it were all about Inej Ghafa.) Bardugo just knows how to balance the super side of a female character with the human side. It's a tricky thing to do and she does it over and over again with seeming ease. I cannot wait to re-meet Diana in Bardugo's book.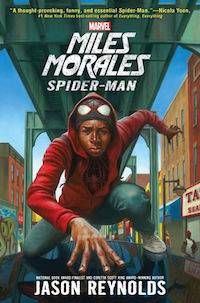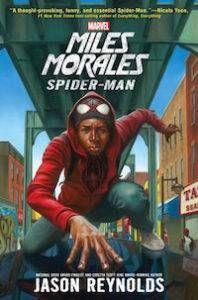 And if we're continuing the trend of adding books to my TBR because of movies, I guess I'd have to add Jason Reynolds' Miles Morales: Spider-Man. And yes, I know the movie isn't about Miles Morales, but if I have to wait for a movie on Miles in order to pick up this beauty of a book (illustrated by Kadir Nelson, you guys, ugh, I'm so happy), I'm going to have to pray that I am reborn as a literate human in my next life because that's how long Hollywood takes to produce any quality movie led by characters of colour. Luckily, the book will be out this August and I get to geek out a bit sooner. I cannot emphasize how much I love Reynolds' writing. And I love that Reynolds intends to focus on Miles as a person rather than just a boy behind a mask. It's not exactly a revolutionary idea where superhero stories are concerned, but when it comes to a Black kid? Yes. Yes, it is. My only hope is that he doesn't have me crying on transit the way his middle-grade novel As Brave As You did.
Basically, this publishing trend does not have to be an either/or situation. I've never questioned the drive to adapt YA novels into graphic novels or movies before so I don't know why this particular kind of adaptation confused me. And while I'm sure I'd miss the art while reading the novel, it's not like someone is erasing the comics from existence.
I hope that people who love the comics and the movies will also give these novels a chance. I hope these books encourage a tidal wave of YA readership to crash into the comic community. I hope the glowing reviews these books will undoubtedly receive raises the bar on superhero stories and discourages rubbish *cough-Nazi-cough* storylines. I hope they alter the comic book canon and new readers' voices eclipse the opinions of "real" comic book fans. As with every other kind of literature, I am fairly certain that expanding the canon to welcome a variety of storytellers can only serve to improve both the canon as well as the readership; I just can't wait to see how.