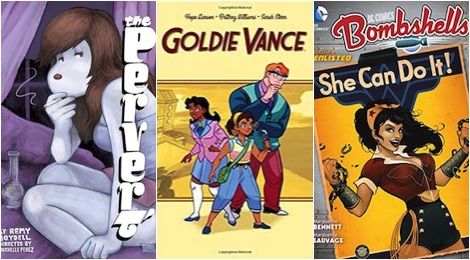 This content contains affiliate links. When you buy through these links, we may earn an affiliate commission.
The 2019 Read Harder Challenge is sponsored by the Read Harder Journal. Get the full list of tasks here.
Created by Book Riot, this smartly designed reading log consists of entry pages to record stats, impressions, and reviews of each book you read. Evenly interspersed among these entry pages are 12 challenges inspired by Book Riot's annual Read Harder initiative, which began in 2015 to encourage readers to pick up passed-over books, try out new genres, and choose titles from a wider range of voices and perspectives. Indulge your inner book nerd and read a book about books, get a new perspective on current events by reading a book written by an immigrant, find a hidden gem by reading a book published by an independent press, and so much more. Each challenge includes an inspiring quotation, an explanation of why the challenge will prove to be rewarding, and five book recommendations that fulfill the challenge.
---
How is your Read Harder challenge going? Basically done, right? (I kid, I kid.)
If you're having trouble finding a book to read for task #21: a comic by an LGBTQIA creator, I'm here to help! Check out the below for some suggestions:
If you like your comics spooky, look no further than Emily Carroll. Aside from this delightfully creepy collection of short stories, she has a host of similarly macabre tales, many of which can be read for free on her website. She also drew the graphic novel adaptation of Laurie Halse Anderson's classic YA novel Speak.
Dead Weight, a murder mystery set at a weight loss camp, is the first graphic novel by Blas, whose work you may have seen on various licensed Boom comics like Steven Universe and The Amazing World of Gumball. He's also known for his charming autobiographical comic, "You Say Latino," which you can find on his website.
Goldie Vance by Hope Larson and Brittney Williams
Goldie Vance, about the adventures of a 16-year-old aspiring detective at a Miami resort, is a perennial Book Riot favorite. A huge part of its charm comes from Williams's irresistible art, which you can also find on another Book Riot favorite, the gone-too-soon Patsy Walker, A.K.A. Hellcat! written by Kate Leth. As a Superman fan, though, I have to admit my favorite work of Williams's is her absolutely note-perfect Superman cast redesigns. That Jimmy!
The Pervert by Michelle Perez and Remy Boydell
The Pervert details the experiences of a trans girl surviving through sex work in Seattle. Told in a series of non-chronological vignettes, it uses anthropomorphized characters, often cheekily "borrowed" from iconic comic strips, to tell its intense and frequently explicit story. While ultimately compassionate, The Pervert deals honestly with very difficult subject matter, so read with care.
Flocks by L. Nichols
Flocks is Nichols's graphic memoir about growing up as a trans boy in a conservative Christian community—his "flock"—in rural Louisiana, and his struggles with identity and faith as he navigates various social groups. While the world of Flocks is largely depicted realistically, Nichols draws himself as a naked rag doll with button eyes, exposed and malleable, yet completely expressive. Despite tackling painful history, Flocks is above all empathetic and ultimately optimistic.
Bombshells by Marguerite Bennett
Bennett has a whole stack of fan-favorite queer-inclusive comics under her belt from all the big guns: Marvel's Angela: Asgard's Assassin, Archie's Josie and the Pussycats, Boom's Power Rangers, and the creator-owned series Animosity and InSEXts from AfterShock. But I'm a DC girl, so I'm especially highlighting her work on the 1940s alternate history romp Bombshells, which turned a line of pinup art into something with genuine heart (and fabulous fashion).
I love New York history in general and the Brooklyn Bridge in particular very, very much, and this comic—all-ages but not facile in any way—is a superb telling of its construction. DuVall, also known as Little Corvus, handles the both the technical and character drawing in this story with aplomb. They also take care to people their Gilded Age Brooklyn with diverse crowd scenes, including what are evidently same-sex couples walking hand in hand or arm-in-arm. Pedants can argue about the accuracy of each particular instance of representation until the cows come home, but personally, I appreciate DuVall's choice to give kids the chance to see that there have always been many ways of being, the social niceties of 19th century Brooklyn Heights aside.
Sadly, ace representation in comics is still pretty hard to find through mainstream publishing. Luckily, webcomics offer infinite opportunities to eschew mainstream publishing altogether. Enter Heartless, a twist on the standard Gothic vampire tale, featuring Clara Adams, an innocent young debutante-turned-bloodsucking creature of the night. Clara, like her creator, is asexual, which makes her helpfully immune to the standard sexy vampiric hypnotism, and her world is one of sumptuous Victorian costumes and moody moonlit coloring.
---
Looking for more? A few months ago I put together a list of 25 of the Best Queer Comics, many of which have LGBTQIA creators. (If you're wondering "Why didn't she talk about So-and-So?" in this article, they're probably over in that first one.) Rachel's got you covered with new LGBTQIA comics for 2019, and there's even more to read in our queer comics tag. Recommendations in the comments are also extremely welcome!