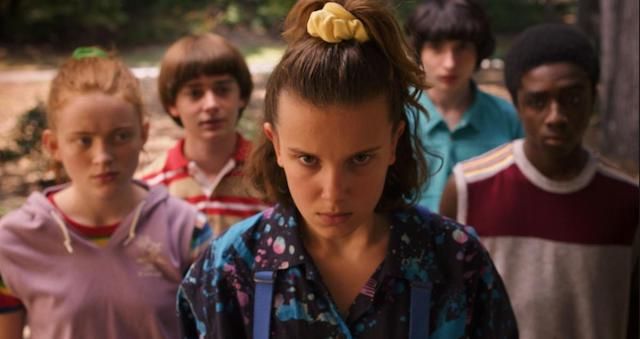 This content contains affiliate links. When you buy through these links, we may earn an affiliate commission.
The only bad thing about Stranger Things is how short it lasts. With only eight episodes per season (nine in season 2), it's easy to consume it in full within a matter of hours—an afternoon—and then the end strikes before you are ready, with all its terrible twists and inevitable, tragic feels.
Suddenly, you're left with all these emotions and theories and deliciously strange, frightening monsters dancing in your head.
Stranger Things has captured '80s retro, monster-of-the-week horrors, and the magic of a truly great kid crew a la Goonies in a way that pulls you in more powerfully than a Demagorgon. And just like the Upside Down, once it's gotten you, it won't let you go.
I know it doesn't feel like anything can fill the void. But trust me. There are some truly excellent comic books like Stranger Things out there that can deliver the same alchemy of nostalgia, horror and superpowers.
While you wait for your friends to catch up on season 3 so you can talk about the ending without spoiling it for them, here are five comic books like Stranger Things to try.
Comic books like Stranger Things
Four badass preteen girls set out to make history as the first female newspaper deliverers of Stony Stream. But the morning after Halloween, as they run their route, they stumble onto a secret bigger than time or space.
Set in the '80s and featuring a classic kid crew on bikes, this series offers up an incredible cast of female characters, along with hard-hitting '80s nostalgia and a heavy dose of weird. In short, this one checks all the boxes of what I love so much about Stranger Things.
The "crew" in this one is small—just preteen Lunella Layaette and a tyrannosaurus rex, who, frankly, she doesn't like that much at first. But as they work together to battle the terrible monster threatening to overtake New York City, they find they make a pretty good team.
This one has less of a retro vibe to it—more '90s than '80s. Or maybe that's just because the way it treats its playfulness so seriously reminded me so much of my own '90s childhood.
This series features two teen girls from different sides of the high school social spectrum, who have one surprising thing in common: superpowers. And they've run away together. If only they could stay in control of it all. If your favorite apart of Stranger Things is Eleven and her powered lab siblings, this troubled duo on the run will win you over, too.
Hot tip, it also offers a legit list of punk rock tunes.
In short, this is an Archie comic with a side of monster-of-the-week thrills. This is about as retro as it gets. In this adventure, Sabrina the Teenage Witch joins Archie and the gang try to undo the evil her spell has set loose and fend off a zombie apocalypse. Featuring a kid crew with as much gumption as any team of meddling kids out there.
If Stranger Things mashed up with Buffy the Vampire Slayer and made comic book, the result might look a little like Blackbird. Within the hidden magical world of Los Angeles, Nina Rodriguez must fight off her demons and save her sister from the magical beast that kidnapped her.
One look at the cover shows the art of this comic is stunning, and put to excellent use in this magical world.
---
Oh, and didn't I mention? Stranger Things has its own graphic novels, too. Throw back to season one with this exploration of what Will Byers endured during his time trapped in the Upside Down. Find even more books like Stranger Things here.