Book Fetish
Make Coffee, Do Crimes: Mugs Featuring Comic Book Villains
This content contains affiliate links. When you buy through these links, we may earn an affiliate commission.
I mean, it doesn't have to be coffee—it can be tea or hot chocolate with marshmallows (not adding marshmallows makes you the criminal), a steamer, or hot cider—but we all need something to wake us up in the morning and power us through the hardest part of the day. Which is pretty much all of it, but hey, life is easier with great mugs.
It's the little things that make a difference.
Comic Book Villain Mugs
I love the smell of ultimate power in the morning. It smells a lot like the part-chicory stuff you get in New Orleans. To be honest, though, if I did have the Infinity Gauntlet, I'd probably just use the time stone like a "sleep" alarm button to get a couple more hours, or years, of glorious slumber. The mind stone would be a great way to get the kids ready without the usual complaining and taking 45 minutes to put on their shoes, the power stone to actually make and drink my coffee in a timely fashion. The space and reality stones aren't all that practical, but I'm sure I'd be cranky enough to figure out a good use for them. Probably after a night shift.
I know, I know. He redeemed himself in Thor: Ragnarok and Infinity War, but I like Loki the most as a villain or, at the very least, a trickster who enjoys making things more complicated for everyone. There are tons of Loki mugs out there and I had a hard time choosing one, but I enjoyed the collage and paint splatter aesthetic of this one, as well as the use of multiple graphic Loki incarnations and quotes (including one I think is from Loki: Agent of Asgard, one of my all time favorite Loki arcs). Be as changeable as the frost giant himself: make coffee, tea, and hot chocolate in this one (maybe not all at the same time); Loki will surely approve. Society 6 is very reliable in terms of both quality and packages arriving as promised.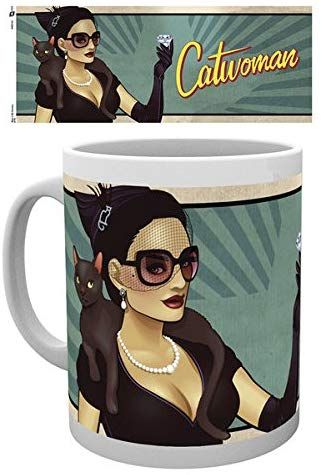 We have several of Ant Lucia's Bombshell prints hanging in our living room and dining room and I wouldn't trade them for anything in the world (I have art that's been in tubes for going on two years because I'm not taking Harley, Zatana, Katana, or Wonder Woman down to make space. I'm just going to need a bigger house). A family member once commented to me that the art "wasn't very feminist" (I'd recently had a discussion with her about the fact they were giving my son stereotypical boy gifts and my daughter stereotypical girl gifts even though she's the one I most often find mixing potions of water, soap, and leftover garlic in the bathroom and grabbing her tool set to help me assemble furniture). I beg to differ: this line was all about the women of the DC universe taking their power back, be that power magic, deadly weapons, or chaos. Good to know that if you're short on hanging space, or just need something new to hold your morning jolt, many of the Bombshells, including Catwoman, are available water proof with a handle.
There's no reason villains can't be adorable; just watch my daughter when she really, really wants something and I'm trying to hold out. She's a huge fan of the chibi style and I have to admit, there's something to be said for giant, puppy eyes. I also like the fact that, while this version of Ivy is most definitely feminine, she isn't hyper-sexualized the way most Ivys are; kids like villains and beverages and should be able to combine the two as adults do. Just as we've pushed in recent years for heroes with different body types, it's time we did the same with villains. I've had good luck with TeePublic and everything I've gotten from them has been as advertised and of good to excellent print quality.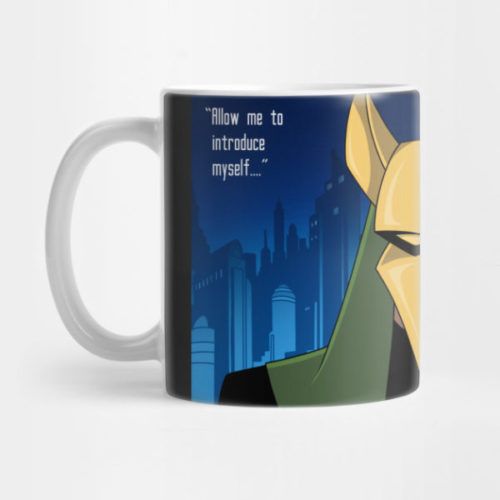 I googled "Ra's al Ghul mug" and fully expected to come up empty, but geeks are amazing and I should have known better. Ra's is one of my favorite Batman villains because, while he does challenge Batman's fighting skills, he spends the majority of his time challenging Bruce Wayne's mind. Remember that Batman isn't only a vigilante; he's the World's Greatest Detective (I'm 100% sure you can get a Batman: World's Greatest Detective mug somewhere). Animated versions of Ra's have tended to be far more successful than the live-action thus far, so I was gratified that someone had taken the time to mock-up a mug celebrating Batman: The Animated Series Demon's Head. And I don't know about y'all but some mornings, I definitely feel like I'm trying to slog my way out of a Lazarus Pit.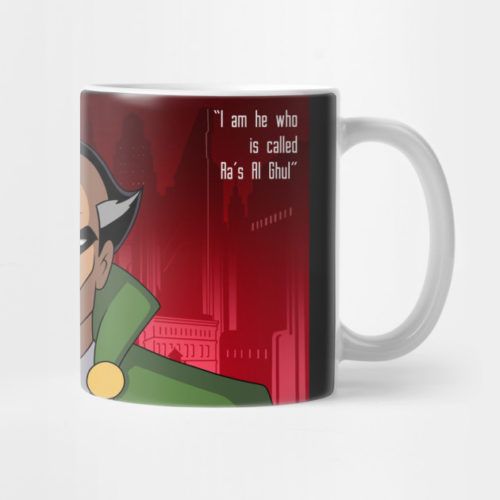 Despite what my husband thinks, there's no such thing as too many mugs; sometimes, your favorite is in the dishwasher and you need to bring someone up from the minors; occasionally one of them breaks and while not replacing it would certainly open up some space, that empty hook is intolerable. Sometimes, someone else dares to get to your mug first which is a situation in which you would most certainly want one of these villains glaring at them until they returned your property to you. So go ahead: make coffee and do crimes. It will make your mornings a little bit brighter.