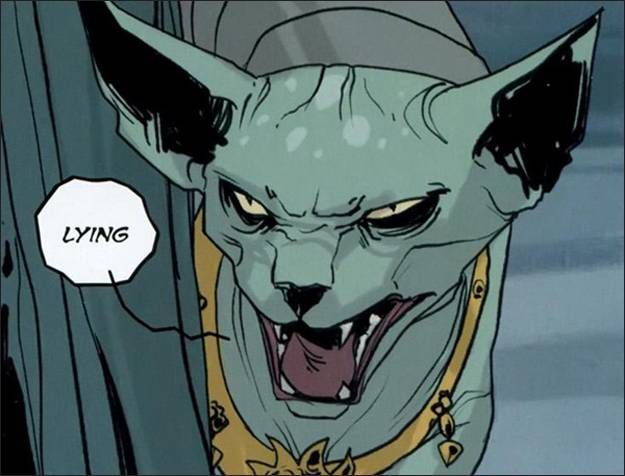 This content contains affiliate links. When you buy through these links, we may earn an affiliate commission.
This is a guest post from Yaika Sabat. Yaika is writer and library assistant who lives in Texas. Her favorite things include books and comic books, movies, Doctor Who, her pets, and puns. She's also currently getting her Master of Library Sciences at the University of North Texas. When she's not writing for Book Riot, she writes about stories and her life at her blog, Glasses Attached (www.glassesattched.com). You can usually find her reading something, watching movies, looking at art, playing with dogs, or hanging out with her two cats. Follow her on Twitter @yikesa.
---
I have read comics for as long as I've read anything else. It's one of the perks of being the youngest sibling when both your older brother and sister love comics. I had a nice collection to read from before I could buy any of my own, as long as I pleaded correctly and handled them carefully. My love affair with comics was immediate. There is no moment I remember not thinking they were the coolest things in the world. In comics, I got to meet these amazing characters who did incredible things, and chronicled in beautiful art. I can honestly say comics are probably what started me down the road of trying to genuinely learn more about art.
Clearly, I could gush about any of the ways comics have shaped me, but anyone who knows me well knows that I have a particular love of animal characters. Particularly comic book pets. So I thought I'd share what I consider to be some of the best animal stars of the comic world.
All of this started when I first met Lockjaw and Lockheed.
Lockjaw is a massive bulldog Inhuman who has what looks like a tuning fork on his forehead. Yes, he is as adorable as he sounds. He's traditionally the companion to Black Bolt, ruler of the Inhumans, but definitely works with others (for example, Ms. Marvel). He's strong, and has precognition, but the big thing is he can teleport. A giant bulldog that can teleport. Is this not every girl's dream? Because I saw him and ran to ask my mom if we could get a Lockjaw in real life (alas, we could not). When he appeared as I was reading the Ms. Marvel series I actually cheered out loud. There's a chance I'll watch that new Inhumans show solely for the purpose of seeing what they do with a live action Lockjaw. And I really hope they don't mess it up. Because it would be a serious crime if they mess up a cool, teleporting dog.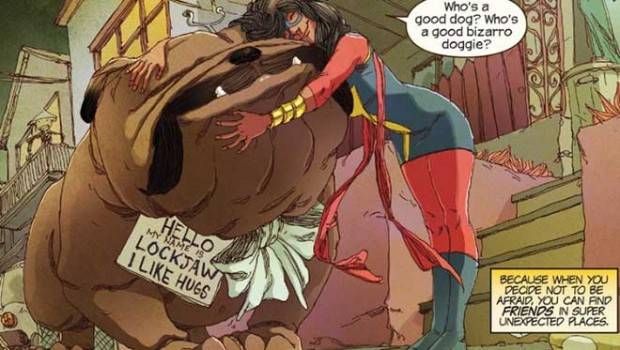 This is also how I would welcome Lockjaw into my life (from Ms. Marvel, art by Adrian Alphona). He likes hugs!
Lockheed is Kitty Pryde's dragon friend. Yeah, she is cool enough to have a purple dragon friend. He's technically an alien dragon (because of course he is), and he can do the fire thing, fly, and I believe is also empathic. There was no way I could resist the magic of that as a kid. The idea of this little dragon that you could communicate with and have adventures with was just a mind-blowingly awesome idea. I also really loved Chance Falconer's dragon, St. George, from Leave it to Chance. And in case you're wondering, yes, I love Daenerys's dragons in Game of Thrones, too. What can I say? I'm a dragon lady.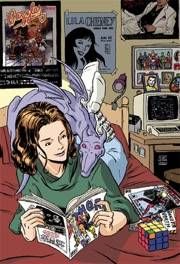 A girl and her dragon. (Kitty Pryde and Lockheed by Cliff Chiang)
Then of course, there is Tippy Toe the squirrel from Unbeatable Squirrel Girl. She is sassy, and furry, and adorable. All three things I love in a companion. She's partners with Squirrel Girl, who I love for her unapologetic optimism and ridiculous humor. Tippy Toe is fiercely loyal to her friends, but also not afraid to flat out tell Squirrel Girl her opinion. I'm not going to say that all squirrels aren't great, because if you read the books you'll see that they are. But Tippy's spunky personality makes her a standout. Plus, no one can rock a pink bow like her.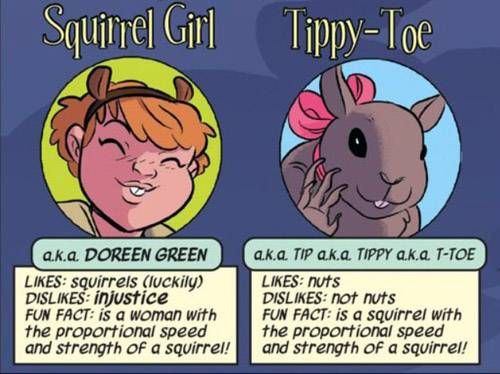 Look at that bow! (Art by Erica Henderson)
For this next one I need everyone to pay attention. Why? Because Neil Gaiman created a German Shepherd (or German Shepherd mix) named Barnabas. That right there could be my entire justification . I have a long personal history of German Shepherds who have looked out for me in my life, so I have a soft spot this character. Barnabas talks, belongs to Delirium, and was originally companion to Destruction. Destruction gives Barnabas to his sister Delirium so she can have someone to watch over her. I love the idea of Destruction gifting his sister this wonderful talking dog. More than that, I love how happy Barnabas seems to make Delirium, and how well they serve each other. Their relationship makes me think of all the good parts of having a dog in my life.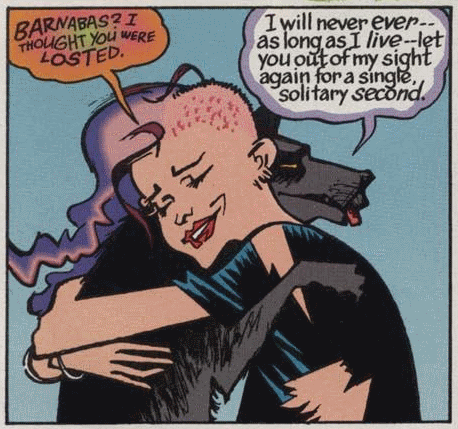 How can you not love this? (from Brief Lives art by Jill Thompson)
Now, I'm aware that I already mentioned Lockjaw, but I feel a deep need to make sure everyone knows about the four-issue series called Lockjaw and the Pet Avengers (it was followed by Lockjaw and the Pet Avengers: Unleashed). The series involves Lockjaw and team of amazing comic pets attempting to find all the Infinity Gems. One of these Pet Avengers is Throg, a frog that gained some of the powers of Thor using a sliver of Mjolnir. Let's just stop and appreciate a Frog dressed up like Thor for a moment, shall we?
GLORIOUS. (Variant cover by Skottie Young)
And to round out this list, I would be ashamed of myself if I didn't mention Lying Cat from Saga. This glorious feline creature is not only great because she's a cat, but because she's useful. Lying Cat can sense lies, and openly calls them out, even if it's awkward for her companions. I find her direct nature very cat-like, and the design of Lying Cat as a type of hairless/sphinx type cat just works really well in this space setting. Like most things Fiona Staples draws, Lying Cat is glorious to look at, and her facial expressions are always perfect.
Lying Cat is perfect, and that's no lie. (Art by Fiona Staples)
This is by no means an exhaustive list of all the incredible comic book pets you can find. Let's think of this list more as an introduction to that wonderful world. If you've never stopped to appreciate the animal stars of the comics, maybe stop and take a look. Just like in real life, animals in comics tend to be fascinating creatures that only make our heroes' lives more charming, heartfelt, and interesting.
(Find all of our comics coverage here.)
Save