This content contains affiliate links. When you buy through these links, we may earn an affiliate commission.
I am a comic book nerd. I read many comic books every month. I can talk for too long about panels and illustration/text collaborations. I've studied and written graduate-level papers about comic books. And yet, I feel like an imposter, like there's a barrier of entry I've yet to cross to become an official comic book nerd.
My imposter syndrome began when I started working at a used bookstore. We had a pretty solid comic book and graphic novels section, which I initially shelved. Then another bookseller was hired with more experience in comics. He drew comics, read more than I, and collected them, so I handed over the section. He talked constantly about the superhero comics he enjoyed, along with several other (all male) employees, and recommended many to me. He was astonished I'd never read Frank Miller, Alan Moore, or Grant Morrison, and at his recommendation, I picked up several of their works. I read The Dark Knight Returns, Sin City, 300, and several others by Frank Miller. All made me recoil. So I tried Alan Moore and read V for Vendetta, Watchmen, The League of Extraordinary Gentlemen. While less offensive, sexism is still used as a means of storytelling, and I felt absolutely no connection to the books. I moved on to Grant Morrison and read Wonder Woman: Earth One, Final Crisis, and JLA: Earth 2. I was bound and determined to like something. Grant Morrison has spoken before about sexism in comics and the proliferation of rape, yet I didn't find any feminism I could get behind in his books.
So I read other superhero comic books. Surely if I enjoyed comics, I should like superheroes? I read several Wonder Woman graphic novels, some from the Superman universe, and more Batman, since I enjoyed the animated Batman TV series growing up. Nothing. No connection. Recent statistics show superhero graphic novel sales are decreasing for the first time. Clearly, I'm not the only one moving away from superheroes.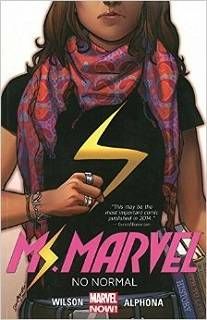 Eventually, I did find one superhero series I could get behind—Ms. Marvel with Kamala Khan—but I gave up on my quest to be a comic book nerd. Clearly, I wasn't cut out for it. Meanwhile, I was reading many comic books I loved between each prose-only book I read. I gladly went on adventures with The Lumberjanes, scratched my head with both perplexity and interest while reading Fun Home, cried a bit while pouring over The Best We Could Do, got angry while reading Good Talk, could not stop smiling while reading The Prince and the Dressmaker. These comics engaged me deeply.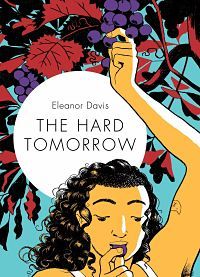 It's been 12 years since I gave up shelving the comic book section, and my knowledge of comics and the misogyny in the comic book industry has grown. I now know many recoil at the misogyny in Frank Miller graphic novels, including Alan Moore. And I've pinpointed more clearly the types of comic books I enjoy. In the last month, for instance, I've read The Hard Tomorrow by Eleanor Davis, a graphic novel about activism and relationships; Race to Incarcerate by Sabrina Jones, a history of the prison system told in comics; Making Comics by Lynda Barry, a philosophy of comics as well as an instructional manual; Stargazing by Jen Wang, a delightful middle grade graphic novel about two Chinese American girls becoming best friends; and The Midwinter Witch by Molly Ostertag, about a transgender girl competing in a magical witch competition.
What do these books have in common? They're all written by women or nonbinary folk, and by people who understand marginalized communities. This isn't to say I only enjoy reading comics by women. I loved They Called Us Enemy by George Takei. But once again, it's a comic book from the perspective of someone in a marginalized community. As someone who is also marginalized, I find better representations in these books on top of excellent narrative and art.
This isn't to say that all superhero graphic novels are sexist. They aren't. Beyond misogyny and sexism, it's completely normal to like some books and not others. That's just a normal part of the reading experience. There are many different types of comic books—fantasy, memoir, science fiction, superhero, history. Of course I'm going to like some and not others, and no single type can or should stand for the entire format.
Ultimately, if you read comic books and enjoy them, no matter the type of comic, you are a comic book nerd. That's all it takes.