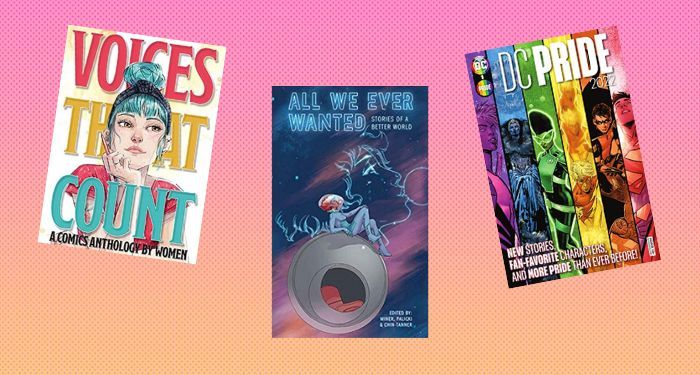 This content contains affiliate links. When you buy through these links, we may earn an affiliate commission.
Question: What is Ant-Man's favorite type of comic book? Answer: An ant-thology! Ha!
Anyway, whether you like superheroes (or puns) or not, an anthology may do the trick when you're not in the mood to read something longer. As with so many other genres, comic books have also put their own spin on the idea of anthologies, or collections of short stories or essays from multiple contributors. In the case of graphic novels anthologies, they include both illustrations and text from many different creators.
Comic book anthologies can cover just about any subject, from pandemics to Pride Month — basically, any topic that a lot of people experience in different, even conflicting ways. Some comics anthologies were compiled for charitable causes, like Love is Love (which benefited the Pulse nightclub shooting survivors) and Where We Live (which benefited the Las Vegas shooting survivors). They allow writers and artists to both express their grief and help those who need it most.
(Sure would be nice if we didn't keep having mass shootings that we then have to have fundraisers for, but I suppose that's a different post.)
You can consider this the opposite of my list of doorstopper comics. Instead of one long, epic-length tale, the books featured here give you bunches of short comics that tell tales of personal struggle, sci-fi excitement, and a whole lot more!
---
Can't get enough anthologies? Check out these prose anthologies featuring horror tales or diverse writers.