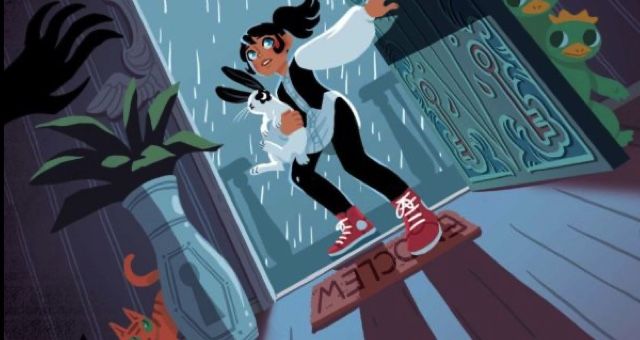 This content contains affiliate links. When you buy through these links, we may earn an affiliate commission.
Everyone has a favorite writer(s). Those of us who partake in comics often have favorite artists as well. There's something about the colors or the movement or—let's be real—the thirst, that attracts our attention, triggers the pleasure center in our brain so we want to look at a panel or a page or a book all day. Maybe we want some of that art to hang on our wall, to enjoy daily without destroying our comics (I mean, feel free, I'm not the comics police and a friend of mine just sent me some gorgeous, handmade jewelry she crafted from handmade, comic, decoupage beads). As it turns out, a good percentage of comic artists these days are freelance—hired for a specific run on a book or for alternate covers, etc.—and have online stores where you can purchase pieces suitable for framing, supporting them between gigs.
Jen Bartel's art is instantly recognizable for its strong lines and gorgeously bright, sometimes outright fluorescent, color palette. Her subjects are all over the geek map and include, among other characters: Captain Marvel, the women of Star Wars, Sailor Moon, and a variety of original characters. One of my favorite pieces of Bartel's is an image of Captain Marvel and Wonder Woman together—those with Opinions felt it was necessary to pit the two heroines against one another when, in fact, Jen's vision of them fighting evil together is far more in keeping with the mission held sacred by both women (yes, I own this one).
You may have seen her work:
In Blackbird (Image), on covers of Josie and the Pussycats (Archie Comics), and in Amy Ratcliffe's Women of the Galaxy (Chronicle Books)
Anka is a GLAAD award winning artists whose sketches have earned him the title "Warden of Thirst" (I mean, have you seen his hypothetical redesign for Namor? Sue Storm would have made a much better decision if she'd met Anka's version). Print options range from Game of Thrones to Fury Road to DC and Margel.
You may have seen his work:
In Runaways, The White Trees, and Fighting Waifus zine (with Irene Koh)
I first saw Yoshi's work in Emerald City Comic Con's artists alley and was immediately attracted to the style and colors of the tarot cards they had on display (deck still in progress and I cannot wait for the final product). Their stylized figures and the incorporation of mythological themes, along with a distinctive palate that includes a very specific orangey-red and a bright, summer-sky blue green are something to be coveted. She also has an amazing celestial series that leans on subtle shades of purple, fantastic enamel pins, and totes in which to haul your con booty.
Yoshi recently ran a Kickstarter for jackets and fanny packs done up with embroidery in her distinctive style and, goodness, do I wish I had more disposable income.
You will see her work in: the upcoming DC kid's graphic novel Zatanna and the House of Secrets
Farrow is both a freelance artist and a designer for independent game company Rock Candy. She's another artist I happened upon at ECCC and immediately fell in love with her work (and bought a print of her Loki/Thor/Valk workout AU). She also does the absolutely best, adorkable Trevor Belmont you ever did see. Some of her stuff is NSFW/maybe a little uncomfortable to explain to kids but it's all incredible.
You may have seen her work in: Ladycastle (BOOM!) and Red Sonja (Dynamite)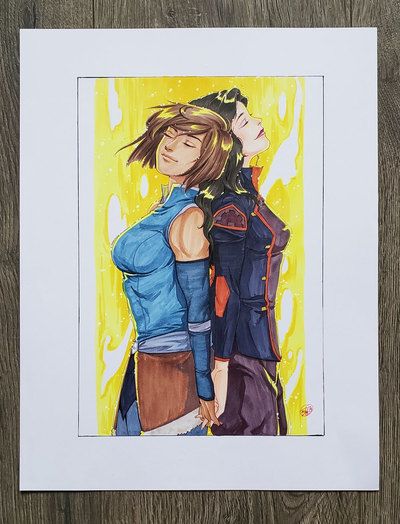 Koh's work doesn't necessarily have a uniform style, which, as a writer who's tried many times to branch out and always comes back to pretty much the same sort of voice and style, I find the ability to flex very, very impressive. It also means she has a print to match almost any style of decor including: watercolor, sharper colors that look like Copics to me, straight up digital, each of which evokes a different mood. Koh has contributed to several (Fighting Waifus and Dreadzine) and you may also have seen her work in:
The Legend of Korra: Turf Wars (Dark Horse) and Fresh Romance (Emet)
Ward's art is a completely original combination of ephemeral and weighty, lightning strikes and the eternal. Loose, sketchy lines create shapes while, at the same time, evoking the world beyond the figure. His color choices are a fascinating combination of bright and pastel, definite and indefinable. Ward's work can be a little overwhelming, but I mean that as a compliment—even the most simple of his pieces gives you intense feels.
You may have seen his work in ODY-C (Image) and Black Bolt (Marvel)
---
Comics art isn't all muscles and spandex (well, some of it is, and some of the muscles and spandex make damn fine art). So often, the artists are left out of the comics discussion when, in reality, without them, a comic book would be nothing more than a screen play. So, let's start giving them the appreciation they deserve.