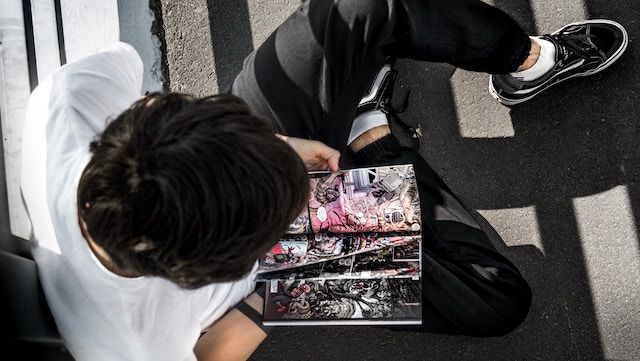 This content contains affiliate links. When you buy through these links, we may earn an affiliate commission.
Writer and artist brains are weird and magical places where anything can happen: impossible connections made, imaginary people made real, entire worlds created and destroyed in the space of a couple thousand words. One of the most amazing things about creative brains, though, is that if you give a roomful of creators the same prompt, each and every one of them will hand back something that's different from anything else in the pile and different than anything you've seen before.
That's why anthologies work. Collected volumes of variations on a theme, anthologies are really remarkable beasts, their component parts managing to interlock even if the only thing they have in common is a single word or phrase or idea. They're also a great place to discover new authors, those who approach the theme the way you would, or, perhaps, in the opposite way you would or a way you'd never thing of. Whose ideas focus you or explode your cortex.
There are some really fantastic comics anthologies out there. Here's just a small sample.
Dead Beats: A Musical Horror Anthology by Kwanza Osajyefo, Steenz, Magdalene Visaggio, Nadia Shammas, Rachel Pollack, Vita Ayala, and others (A Wave Blue World Inc)
Dead Beats tells horror stories with music at their core, each one about a curiosity that can be found at a particular record shop. It's episodic old school horror running headlong into the '90s obsession with local hubs of musical opinion. This anthology is all new stories, which, while not rare enough to be surprising does make it more enticing to buy; many anthologies have at least a few reprints and I tend to shy away from purchasing books containing a high percentage of material I've already read or know I don't want to read (looking at you, sci-fi anthologies that always manage to have an Asimov or Heinlein story in them).
Gwan by Jerome Walford, Fong Yi Li, Selina Briggs, Ramon Gil, Tak Toyoshima, Dan Hom, and others (Forward Comix)
The theme of this anthology is immigration. It features creators who have immigrated from, emigrated to the U.S., Spain, Cameroon, China, the Phillipines, Chile, Australia, Germany, England, and Jamaica. Each creator's experience as an immigrant, or the child of an immigrant, is different; like everything else in life, immigration and the immigrant experience aren't monoliths. There's no single definition of "the immigrant experience." Winner of an Independent Publisher Book Award, Gwan is something very special and if you don't see yourself in it, maybe you'll see a friend or a loved one, or simply come to understand the world a little more clearly.
Lumberjanes: Bonus Tracks by Holly Black, Faith Erin Hicks, Jen Wang, Rosemary Valero-O'Connell, Christine Norrie, and Kelly Thompson (Boom Box!)
There are exceptions to every rule and this anthology would be an exception to "I don't usually buy anthologies of stuff that's been published elsewhere." First, it's virtually impossible to know if you've actually seen all of the one shots in a given series because, as the name suggests, they don't connect to other stories or to the through line of a series. Second if, like me, you're a completionist, having a hole where a volume should be, even if it isn't part of the main storyline, will not be conducive to your calm. And last, but definitely not least, Lumberjanes means a lot to a lot of people and those folx want to share it with other people they care about. An anthology of short stories seems like a great jumping off point to test the characters, the setting, and the subject matter without investing in several more expensive collected editions until you're sure you want them.
Ricanstruction: Reminiscing & Rebuilding Puerto Rico by Edgardo Miranda-Rodriguez, Gail Simone, Rosario Dawson, Greg Pak, Jorge Jimenez, Gabby Rivera and others (Somos Arte)
Anthologies can also be fantastic fundraisers. There were several published after the hurricane decimated Puerto Rico in 2018 and they all raised significant money for reconstruction. In Ricanstruction, Miranda-Rodriguez and other creators team his original superhero, La Borinquena, up with members of DC's top-tier pantheon: Wonder Woman, the Flash, Batman, Superman, and Aquaman. It also includes explorations of the island's past and future. And I have to say, as much issue as I take with a lot of what DC does, they allowed Miranda-Rodriguez to use their heavy hitters without charging for licensing, etc., thus leaving more profits for Soma Arte, his publishing company, to donate to various hurricane relief charities.
---
So if your mind automatically goes to those horrible literature samplers foisted upon us in high school when someone says, "anthology," take a deep breath and remember there's way more out there than snippets of Thoreau and Whitman. (I mean, I like Whitman but other people in the history of the world have written things. Thoreau can go jump in Walden Pond.) Give yourself, or the comic lover in your life, the gift of something new and different, a self-contained pathway to the larger world of comics.