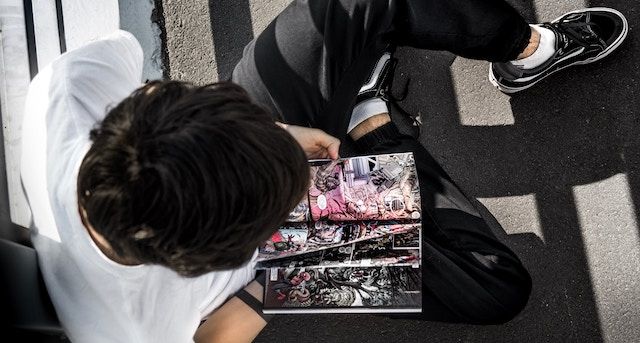 This content contains affiliate links. When you buy through these links, we may earn an affiliate commission.
Even though I came to comics late in life, I was immediately skeptical when Dean and Shannon Hale first released their middle grade novels based upon the Unbeatable Squirrel Girl arc. Would they be able to match Ryan North's fantastic sense of humor? Would the story be as engaging without Erica Henderson's expressive drawings? Did we really need another version of Squirrel Girl?
And so, I resisted.
Around the same time, Mariko Tamaki and Brooke Allen began releasing the Lumberjanes novels. The following year, Andy Mientus and Rian Sygh did up a Backstagers novel. By then, I had succumbed to the hype around the Squirrel Girl novels. I found them to be delightful. I read the Backstagers novel, too.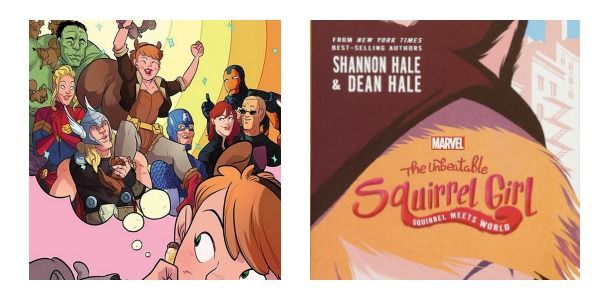 Then, this past October, DC put a twist on the comics-to-prose trend and announced that they would be releasing two graphic novels based off of two prose novels from their DC Icons series: Stuart Moore and Chris Wildgoose's Batman: Nightwalker, based off of Marie Lu's book of the same name, and Louise Simonson and Kit Seaton's Wonder Woman: Warbringer, based off Leigh Bardugo's novel. What was even happening!?
Of course, comic adaptations are nothing new. There are comics based upon classic novels. Comics inspired by your favorite childhood franchises. Movies and TV shows based on popular comics. But suddenly, it seemed these comic-to-prose-to-comic adaptations were everywhere I looked. Was this trend heating up? And why?
The Expanding Market Among Younger Readers
One thing many of these adaptations have in common is that they were created to appeal to younger readers. The all-ages Squirrel Girl comics, for example, are well-suited for a middle-grade audience interested in Doreen Green's humble beginnings. The DC Icons books focus on well-known superheroes before they have taken up their superhero mantles. Shannon Watters, who is the editor of both Giant Days and Backstagers, thinks it's all about the characters, and about sharing character-driven stories.
"I think the strong characters and ensembles lend themselves to middle grade and YA prose serials!" she says.
Michele Wells, Vice President and Executive Editor, Books for Young Readers at DC, agrees that these books are a no-brainer for young audiences, and credits their success with shifts in the way younger people now communicate.
"I think visual storytelling has increased in popularity among younger readers because, in general, we've moved toward communicating and receiving information visually online," Wells says. "Reading graphic novels helps improve visual literacy, a skill that's become essential for the way young people navigate their world, and the interplay of words and pictures to tell a story ties into how texts, gifs, and memes have dominated conversation among young people."
This visual element has even been tied into some of the prose adaptations. Pick up The Backstagers and the Ghost Light, for example, and you're still treated to one or two illustrations per chapter. Flourishes like this make the transition between the various adaptations even more seamless.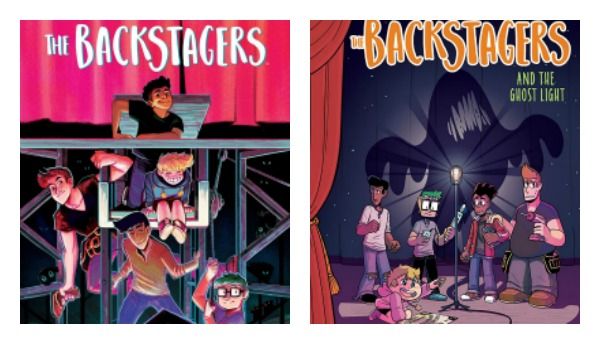 The Pros and Cons of Each Medium
Of course, while the graphic novel appeals to this shift toward visual communication, novels still give stories more of a chance to breathe.
"In a novel, the author builds a world and creates sharply defined, relatable characters through a singular voice," says Wells. "There's often the freedom of having unlimited pages in which to create a compelling story."
In graphic novels, meanwhile, it can often feel as if the creators are working under far more limitations.
"The author needs to be both concise and precise to best enable the artist to interpret the story and convey it visually," says Wells. "There are also limitations such as page count and trim size that play into the way a complete, standalone story is executed, which can present a major challenge and require a lot of creativity."
And then there is the collaborative aspect of graphic novels, versus the ability of the writer to take full ownership of a prose novel.
"Graphic novels are a collaboration among not just the author and artist, but also the layout artist, colorist, letterer, and others," says Wells. "Understanding how to support and allow for each contributor's individual expertise results in a strong, united vision in the storytelling."
The Adaptation Process
It is this collaborative process that—to me, at least—seems daunting. It's hard enough to bring a project to life when the characters and the world have come from your own imagination. But how difficult must it be for an entire creative team to come together and create a solid graphic novel while also staying true to the original author's vision?
Moore, who worked on the Batman: Nightwalker graphic novel, acknowledges the constraint of the graphic form.
"The trick with adapting anything into comics is you're usually pressed for space because comics tend to be a sort of cramped medium," he says. But in the case of Batman, he felt he had plenty of pages to work with. "We didn't have to skimp on the emotional moments," he says. "I didn't want to have to trim that down too much. I wanted to give it time to evolve and grow."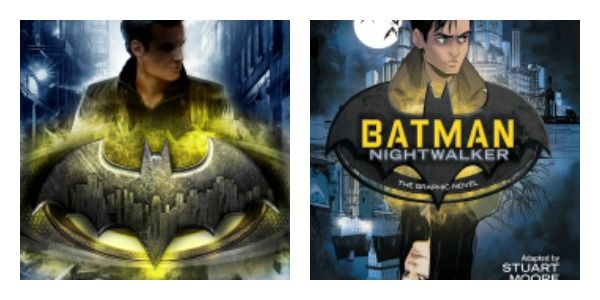 And he credits his team—including original author Marie Lu—for making the process so easy. He says that Lu's descriptions in the source material were so vivid, they were easy to recreate in the more visual medium of the graphic novel. He also gives a shout-out to Wildgoose, his artist.
"There is so much character stuff in this book," says Moore. "In comics, that could seem dull or static, but it never does in this book because Chris is just so good at emotion. I think he did a brilliant job. It made a story designed for one medium work really, really well in the comics."
Louise Simonson and Kit Seaton, who adapted Bardugo's Wonder Woman novel, also felt that the collaborative nature of their project only made for a stronger book.
"I had a certain number of pages I was supposed to meet," says Simonson. "Honestly, it was easy. It seemed like [Bardugo's] novel was very much suited to the number of pages we were supposed to produce. I went through and broke it down chapter by chapter. It came out a little long so I cut a few extraneous bits here and there. Pretty much what you see in the graphic novel is what was in her novel. She was very descriptive in her writing and her setting of scenes and I did my best to translate it."
As far as transforming a comic into prose goes, Watters says that part of the trick is in involving the original creators in the adaptation.
"We mainly act as a pair of eyes with the original comic project in mind," she says, "keeping characterizations consistent…making sure the facts are straight."
Is There Audience Cross-Pollination Between the Two Mediums?
When I ask the folks on these various projects if the ultimate hope is for readers to migrate between the two mediums, they seem optimistic. Wells reminds me that these adaptations are nothing new and that audiences have always been willing to follow a beloved character or a thrilling storyline to a new space. She mentions Gene Luen Yang and Gurihiru's Superman Smashes the Klan, which is from DC's middle-grade line, and which grew out of the 1940s Adventures of Superman radio show. She tells me of how she loved the recent graphic novel adaptation of Laurie Halse Anderson's Speak. "A good story transcends the medium," she says.
Wildgoose affirms that the reader migration is already happening.
"I've attended several conventions such as NYCC and Thought Bubble back here in the UK, and have had a lot of young readers buy the book or return to the table to have their copies signed," he says. "I heard from several readers that Nightwalker has been their first comic or introduction to Batman. A few review sites have said this, too, and we have had review sites who usually only do YA novels review us based on coming over from Marie Lu's work. This is exactly what we had hoped for and I really hope we get to do more to keep bringing younger readers into comics."
Simonson, meanwhile, hopes her work on titles like the Wonder Woman adaptation will bring more young women to comics.
"More and more women are coming into comics both as readers and creators," she says, "and I think that can only make the comics world a better place."
Watters points out that graphic storytelling is finally being taken seriously as a "unique and extraordinary narrative medium," and she thinks the adaptations—and the readerships between adaptations and their source materials—will only grow.
"It doesn't surprise me that comic books are begetting prose novels," she says. "Various media being adapted by other media is a tale as old as popular culture."