Nonfiction
I'm an Accidental Collector of Vintage Cookbooks
This content contains affiliate links. When you buy through these links, we may earn an affiliate commission.
I had a revelation the other day.
(It came in a charity bookshop, as all of the best revelations do.)
I had picked up Women's Own Cookbook (1965). It joined The Master Book of Soups (1960), and Home Cookery Illustrated: A Practical Guide for Beginner and the Experienced Housewife (1957). It was at that point that I realised I was an accidental collector of vintage cookbooks.
Here's the thing: I don't actually cook.
I mean, I do cook, but not in the sort of way that any of these writers would approve. I've never made banana salad for example (two slices canned pineapple, one banana, salad greens and…mayonnaise), and neither have I felt the need to roast a peacock for dinner guests (roast as you would any other bird).
But I do understand story, and these books are full of them.
How better to understand people by reading about what they cook? What do they want to cook? What's the trendy dish? What on earth is aspic and why is everything in it? Why would you cook a herring, remove the bones, mix the fish up with some lemon peel and apple, before laying the herring back on top of the bones? Where can I get such an amazing apron from? Why is everyone so white and married?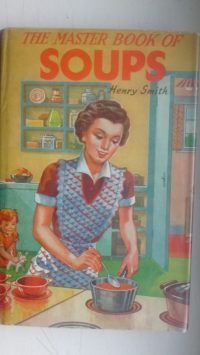 One of the greatest things about these books is that they shine a spotlight onto domestic life, and the expectations of that. The Master Book of Soups is written by a guy, but it's about women. It reveals the expectations of women within a society that was only fifteen years from war.
These books give you an idea of what women were expected to know, and what they were expected to achieve in their brave new world. And even when that's about how to have dinner ready when your husband comes home from work (preparation is key), or how to boil an egg (simply insert into the boiling water), I still love them.
I just wish I'd realised I was collecting them sooner.