Children's
25+ New Collective Biographies of Rad Women Through History
This content contains affiliate links. When you buy through these links, we may earn an affiliate commission.
A couple of years ago, we were hit with a wave of books for readers of all ages that featured amazing women throughout history. These collective biographies served to offer a taste of a variety of stories of real women from ancient history through the present. Some were stronger entries into the burgeoning field than others, but all offered a means of sharing a wide range of stories that sought to encourage further reading and information seeking.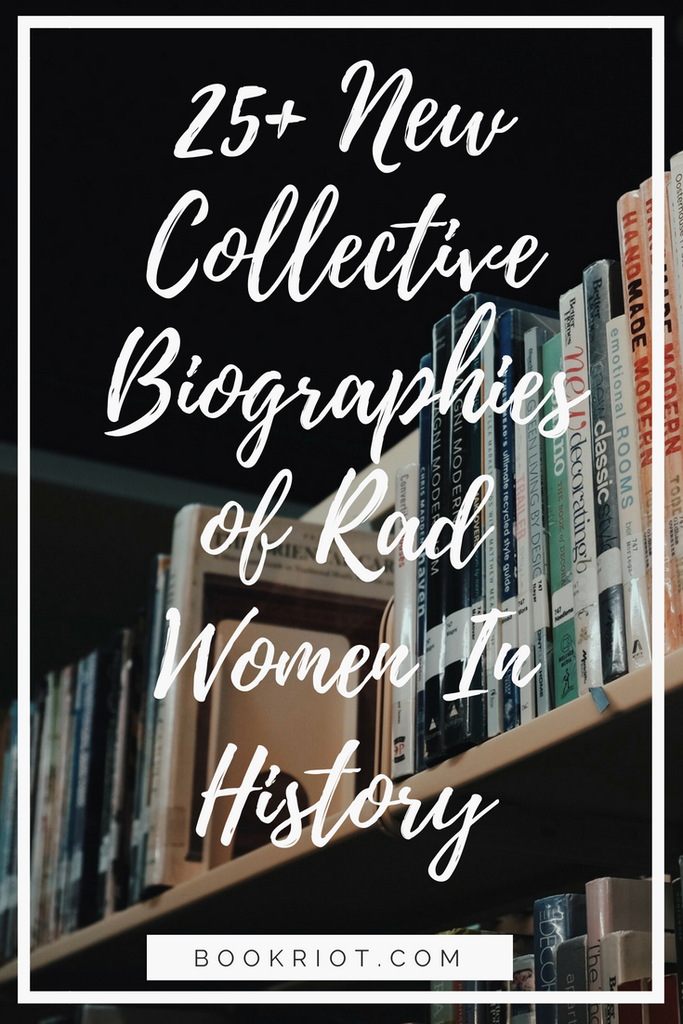 But those books didn't stop there. They encouraged even more collective biographies of rad women across time and across various classes, races, religions, sexualities, careers, and legacies. The publication of these isn't slowing down—we may even have more this year than we saw when they began to emerge in numbers not too long ago.
What's great about these books is the same thing that many find frustrating about them: they're easy to pick up and put down, with short pieces highlighting individual women's contributions to the world. Some are highly designed and illustrated, while others focus far more on the text itself. Although many are published for the younger reading audience, especially that middle and high school range, they're being published for all age categories and they're easy to share across ages.
Check out this year's bounty of collective biographies of fascinating women below. Most of this are available now, though some are still coming through the end of the year (noted beside the titles). I encourage you to not only read through this, either start to finish or in a more leisurely manner, and then seek out full-length biographies and memoirs about and by these amazing ladies.
Descriptions come from Goodreads. Please note that the authorship or anthologizing of these collections is significantly done by white writers, though the contents themselves are, fortunately, much more representative of not only the world now, but the world as it has always been.
This book tells the stories of 101 amazing women and the ways in which they changed the world. Featuring a wide range of nationalities and ages, and fields spanning from science and arts to exploration and activism, these awesome women are sure to be an inspiration to children everywhere. Including biographies, quotations and facts written in an accessible way and brought to life with charming illustrations, this is the perfect title for kids aged 7+.
Highlighting notable and inspiring women from across the globe and throughout time, The A-Z of Wonder Women features biographies of trailblazers and groundbreakers, including Ada Lovelace, Oprah Winfrey, Ruth Ginsberg, and Wajeha al-Huwaider.
This empowering alphabet-style book celebrates a wide range of skills and masteries in the arts, politics and activism, STEM, and more, providing accessible facts about these heroic women—and inspiring young readers to make the change they want to see in the world.
Girls on the Western Frontier were expected to care for younger children, cook and clean, wash clothes, milk cows, tend gardens, and round up wandering herds in a harsh and unfamiliar landscape. Their stories, often taken from their first-hand accounts of trips on Western trails and journals kept during their few free hours, have been inspiring generations of young women and entertaining readers of all ages.
Amazing Texas Girls tells the stories of notable girls who spent most or all of their childhood in Texas And shaped the history of the Lone Star State. Although from different cultures, economic status, education, and notoriety, all displayed an indomitable Texas spirit. Each chapter tells the story of a girl's life (17 years old or younger), offering complete biographical information, but focusing on the girl's remarkable childhood. Readers will never forget these stories of real girls who conquered the West in their own style.
Anthology of Amazing Women
: Trailblazers Who Dared to Be Different
by Sandra Lawrence
This beautifully illustrated collection tells the awe-inspiring stories of 50 women who have pushed the boundaries of human excellence and endeavor.
Featuring familiar icons like Elizabeth I and Malala Yousafzai, and introducing hidden figures like Chien-Shiung Wu and Aud the Deep-Minded, kids will be fascinated reading about these women's achievements in science, sports, the arts, politics, and history, and it is sure to inspire a new generation of extraordinary girls!
Beautiful, colorful illustrations tell the inspirational stories of ten black women and women's collectives from 1793 to the present.
Included are leaders who were anti-slavery activists and organizers who promoted basic health care, literacy and scholarship within their neighborhoods. The stories and art celebrate these remarkable women who are not necessarily well known or recognized, but have had profound impacts on their communities.
Throughout history and across the globe, one characteristic connects the daring women of Brazen: their indomitable spirit. Against overwhelming adversity, these remarkable women raised their voices and changed history.
With her one-of-a-kind wit and dazzling drawings, celebrated graphic novelist Pénélope Bagieu profiles the lives of these feisty female role models, some world-famous, some little known. From Nellie Bly to Mae Jemison or Josephine Baker to Naziq al-Abid, the stories in this comic biography are sure to inspire the next generation of rebel ladies.
Dress Like a Woman
: Working Women and What They Wore
by Abrams Books
Dress Like a Woman turns that question on its head by sharing a myriad of interpretations across history. The book includes more than 240 incredible photographs that illustrate how women's roles have changed over the last century. The women pictured in this book inhabit a fascinating intersection of gender, fashion, politics, culture, class, nationality, and race. You'll see some familiar faces, including trailblazers Shirley Chisholm, Amelia Earhart, Angela Davis, Georgia O'Keeffe, and Michelle Obama, but the majority of photographs are of ordinary working women from many backgrounds and professions. Pioneering scientists and mathematicians, leading civil rights and feminist activists, factory workers and lumberjacks, stay-at-home moms and domestic workers, and artists and musicians; all express their individual style and dress to get the job done.
With essays by renowned fashion writer Vanessa Friedman and New York Times bestselling author Roxane Gay, Dress Like a Woman offers a comprehensive look at the role of gender and clothing in the workplace—and proves that there's no single way to dress like a woman.
Femme Magnifique: 50 Magnificent Women Who Changed The World by Shelly Bond
The Kickstarter sensation that united over 100 comic book writers and artists from around the globe is now available in paperback with new content, including a new cover by Tess Fowler (Kid Lobotomy, Rat Queens).
50 female trailblazers of yesterday and today each get a 4-color sequential tribute in Femme Magnifique. This collection features 3-page short stories about women from the arenas of pop music, politics, art, and science. From astronauts and archaeologists to muckrakers and mathematicians, Femme Magnifique will stimulate and educate. Part mini biopic, part personal inspiration, this collection also features new material including a foreword, behind-the-scenes process pages, and more!
Creators from South Africa, India, England, Denmark, the U.S. and other locales converge to share stories of personal heroines Kate Bush, Octavia Butler, Rumiko Takahashi, Ada Lovelace, Misty Copeland, Margaret Sanger, Michelle Obama, Sally Ride, Harriet Tubman ,and more!
Comic book luminaries Gail Simone, Kelly Sue DeConnick, Bill Sienkiewicz, Kieron Gillen, Sanford Greene, Jill Thompson, Gilbert Hernandez, Gerard Way, and Marguerite Bennett, to name a few, lend their talents to a celebration of kickass women who are truly magnifique.
Galaxy Girls
: 50 Amazing Stories of Women in Space
by Libby Jackson
Filled with beautiful full-color illustrations, a groundbreaking compendium honoring the amazing true stories of fifty inspirational women who helped fuel some of the greatest achievements in space exploration from the nineteenth century to today—including Hidden Figure's Mary Jackson and Katherine Johnson as well as former NASA Chief Astronaut Peggy Whitson, the record-holding American biochemistry researcher who has spent the most cumulative time in space.
When Neil Armstrong stepped off the ladder of the lunar module, Eagle, he famously spoke of "one small step for man." But Armstrong would not have reached the moon without the help of women. Today, females across the earth and above it—astronauts and mathematicians, engineers and physicists, test pilots and aerospace psychophysiologists—are pushing the boundaries of human knowledge, helping us to understand the universe and our place in it. Galaxy Girls celebrates more than four dozen extraordinary women from around the globe whose contributions have been fundamental to the story of humankind's quest to reach the stars.
Girl CEO by Katherine Ellison and Ronnie Cohen
Rebel girls, young entrepreneurs, and other trailblazing tweens and teens will find inspiring success stories and practical advice for launching their own illustrious careers–right now!
Mini-biographies of leading women entrepreneurs—from Oprah to Estée Lauder, Ursula Burns to Mary Barra, Lilly Singh to Reese Witherspoon—offer fascinating windows into what it takes to succeed, with a particular focus on the challenges faced (and overcome) by girls and women. Each success story provides different lessons in life and leadership–such as how to:
*build a prestigious brand
*grow a loyal customer base
*identify a lucrative niche
*raise money for research and development
Fascinating figures from the worlds of media, technology, fashion, food, and more share their secrets with tomorrow's leaders.
Girl Squads
: 20 Female Friendships That Changed History
by Sam Maggs
A fun and feisty tour of famous girl BFFs from history who stuck together and changed the world.
A modern girl is nothing without her squad of besties. But don't let all the hashtags fool you: the #girlsquad goes back a long, long time. In this hilarious and heartfelt book, geek girl Sam Maggs takes you on a tour of some of history's most famous female BFFs, including:
* Anne Bonny and Mary Read, the infamous lady pirates who sailed the seven seas and plundered with the best of the men
* Jeanne Manon Roland and Sophie Grandchamp, Parisian socialites who landed front-row seats (from prison) to the French Revolution
* Sharon and Shirley Firth, the First Nations twin sisters who would go on to become Olympic skiers and break barriers in the sport
* The Edinburgh Seven, the band of pals who fought to become the first women admitted to medical school in the United Kingdom
* The Zohra Orchestra, the ensemble from Afghanistan who defied laws, danger, and threats to become the nation's first all-female musical group
And many more! Spanning art, science, politics, activism, and even sports, these girl squads show just how essential female friendship has been throughout history and throughout the world. Sam Maggs brings her signature wit and warmth as she pays tribute to the enduring power of the girl squad. Fun, feisty, and delightful to read—with empowering illustrations by artist Jenn Woodall—it's the perfect gift for your BFF.
Herstory
: 50 Women and Girls Who Shook Up the World
by Katherine Halligan
Celebrate fifty inspiring and powerful women who changed the world and left their mark in this lavishly illustrated biography compilation that's perfect for fans of Good Night Stories for Rebel Girls and She Persisted.
Throughout history, girls have often been discussed in terms of what they couldn't or shouldn't do.
Not anymore.
It's time for herstory—a celebration of not only what girls can do, but the remarkable things women have already accomplished, even when others tried to stop them.
In this uplifting and inspiring book, follow the stories of fifty powerhouse women from around the world and across time who each managed to change the world as they knew it forever. Telling the stories of their childhood, the challenges they faced, and the impact of their achievements, each lavishly illustrated spread is a celebration of girl power in its many forms. From astronauts to activists, musicians to mathematicians, these women are sure to motivate young readers of all backgrounds to focus not on the can'ts and shouldn'ts, but on what they can do: anything!
They led while others followed. They stood up and spoke out when no one else would. They broke the mould in art, music and literature. Each of them fought, in their own way, for change. Encompassing artists, politicians, activists, reporters and heads of state from past and present, A History of the World in 21 Women celebrates the lives, struggles and achievements of women who have had a profound impact on the shaping of our world. Jenni's 21 are: Joan of Arc, Artemesia Gentileschi, Angela Merkel, Benazir Bhutto, Hillary Clinton, Coco Chanel, Empress Dowager Cixi, Catherine the Great, Clara Schumann, Hatshepsut, Wangari Maathai, Golda Meir, Frida Kahlo, Toni Morrison, Margaret Atwood, Isabella of Castile, Cathy Freeman, Anna Politokovskaya, Sirimavo Bandaranaike, Madonna and Marie Curie.
Rebels, rulers, scientists, artists, warriors and villains
Women are, and have always been, all these things and more.
Looking through the ages and across the globe, Anita Sarkeesian, founder of Feminist Frequency, along with Ebony Adams PhD, have reclaimed the stories of twenty-five remarkable women who dared to defy history and change the world around them. From Mongolian princesses to Chinese pirates, Native American ballerinas to Egyptian scientists, Japanese novelists to British Prime Ministers, History vs Women will reframe the history that you thought you knew.
Featuring beautiful full-color illustrations of each woman and a bold graphic design, this standout nonfiction title is the perfect read for teens (or adults!) who want the true stories of phenomenal women from around the world and insight into how their lives and accomplishments impacted both their societies and our own.
In Praise of Difficult Women
: Life Lessons From 29 Heroines Who Dared to Break the Rules by Karen Karbo
Smart, sassy, and unapologetically feminine, this elegantly illustrated book is an ode to the bold and charismatic women of modern history. Best-selling author Karen Karbo (The Gospel According to Coco Chanel) spotlights the spirited rule breakers who charted their way with little regard for expectations: Amelia Earhart, Helen Gurley Brown, Edie Sedgwick, Hillary Clinton, Amy Poehler, and Shonda Rhimes, among others. Their lives—imperfect, elegant, messy, glorious—provide inspiration and instruction for the new age of feminism we have entered. Karbo distills these lessons with wit and humor, examining the universal themes that connect us to each of these mesmerizing personalities today: success and style, love and authenticity, daring and courage. Being "difficult," Karbo reveals, might not make life easier. But it can make it more fulfilling—whatever that means for you.
Fine artist Leah Tinari's stunning, spellbinding portraits honor the groundbreaking achievements and indelible impact of twenty-four extraordinary American women. These women's dreams were without boundaries; their accomplishments limitless in their reach and lasting power.
Tinari's list is comprised of trailblazers, whose vision, grit, and guts paved the way not only for the generations to come, but for Tinari's own artistic journey. These women include Louisa May Alcott, Rachel Carson, Julia Child, Shirley Chisholm, Ellen Degeneres, Ray Eames, Eve Ensler, Carrie Fisher, Dian Fossey, Aretha Franklin, Betsey Johnson, Carol Kaye, Yuri Kochiyama, Liz Lambert, Lozen, Shirley Muldowney, Tracey Norman, Annie Oakley, Georgia O'Keefe, Dolly Parton, Kimberly Pierce, Gilda Radner, Sojourner Truth, and Abby Wambach.
Their contributions to the arts, education, science, politics, civil rights, fashion, design, technology, and sports are enduring and noteworthy. Courage, perseverance, brilliance, and passion were the guiding, groundbreaking principles for these diverse women who span the eighteenth, nineteenth, and twentieth centuries.
Featuring the true stories of 40 women creators, ranging from writers to inventors, artists to scientists, Visionary Women Around the World inspires as it educates. Readers will meet trailblazing women like Mary Blair, an American modernist painter who had a major influence on how color was used in early animated films, actor/inventor Hedy Lamar, environmental activist Wangari Maathai, architect Zaha Hadid, filmmaker Maya Deren, and physicist Chien-Shiung Wu. Some names are known, some are not, but all of the women had a lasting effect on the fields they worked in.
The charming, information-filled full-color spreads show the Leaders as both accessible and aspirational so reader knows they, too, can grow up to do something amazing.
Modern HERStory: Stories of Women and Nonbinary People Writing History by Blair Imani
With a radical and inclusive approach to history, Modern HERstory profiles and celebrates seventy women and nonbinary champions of progressive social change in a bold, colorful, illustrated format for all ages. Despite making huge contributions to the liberation movements of the last century and today, all of these trailblazers come from backgrounds and communities that are traditionally overlooked and under-celebrated: not just women, but people of color, queer people, trans people, disabled people, young people, and people of faith. Authored by rising star activist Blair Imani, Modern HERstorytells the important stories of the leaders and movements that are changing the world right here and right now–and will inspire you to do the same.
Power in Numbers
: The Rebel Women of Mathematics
by Talithia Williams
Prepare to be inspired. Power in Numbers: The Rebel Women of Mathematics is a full-color volume that takes aim at the forgotten influence of women on the development of mathematics over the last two millennia.
You'll see each eminent mathematician come to life on each page, women like the astronomer-philosopher Hypatia, theoretical physicist Emmy Noether, and rocket scientist Annie Easley.
Power in Numbers: The Rebel Women of Mathematics is an affirmation of female genius and a celebration of the boundless applications of mathematics. See their stories!
Pre-Raphaelite Girl Gang
: Fifty Makers, Shakers and Heartbreakers from the Victorian Era by Kirsty Stonell Walker
We mostly know the women of the Pre-Raphaelite movement through their appearances in paintings: long-haired beauties with sad eyes who simultaneously seem historical and contemporary. But women played a much bigger role in the movement than that, as Pre-Raphaelite Girl Gang shows.
​
Telling the stories of fifty women—duchesses to laundresses—who were involved with the Pre-Raphaelites, this book brings together stunning illustrations and little known stories to rewrite the history of an artistic movement that has held its popularity for more than a century. From models to artists, these women all contributed something personal and incredible towards the most beautiful and imaginative art movement in the world. Redefining what it meant to be attractive and influential in a male-dominated world, they broke new ground in art, business, and women's rights. In these pages we learn more about faces long familiar from classic paintings, but we also meet women who worked behind the scenes. Together, these portraits recast our understanding of the Pre-Raphaelites and reveal an enchanting, revolutionary band of women who remain unlikely and compelling role models today.
Rad Girls Can
: Stories of Bold, Brave, and Brilliant Young Women
by Kate Schatz
You might know the stories of Malala Yousafzai, Anne Frank, Jazz Jennings, and Joan of Arc. But have you heard about Yusra Mardini, a Syrian refugee who swam a sinking boat to shore, saved twenty lives, then went on to compete as an Olympic swimmer? Or Trisha Prabhu, who invented an anti-cyberbullying app at age 13? Or Barbara Rose Johns, whose high school protest helped spark the civil rights movement?
In Rad Girls Can, you'll learn about a diverse group of young women who are living rad lives, whether excelling in male-dominated sports like boxing, rock climbing, or skateboarding; speaking out against injustice and discrimination; expressing themselves through dance, writing, and music; or advocating for girls around the world. Each profile is paired with the dynamic paper-cut art that made the authors' first two books New York Times best sellers. Featuring both contemporary and historical figures, Rad Girls Can offers hope, inspiration, and motivation to readers of all ages and genders.
Fresh, accessible, and inspiring, Shaking Things Up introduces fourteen revolutionary young women—each paired with a noteworthy female artist—to the next generation of activists, trail-blazers, and rabble-rousers. From the award-winning author of Ada's Violin, Susan Hood, this is a poetic and visual picture book that celebrates persistent women throughout history.
Among the powerful pairings: Caldecott Medalist Sophie Blackall takes on heroic World War II spies Eileen and Jacqueline Nearne; Selina Alko is matched with the brave Malala Yousafzai; New York Times bestselling illustrator Emily Winfield Martin is paired with the inventor of the controversial one-piece bathing suit, Annette Kellerman; and Shadra Strickland introduces America's first known female firefighter, Molly Williams.
While women make up over half of the U.S. population, they face discrimination, have less representation in government and other fields, and struggle every day for their human rights. It is more important now than ever to raise a generation of girls who, in the face of adversity, persevere. This book was written, illustrated, edited, and designed by women.
Women around the world have long dreamed big, even when they've been told their dreams didn't matter. They've spoken out, risen up and fought for what's right, even when they've been told to be quiet. Whether in science, the arts, sports or activism, women and girls throughout history have been determined to break barriers and change the status quo. They haven't let anyone get in their way and have helped us better understand our world and what's possible. In this book, Chelsea Clinton introduces readers to a group of thirteen incredible women who have shaped history all across the globe.
Joan of Arc. Anne Frank. Cleopatra. Pocahontas. Mary Shelley. Many of these heroines are well-known. But have you heard of Sybil Ludington, a 16-year-old daughter of an American colonel who rode twice as far as the far better-remembered Paul Revere to warn the militia that the British army was invading?
This fascinating book features 30 young women who accomplished remarkable things before their twentieth birthdays. Visually compelling with original illustrations, this book will inspire the next generation of strong, fearless women.
What Would She Do?: 25 True Stories of Trailblazing
Rebel Women
by Kay Woodward
From historic world leaders to brilliant scientists, artists, and modern-day pioneers, What Would She Do? shares twenty-five incredible women's stories that educate and empower. Learn about the remarkable achievements and attitudes of feminist trailblazers such as Cleopatra, Amelia Earhart, Malala Yousafzai, Michelle Obama, and other brave women who overcame huge obstacles to accomplish great things.
Women Athletes Who Rule!
: The 101 Stars Every Fan Needs to Know by the Editors of Sports Illustrated for Kids
The fifth book in the Big Book of Who series from Sports Illustrated Kids profiles extraordinary athletes who shaped the narratives of their sports. The best women athletes—past and present—including Billie Jean King, Serena Williams, Nadia Comaneci, Simone Biles, and dozens more are grouped into these categories: Superstars who reinvented what it means to be a sports celebrity, Wonder Women who transcend sports and created seismic shifts in our culture, Trail Blazers who broke barriers and paved the way for others to follow, Record Breakers who set new standards for excellence, and the Champions who showed heart and gumption as winners. All of their stories bring excellence in women's sports to readers hungry for empowering stories for kids—girls and boys alike.
Women in Gaming: 100 Pioneers of Play by Maegan Marie (November 6)
Featuring intriguing interviews from 100 influential women in gaming, learn how women have played—and will continue to play—important roles in the burgeoning video game industry.
Women in Gaming: 100 Pioneers of Play is a celebration of female accomplishments in the video game industry, ranging from high-level executives to programmers to cosplayers. This insightful and celebratory book highlights women who helped to establish the industry, women who disrupted it, women who fight to diversify it, and young women who will someday lead it. Featuring household names and unsung heroes, each individual profiled is a pioneer in their own right.
A select few of the remarkable women featured in this book include:
* Amy Hennig, Senior creative director and writer
* Perrin Kaplan, Former vice president of marketing for Nintendo of America
* Ashly Burch, Award-winning writer and voice actress
* Lorraine McLees, Senior Artist at Bungie
Women of Invention
: Life-Changing Ideas by Remarkable Women
by Charlotte Montague
Hypatia was a Greek mathematician, astronomer, and philosopher who invented the hydrometer in about 400 AD. Described as a charismatic teacher, she was seen as an evil symbol of the pagan science of learning and she was eventually murdered by Christian zealots.
For many women in years gone by, the invention process was fraught with danger and difficulty. Not only did they face the hardship and obstacles of inventing, they also had to contend with the sexism and gender discrimination of a male world that believed women had nothing to contribute.
Scientific women came to the fore with momentous innovations which were impossible for men to ignore. During World War Two, Austrian actress Hedy Lamarr became a pioneer in wireless communications, developing a "Secret Communications System."
More recently, 20-year-old Ann Makosinski has invented the ingenious Hollow Flashlight which converts radiant body heat into electricity. Meanwhile other women continued inventing in the domestic sphere with Miracle Mops, long-lasting lipsticks, and magic knickers.
In every walk of twenty-first century life women have been challenging themselves (and men) to shape the way we live. The 150 remarkable women in this book show all too clearly that not only can invention no longer be described as a male dominated domain but that a woman's inspiration and ingenuity will probably be driving the life-changing ideas of tomorrow's world.
Women Who Rock
: Bessie to Beyoncé. Girl Groups to Riot Grrrl
by Evelyn McDonnell
From Bessie Smith and The Supremes to Joan Baez, Madonna, Beyonce, Amy Winehouse, Dolly Parton, Sleater-Kinney, Taylor Swift, and scores more, women have played in essential and undeniable role in the evolution of popular music including blues, rock and roll, country, folk, glam rock, punk, and hip hop. Today, in a world traditionally dominated by male artists, women have a stronger influence on popular music than ever before. Yet, not since the late nineteen-nineties has there been a major work that acknowledges and pays tribute to the female artists who have contributed to, defined, and continue to make inroads in music.
In WOMEN WHO ROCK, writer and professor of journalism and new media Evelyn McDonnell leads a team of women rock writers and pundits in an all-out celebration of 106 of the greatest female musicians. Organized chronologically, the book profiles each artist and places her in the context of both her genre and the musical world at large. Sidebars throughout recall key moments that shaped both the trajectory of music and how those moments influenced or were influenced by women artists.
With full-color illustrated portraits by women artists, Women Who Rock will be THE long-awaited gift book for every music fan, feminist, and female rocker, young and old.musicians.