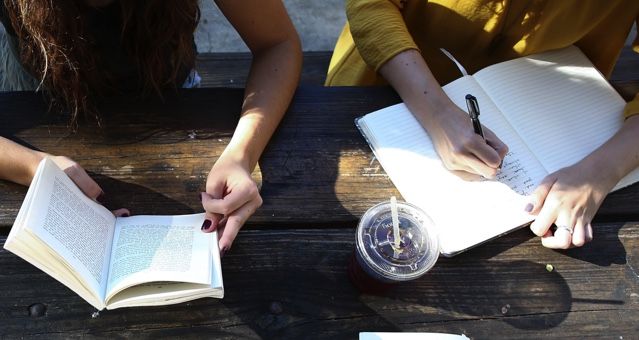 Lists
More Authors, More (Plot) Drama: 12 YA Books With More Than 1 Author
This content contains affiliate links. When you buy through these links, we may earn an affiliate commission.
Two heads (or even three) are better than one when it comes to some YA novels! While the phenomenon of authors teaming up to collaborate on a single novel isn't new, it does seem as though there are more of these dual-authored books than ever, and some of these author combinations are spectacular! Here we've highlighted 12 great collaborative YA books with more than one author that you should TBR today!
Hello Girls by Brittany Cavallaro & Emily Henry
After a chance encounter, two small-town teen girls realize that they don't have to wait to escape their lives—they can go on the run right now. Winona is more than happy to escape a seemingly picture-perfect life with her local celebrity father who controls her food and actions, and Lucille is desperate to escape a home life dictated by the whims of her brother and needs of her mom. Together, they take off for Vegas in a stolen convertible, determined to get as far away as possible before anyone catches up!
Starworld by Audrey Coulthurst and Paula Garner
Told in two voices, this book is about Sam and Zoe, both needing escape from their home lives. When they have a chance encounter and begin exchanging text messages, they create a universe of their own making called Starworld that is a safe retreat when real life gets to be too much. But when Sam begins falling for Zoe, and Zoe doesn't return her feelings, their friendship must find a way to weather the challenge.
Aurora Rising by Amie Kaufman and Jay Kristoff
Kaufman and Kristoff have teamed up before on the Illuminae Files, a fantastic sci-fi epistolary trilogy, and they're back again with this first book in a new series. It follows a group of misfit cadets from Aurora Academy who rescue a girl from interdimensional space, where she's been in cryo-sleep for two hundred years, inadvertently setting off a chain of events that could lead to war. Like the Illuminae Files, this is a great adventure with a large cast of characters!
Beth Teller is a ghost. It wasn't that long ago that she was alive, but ever since the car accident she can't seem to move on. The other person that can't move on? Her still living detective dad. Determined to get him back to a routine, Beth accompanies him to a small town that's recently experienced a house fire with an unidentifiable body. Certain that solving the mystery will help her dad reconnect with life, Beth helps him probe the case, uncovering dark secrets and shocking truths about the town and her own fate.
Roomies by Sara Zarr and Tara Altebrando
Although this title is a few years old, I loved it too much not to include it! It's about Elizabeth and Lauren, recent high school grads who've just been paired up as college roommates. Elizabeth is from New Jersey and can't wait to head to California for college. She eagerly contacts Lauren to coordinate what each of them will bring for their dorm room, which comes as a surprise to Lauren, who was hoping for the first time in her life to have a room to herself. As the two exchange emails over the course of the summer, they explore their mixed feelings about leaving home, their excitement for what is to come, and share in the uncertainty of the future.
Written by a sister duo, this debut novel follows Alaine, a Haitian American teenager who is sent to Haiti to live with her aunt and volunteer at her nonprofit as a consequence to a school presentation going very wrong. Alaine may have grown up hearing stories about Haiti, but her experiences there are something altogether, and they just might help her finally uncover a family mystery and understand her mother for the first time in her life.
Lena is a driven teen, with great friends and a boyfriend. Campbell is more reserved and simply just trying to get through the days. Both girls are as different as can be, but when they find themselves thrown together during a night of violence and terror, they'll have to figure out a way to work together in order to get to safety. This is an excellent novel about how a white teen and a Black teen must navigate a flashpoint of racial unrest and emerge with a better understanding of each other and their communities.
Bestselling authors Jenny Han and Siobhan Vivian team up to write a great trilogy about Kat, Lillia, and Mary. They may not be friends, but they have one thing in common: they want to exact vengeance on someone who has hurt them. For Kat, it's a former friend turned bully. Lillia is going to make the friend hooking up with her little sister pay. And Mary is still grappling with a traumatic incident and the boy responsible who got away with it. In this first book, the girls become unlikely allies to get revenge on the people who've wronged them…but find that revenge is more than they bargained for.
What If It's Us by Adam Silvera and Becky Albertalli
Adam Silvera and Becky Albertalli both received acclaim for their novels starring gay characters, and in this book they team up to write an epic story about Ben and Arthur, two guys who have a chance encounter in New York City. The attraction is undeniable between them, but the timing always seems off. They keep losing each other and reuniting, grappling with what it means to be fated to be together, the work that a relationship requires, and the magic of falling in love and wondering—is this the one?
When best friends Ava and Gen head off to college on opposite sides of the country, they're terrified to be be apart. Texting and emailing each other constantly, they stay in touch and share experiences of heartbreak and new adventures, all the while wondering if their epic friendship can weather the distance and the challenges that the first year of college will throw their way. If you like this book, check out the sequel, Please Send Help!
You Know Me Well by Nina LaCour and David Levithan
Set in San Francisco during Pride Week, this novel follows two queer teens, Mark and Kate. Mark is just coming off an epic break up and figuring out how to deal with heartbreak. Kate is trying to gather the courage to embark on her first relationship. Although the two only sort-of know each other, they become fast friends during one transformative week, learning to lean on each other as they face an unknown and exciting future.
My Lady Jane by Cynthia Hand, Brodi Ashton, and Jodi Meadows
This series is a hilarious and offbeat retelling of some of the most famous Janes in history, written by three great authors! In My Lady Jane, the trio retells the history of Lady Jane Grey, who was the unfortunate queen of England for only nine days before being sentenced with death with her husband…or was she? Madcap, full of supernatural hijinks, and a hilarious twist on history, this is a great comedy. And if you like it, check out book two in the Lady Janies series, My Plain Jane!
---
What are some of your favorite YA books by more than one author? Let us know on social media!