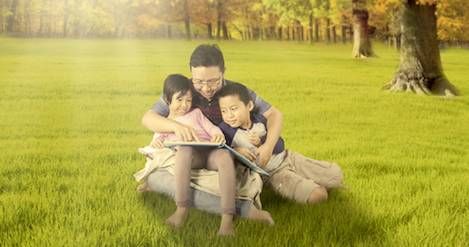 Children's
5 Classic Picture Books You Will Want to Read to Your Child
This content contains affiliate links. When you buy through these links, we may earn an affiliate commission.
There are some classic picture books that seem to have been around forever. I have some favourite picture books that my Mother read to me when I was a child. I then read these to my daughter when she was young. Then there were the new favourites. When my daughter was little, she was given a copy of The 20th Century Children's Book Treasury. It was a collection of 44 classic children's picture books. Inside, there were many titles that I already knew, however, there were also a few titles that I hadn't heard before. These stories quickly became family favourites.
Here are a sample of some of our favourite picture books – from my childhood and hers. While these books have been published many decades ago, they are still wonderful to read.
5 Classic Picture books that will become family favourites
Harry the Dirty Dog by Gene Zion (Illustrated by Margaret Bloy Graham)
Harry is a white dog with black spots… who doesn't want to have a bath. In a moment of naughtiness, Harry hides the scrubbing brush and runs away from home. He has a wonderful adventure and gets very dirty. Harry is no longer a white dog with black spots, but a black dog with white spots. Will his family recognise him? Harry the Dirty Dog is a lovely story with classic 1950s style illustrations, which was first published in 1956.
The Sneetches is a story about equality and acceptance. At the outset of the story, there are two types of Sneetches – the Plain Belly Sneetches and the Star-Belly Sneetches. The Star-Belly Sneetches by virtue of their star, think that they are the better Sneetches (by far!) The Star-Belly Sneetches are excluding the Plain Belly Sneetches. Then along comes Sylvester McMonkey McBean who promises to help the Plain Belly Sneetches. Written in 1961, in the characteristic rhyming style of Dr Seuss, this story has an important moral lesson; that we are all have equal value.
Amelia Bedelia by Peggy Parish (Illustrated by Fritz Siebel)
It is Amelia Bedelia's first day on the job. Her new employer, Mrs. Rogers, has to go out and leaves her a list of things to do. Little does she know what can go wrong! Reading the instructions, Amelia Bedelia literally 'draws' the drapes, instead of closing them. Many mishaps ensue, due to Amelia Bedelia misunderstanding the instructions on the list. What will her employer say when she gets home? Published in 1963, Amelia Bedelia uses word play to show children how language can have two meanings. This story is delightful.
Corduroy is a teddy bear, living in a department store. He dreams of going home with a child. One day, a young girl comes along. She likes the look of him. However, her mother points out that he is missing a button on his overalls. That night, Corduroy goes on an adventure to find his missing button. However, will he find a home? Initially published in 1968, Corduroy is lovely story of belonging, friendship and acceptance.
The Rainbow Serpent is an Australian Aboriginal Dreamtime story of how the land was formed. Written and illustrated in 1975 by Dick Roughsey, this classic picture book won the Children's Book Council of Australia (CBCA) Picture Book of the Year Award in 1976. I have fond memories of this book being read to me by my Mother.