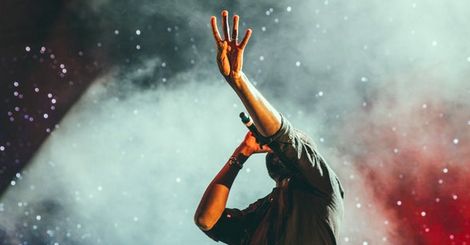 Classic Hip-Hop Albums Get Marvel Comic Covers: Critical Linking, October 29
Sponsored by Shades of Wicked by Jeaniene Frost
---
Marvel Entertainment is back to showing off its hip-hop credentials via a new partnership with Universal Music Enterprises that will see artwork created for the company's Hip-Hop Variant cover program repurposed as actual album artwork for a number of reissues.
The first three releases from the combination of Marvel and UMe's Urban Legends imprint will be 50 Cent's 2003 debut Get Rich or Die Tryin', LL Cool J's 1990 album Mama Said Knock You Out and GZA's second solo album, 1995's Liquid Swords. (Artwork for the three come from, respectively, Brian Stelfreeze's Invincible Iron Man No. 1 cover, Tim Bradstreet's Punisher No. 1 and Denys Cowan's Contest of Champions No. 1.)
No, you have Mama Said Knock You Out stuck in your head now!
---
What such writers are navigating is the risk of cultural appropriation: the often offensive taking of another's culture. It is particularly problematic when the appropriator is in a dominant or colonising relationship with a culture's custodians. Australian literature has a long history of appropriating and misrepresenting Aboriginal culture.
---
Nearly every book I read in my early childhood featured anthropomorphized animal mamas wearing cozy aprons and patient smiles alongside sturdy animal papas marching down sandy roads toward jobs and lives outside of the rabbit warren, bird nest, or in the Berenstain Bears' case, treehouse. Mama Bunny, Mama Robin and Mama Bear seem destined to stand on the doorstep waving handkerchiefs in their husbands' dust. Even if my children see my husband and I modeling (mostly) egalitarian gender roles at home, I wonder how many harmful, gendered messages are seeping into their tender little psyches by way of seemingly innocuous children's books.
Have you thought about some of the negative lessons in the children's books you grew up loving?