This content contains affiliate links. When you buy through these links, we may earn an affiliate commission.
When it comes to classics, it doesn't matter how you read them. You could pick up Manga Shakespeare, Emoji Pride And Prejudice, or Latin Winnie-the-Pooh and I'd be happy, because any route towards these stories is a good one to take. We've talked before on Book Riot about comics with literary inclinations, but I'm going to talk here about classic children's books adapted into comics. Primarily because I'm a specialist in children's books but also because they are the best. Don't @ me.
These comics allow everybody in. Reading is hard. Books are hard. We ask a lot from kids, and comics give them a little something back. They allow readers to find themselves visually represented in stories that never had that sort of representation to begin with. They allow readers to find a little toehold in an imaginative world that maybe intimidated the heck out of them before. And they also make classics – those often dry, dull and all too often chosen by white men with Very Particular Cultural Leanings – seem applicable to their everyday lives.
This is a short list of children's classics that have been adapted into comics. I know that. I want more representation and diversity in this area and I want it now. I'd love to hear your suggestions for more titles in the comments.
These stories should be universal. Let's get on that.
I think if I were to repeat the word "gorgeous" a thousand times, it might best sum up this comic. A 'modern retelling' of Little Women by Louisa May Alcott, the art's round and lovely and inviting, and the story's perfectly judged. It even made me love Amy. It's ideal for younger readers who loved things like Smile and Drama, and older readers who just want something lovely to read. You will cry, but I suspect that's a given.
Anne of Green Gables by L.M. Montgomery, adapted by Mariah Marsden, Kendra Phipps, Erika Kuster and Brenna Thummler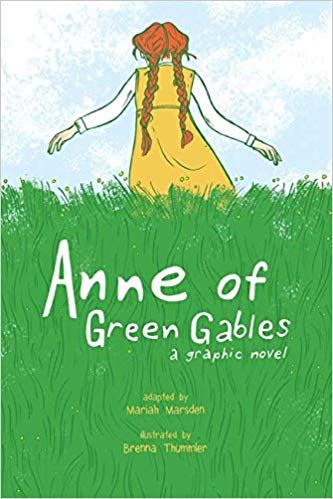 Confession: I love children's classics of this period, but I've never got on with
Anne of Green Gables.
This comic, however, is good enough to distract me. Dreamily coloured, with a carefully adapted text, it hits all the key beats and actually makes them interesting. It's fiercely readable and the use of light in it is to die for.
(I never thought I'd say positive things about an Anne book but there we are. It's that good.)
Philippa Pearce was an actual goddess of British children's literature. She wrote challenging, complex and incredibly moving books and Tom's Midnight Garden is one of the best of them. This is a sensitively told and deeply evocative comic, perfect for bringing readers to this absolutely classic.
(If somebody could now adapt A Dog So Small, I'd be happy.)