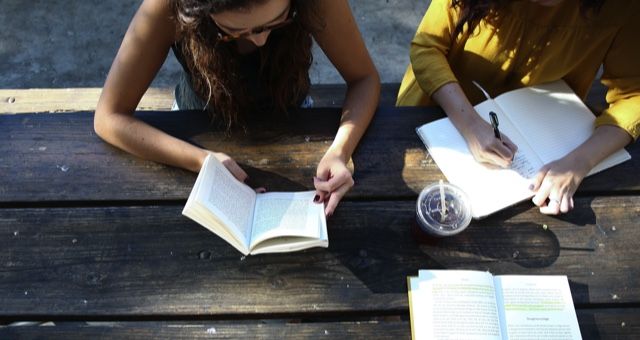 Fiction
10 CITY OF GIRLS Book Club Questions and Reading Guide
This content contains affiliate links. When you buy through these links, we may earn an affiliate commission.
Elizabeth Gilbert's historical novel City of Girls was one of my favorite books of 2019. I was totally drawn into this breezy yet compelling story with an unforgettable, trailblazing narrator, Vivian Morris. City of Girls is a great book club selection because of its complex themes, provocative and unconventional characters, and interesting juxtapositions between women's lives in the past and present. This City of Girls book club questions and reading guide has you covered for all your book group needs to have a fun and thoughtful discussion about Gilbert's novel. In this guide, you'll find a City of Girls summary, ten City of Girls book club questions, ideas for themed meetings, and suggestions for further reading.
Let's jump in!
Summary of City of Girls
*spoilers follow*
In Elizabeth Gilbert's 2019 historical fiction novel, City of Girls, our narrator is 89-year-old Vivian Morris. In the opening pages, we learn that Vivian is writing to another woman named Angela. Vivian is attempting to answer Angela's question about who Vivian was to her late father.
Vivian begins her letter in response by immersing us in her youth, starting when she moves to New York City at the age of 19 in 1940. Having been kicked out of college, Vivian lives with her bohemian Aunt Peg, who owns a vaudeville-style theater in Midtown Manhattan called the Lily Playhouse with her business and romantic partner, Olive. Vivian enjoys the glamorous life of the showgirls she befriends, in particular her roommate Celia, and experiences nights of excess, gluttony, and sexual pleasure. By day, she crafts beautiful costumes for the Lily using material from a fabric emporium where she strikes up a friendship with Marjorie, the quirky daughter of the store's owners. As the Second World War begins to break through Vivian's sheltered life, Edna Parker Watson, an English stage actress and friend of Aunt Peg and Olive, becomes stranded in New York as England gets into the war. Aunt Peg puts on a show to feature Edna with the help of Billy, her husband who lives in L.A. The show is a critical and commercial success, and the cast and crew narrowly survives Billy's work-hard, play-hard mentality.
One night, tensions between Edna and her husband Arthur erupt, and Vivian is caught in a threesome with Arthur and Celia. Olive manages to keep Vivian's name out of the press coverage of the scandal, but the damage is done. Edna scolds Vivian, telling her she isn't an interesting woman, and Vivian flees the city, getting a ride home with her responsible Navy recruit older brother, Walter, and a fellow solider who has a car available. On the way home, Walter lectures Vivian, and the unnamed solder calls her a "dirty little whore," a remark that fills Vivian with shame and self-hatred as she lives at home with her parents in a state of depression. Vivian narrowly misses a marriage to Jim Larsen, an employee at her father's company, because Jim enlists in the military after the Pearl Harbor attacks.
Vivian senses that she's dodged a bullet and a life of unhappiness with Jim. When Aunt Peg drives up to her parents' house and asks Vivian to return to the city, Vivian eagerly hears her out. Aunt Peg's been commissioned to put on shows at the Brooklyn Navy Yard and needs a costume designer. Vivian agrees and, with delight, moves back to the Lily. Life has changed, with Edna on Broadway, Celia gone, and Billy elsewhere. Vivian dives headfirst into the challenge of creating costumes despite war shortages. Vivian is distraught when she finds out Walter died on a ship in the Pacific.
After the war, Vivian and Marjorie purchase a house and set up a bridal gown boutique. Marjorie has a son who Vivian helps to raise, and Vivian finds sexual satisfaction in multiple male partners, though never a lasting relationship. When the Brooklyn Navy Yard is set to be formally closed down, Aunt Peg is asked to put on one last show. Since Peg is too weak from illness, Vivian agrees to take on the project. After the performance, a scarred police officer comes up to her and makes a stunning confession: he was the soldier who drove her home and called her a "dirty little whore." The man's name is Frank, and though he tries to apologize and apologize for the regretful words that have haunted him since, Vivian shuts him down and leaves. Seeking sympathy from Aunt Peg, Vivian is surprised when Peg expresses disappointment in her. Olive tells Vivian she needs to stand in the "field of honor" and take the high ground. After much deliberation, Vivian reaches out to Frank. Together, they strike up an unusual friendship that borders on a platonic romance. Since Frank's PTSD makes him uncomfortable inside, they walk through the city during long nights. Vivian helps him process some of his trauma. He eventually introduces her to his daughter, Angela, the woman to whom Vivian is writing. Vivian designs Angela's wedding gown. Not long after, Frank dies. When Angela writes to Vivian, it's to tell her that her mother has passed away and that she was always curious about Vivian's close relationship with Frank. In closing, Vivian offers her friendship to Angela, looking back on her long and mostly happy life with extraordinary women.
10 City of Girls Book Club Questions
Ready to give your book club something to talk about? Use these City of Girls book club questions to get the discussion going.
City of Girls takes its title from the name of a play that the Lily puts on to great success. How do you interpret the title as a larger theme in Gilbert's book?
How does Vivian's late grandmother influence the woman Vivian becomes?
In many ways, Vivian's life is driven by a desire for pleasure. What are the potential consequences and dangers she faces in her pursuit for pleasure? How is her unconventional drive for pleasure indicative of the wider trends of liberation for women during the century?
Why does Vivian participate in the threesome? What events drive her to such a betrayal?
Discuss the theme of shame and gender in City of Girls. How does Frank's dismissal of Vivian as a "dirty little whore" inform Vivian's personal sense of shame? How do her views change over time?
How does the war give Vivian a sense of perspective? In particular, how does her brother Walter's death affect Vivian?
Define Olive's "field of honor" concept. How is Vivian's willingness to stand in the field of honor a rite of passage? How is her character different before and after doing so?
Discuss Vivian's evolving definition of emotional and physical intimacy. How do her earliest romantic and sexual relationships compare to her later relationship with Frank?
Vivian, her friends, and her colleagues embrace a radically unconventional lifestyle far ahead of their time. Vivian notes to Angela: "With the greatest of pride, I was able to look out across all the cultural upheavals and transformations of the 1960s, and know this: My people god there first" (p. 470). Discuss some of the ways that Vivian and her allies anticipated the century's revolutionary changes.
Vivian places a great deal of importance on female friendship and closes her narrative by offering friendship to Angela. Compare and contrast the friendships she has with women over the years.
4 Ways to Theme Your City of Girls Book Club Discussion
Elizabeth Gilbert's City of Girls is an inspiring choice for book clubs. Here are three ways to theme your book club's discussion of City of Girls:
Mid-century Broadway Afternoon: Research the musicals that were big hits on Broadway during the 1940s and 1950s. Have each book club member come in costume as some of the Broadway stars from the era. Which songs spoke to some of the City of Girls themes in Vivian's story, such as women's liberation, the impact of war, female friendships, and more? Play the soundtracks in the background while you discuss City of Girls.
Eat, Pray, and Love Elizabeth Gilbert's Books: Elizabeth Gilbert is a prolific author who frequently touches on similar themes, like women's independence, personal awakening, and the pursuit of pleasure. For your book club, consider pairing one of Gilbert's other works with your discussion of City of Girls. An interesting companion read would be The Signature of All Things, another historical novel by Gilbert featuring a trailblazing woman. Discuss parallels between the stories. Or view the film adaptation of Gilbert's bestselling memoir, Eat, Pray, Love. What are some ways that Gilbert has lived through emotions, experiences, and events similar to Vivian Morris in City of Girls? How have the book club's members experienced similar lives?
Fierce, Fearless Females of History: Have each group member pick either: 1) a famous trailblazing woman in history, or 2) a woman in their own family who was radical and ahead of her time. (Or members could choose both!) Celebrate these women's accomplishments over a potluck discussion of City of Girls.
Retro Dessert Day: Vivian frequents the diners and night clubs of New York City during the story. Research different retro desserts from the era, such as the pies and cakes Vivian might have eaten when out on a date or a night on the town with the showgirls. Have a tasting while you chat about City of Girls.
City of Girls: Further Reading
If you're looking for more on Elizabeth Gilbert's books, we've got an essential guide to "The Best Elizabeth Gilbert Books." And if historical fiction is your jam, be sure to read our TBR-expanding list of "50 of the Best Historical Fiction Books."
Need more book discussion club questions or ideas? Check out more of Book Riot's book club coverage:
For more book club discussion guides of other interesting books, read Book Riot's: