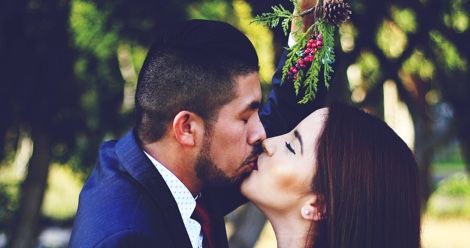 This content contains affiliate links. When you buy through these links, we may earn an affiliate commission.
Christmas break is coming! With that comes shopping, family dinners, holiday celebrations, quality family time, people you only see once a year. Ahem, maybe you need a little happily ever after to get you through. I have just the list for you. Make a cup of tea, put on your favorite pajama pants, and find your coziest blanket. With these Christmas romance novels you'll be hoping to get snowed in.
Jade Chandler is determined to keep Nixon Gaines from stealing her family's company. But when she sets eyes on the tall, dark, and handsome millionaire, she's not so sure she can. Add his sugar cookie sweet kisses to the mix and Jade's will power is tested. Opening her heart to someone who wants to check her off his list might not be the smartest thing, but taking the risk might be worth the reward in Nixon's case.
In this holiday anthology, there are four interconnected novellas told 30 years apart, beginning in 1800 and ending in 1890. From enemies-to-lovers, second chances, and choosing between career and love, this anthology has a little bit of something for everyone. Not to mention a lady left to fend for herself in the Scottish highlands during a snowstorm, and the duke next door becomes more than neighborly.
Frederica Burghley wants to be married by Christmas or else her father will choose one of his friends for her to marry. So Frederica enlists the help of her friend, a widower, Jasper Fitzwilliam, Lord Hartwell, to help her find the perfect match. As Christmas draws closer, she wonders if asking him for help was the best idea; maybe she should have asked for his hand instead. This sweet and romantic friends-to-lovers story is the perfect holiday read.
Libby Leeds has made a living writing heartwarming, small town stories about her childhood home, Sanctuary Island. Only she hasn't lived there since she was a child and doesn't plan on going back. But when her editor insists she go back to cover the story of a war hero returning to her hometown, she has to face a painful past of being orphaned and abandoned. Army Ranger Owen Shepard leaps at the chance to have locally famous homemaker Libby help him make an ideal Christmas for his daughter after his time away. Neither of them were looking for love, but both are thinking about it now.
Single mom Mariella Vency wasn't expecting her son's new temporary soccer coach to be so famous or good looking or into her. Her son's favorite soccer star, Sam Kelly, starts coaching his team over the holidays on his way out of town. He's everything a woman could want. Will his success and charm be enough to convince Mariella to take a chance on falling in love with him, even though he's leaving?
6. Exmas by Winter Renshaw
Joa hated her colleague Reed and everything he did, except in the bedroom. When he went behind her back and stole her promotion, she transferred to the Chicago office because the thought of being under him, professionally or otherwise, turned her stomach. A year later he announces that he's coming to the Chicago office for the week between Christmas and New Year's and wants Joa to be his right hand woman. He might be used to getting his every Christmas wish, but this year in Chicago, things are going to be different.
This Christmas novella is an extended version of A Royal Wedding, but it's still just as sweet on it's own. Kumari never thought she'd become a princess, but when she falls in love with Prince Benedict, it's a little more than she bargained for. Will dealing with the paparazzi and pressure be too much for Kumari and Ben? Or will their love be enough to get them through, not only the holiday season, but the rest of their lives?
Teddy MacNally loves Christmas so much he dresses up as an elf for his charity's events. He doesn't expect to see a handsome Santa at the events with the Christmas spirit of a Scrooge. Teddy's determined to spread holiday cheer to Sergeant Major Nicholas Nowicki, who only agreed to be Santa as a favor to his CO. Nicholas is leaving in a month and isn't the kind for a one night stand, especially with someone as sweet, kind, and fun as Teddy. But after a sexy, snowbound make out session, he's not sure he can leave Teddy behind.
Molly Malone is trying to distract herself from her night with long time crush Lucas Knight, who has no memory of this incident. Whiskey and pain meds for a bullet wound don't make for easy to remember nights. And now he has to babysit Molly on her first case at Hunt Investigations. This won't be awkward. Lucas thinks Molly is the smartest, strongest, hottest woman he knows and is trying to navigate how to move forward with her and on this case without her finding out she's being babysat. Little does he know, nothing happened between them that night, but Molly wants it to.
When Saffron Baxter gets a call from her sister saying she's stuck abroad and won't make it home in time for their parent's charity Christmas dinner, she knows her holiday plans to party are cancelled. Instead, she drives down to Cornwall to help her parents host a Christmas dinner for all the single parents in town. There she meets Logan, the tall, single dad next door, who points out that maybe family and tradition is more important than her party lifestyle. Maybe he's right. She's only in town for a few days. But maybe he and his adorable daughter are just what Saffron needs.
Donovan Ravens just wants a quiet Christmas in a small town after a very public break up. Being CFO of a major corporation does have its down side. But he doesn't plan to meet British Carres, a gorgeous science teacher, who takes over the hotel for a competition for her students. Is their chemistry good enough to overcome the past and give them a Christmas hope for the future?
12. A Season to Celebrate by Fern Michaels, Kate Pearce, Donna Kauffman, and Priscilla Oliveras
In this collection of diverse stories, you'll find everything you want this holiday season. Homecoming romance, second chance love, love after a broken heart, and a love business arrangement that's sure to be a success. Make a mug of hot chocolate and get cozy with this collection—it will be sure to warm you as much as the fire in the hearth.
---
What were your favorite Christmas romance novels this year? Find all of our romance coverage here.