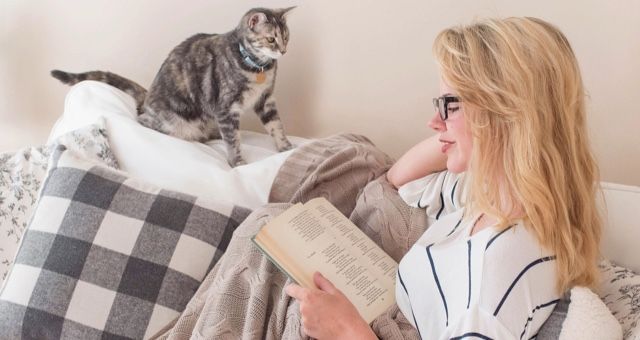 This list of Christina Lauren books is sponsored by Twice in a Blue Moon by Christina Lauren, perfect for fans of Jennifer Weiner and Emily Giffin.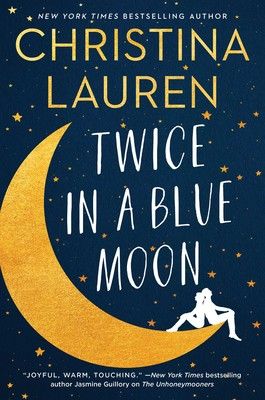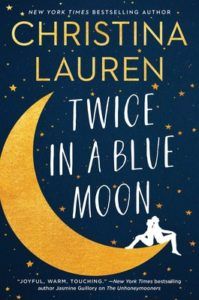 Sam Brandis was Tate Jones's first love—and her first heartbreak. During a whirlwind vacation abroad, Sam and Tate fell hard for each other, and she shared with him her deepest secret—but he betrayed her trust. Years later, fate brings them together again…and Tate's feelings come rushing back. Now she has to ask: is it possible to do the wrong thing for the right reason? And can "once in a lifetime" come around twice? Twice in a Blue Moon is an unforgettable novel of love, luck and second chances.
---
The first time I read a Christina Lauren novel, I was struck by its vulnerability as well as its witty writing style. Autoboyography meant a lot to me as a queer Mormon for many of the same reasons that I think define Christina Lauren's work. Their novels are passionate and often hilarious, but heart is always at the center of their stories. It's easy to fall in love with the characters they write just as said characters fall in love themselves.
Christina Lauren is the pen name of New York Times bestselling writing partners Christina Hobbs and Lauren Billings. If you're not sure where to start, use this reading pathway to help you navigate some of their best romances—from swoony to spooky and everything in between.
Start With a Few Super Slow Burns
Love and Other Words
Pediatrics resident Macy Sorenson throws herself into her work to bury her feelings. All she wants to do is keep herself busy and plan her wedding to an older man who makes her feel financially safe. But then Elliot Petropoulos returns to her life. Elliot was once Macy's best friend, and was her first love following her mother's death, but their relationship ended with heartbreak.
This novel is told in alternating timelines—Then and Now—as Elliot discovers why Macy's been absent for an entire decade and Macy decides whether the possibility of love is worth the risk.
Josh and Hazel's Guide to Not Dating
Hazel Camille Bradford is aware that men find her eccentric and, therefore, undateable. But she was not put on this earth to fulfill their expectations. Her life and its absurdities bring her joy, and that's all that matters.
Josh Im was best friends with Hazel in college but never saw her in a romantic light. A decade later, however, they decide to date following Josh's breakup with his cheating ex-girlfriend. But not date each other, of course—instead, they set each other up on a series of double blind dates to help each other find that special someone. But what if the person they're meant to be with is closer than they think?
Roomies
Holland Baker is unexplainably drawn to the busker who plays in the subway underneath her apartment. Though she never talks to him, she admires his musical talent and finds him really cute. When a drunk man attacks her one night, the mystery busker—Irishman Calvin Mcloughlin—jumps in to save her. But after making sure Holland is okay, he disappears before the police arrive.
To repay him, Holland gets Calvin an audition with her Broadway director uncle. But Calvin admits that he cannot work legally in the United States: his student visa expired years ago and he has been living here illegally. Holland can't let his talent go to waste, so she agrees to marry him so he can become a citizen. But what begins as a marriage of convenience soon blossoms into a passionate romance.
Then Read Their YA Novels
Autoboyography
When Tanner Scott's family moves from California to Utah, he decides to go back into the closet. In conservative Provo, not everyone is accepting of those who are openly bisexual. Tanner figures his best bet is to lay low until college. But that's before he takes Provo High's creative writing seminar and falls in love with Sebastian Brother, a writing prodigy who sold his book written in the Seminar last year and mentors the class. Falling in love with a Mormon boy doesn't seem like a logical choice to Tanner. But, the more time he spends with Sebastian, the more he discovers that we don't get to choose who we fall in love with—but we can make the most of the time we have with them.
The House
Delilah Blue returns to her Kansas hometown after seven years spent at an East coast boarding school. Very little has changed since she left. Even Gavin Timothy, a brooding young outcast, still lives in his strange house at the outskirts of town. Delilah finds herself drawn to Gavin and lured beyond the tall fence surrounding his house. But the house is dangerous, and if she doesn't keep her distance even Gavin might not be able to protect her.
Unlike most of Christina Lauren's novels, this is a paranormal romance and perfect for those who are craving something chilling.
Finish With Some Sizzling Enemies-to-Lovers
Dating You/Hating You
Even though their first meeting at a Halloween party is awkward, Evie and Carter initially hit it off. But that was before their Hollywood firms merged and they became competing agents. Soon, the same things they admired about each other become serious frustrations. Between sabotage plots and desperate attempts to one-up each other, trying to be the top agent is exhausting. But deep down, both Carter and Evie want more than to play into the hands of the corporate rat race. And what they want may involve each other more than they realize.
The Unhoneymooners
Twin sisters Olive and Ami couldn't be more different, especially when it comes to romance. Olive has always been unlucky in love, whereas Ami's relationship with her fiancé is sickeningly perfect. Not only was the way they found each other kismet, but Ami somehow paid for her entire wedding by winning a series of online giveaways. Worse, the best man is Olive's nemesis Ethan.
Olive braces herself to get through the next 24 hours of what she assumes will be a nightmare wedding. But when everyone except Olive and Ethan is hit with food poisoning, they're given two tickets to an all-expenses-paid honeymoon in Hawaii. Olive can't just let that go to waste, even if it means going with her enemy. After all, what could happen on one little vacation?