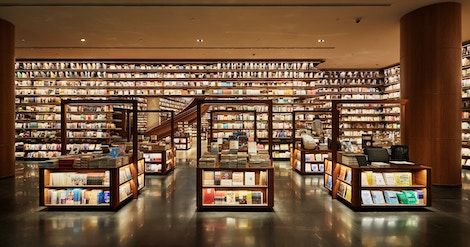 Critical Linking
Chinese Bookstore's Chandeliers Look Like Sheets of Paper Floating in Mid-Air: Critical Linking, April 21, 2019
Looking to create an ambiance where people, cultures, and books from around the world could mingle, a literary theme runs throughout the interior. Visitors are instantly brought into the concept as they are welcomed by a 33-foot-tall bookcase just inside the entryway—a bold statement that immediately establishes the function of the building. This is carried through to the delightful lighting above the open spiral staircase, which mimics floating pieces of paper just waiting to be filled with words.
My heart soared just looking at the images! What a dreamy bookstore.
---
---
Poets, novelists, and playwrights around the world have long been fueled by forests. Quite simply, walking helps us think. In "When I Am Among the Trees," poet Mary Oliver writes that the trees call out to her, "Stay awhile…It's simple…you too have come into the world to do this, to go easy, to be filled with light."
Trace the footsteps of world-famous wordsmiths in these eight wondrous woods around the world you can visit yourself.
---
Earlier this month, children's author Lee Wardlaw drove a trailer loaded with more than 5,300 books from Santa Barbara to Paradise, Calif., delivering 1.5 tons of literary donations from more than 240 authors, readers, librarians, and publishing professionals. Last November, the Camp Fire—the most destructive wildfire in California's history—destroyed 90% of this town. The fire burned through more than 153,000 acres, killing 85 civilians, and injuring three firefighters; nearly 14,000 residences were destroyed along with thousands of other structures.