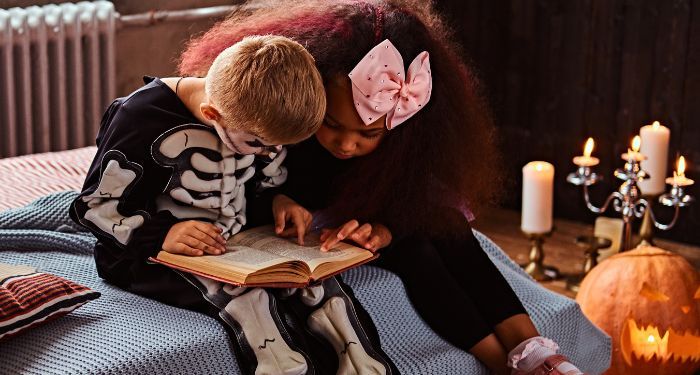 Children's
Children's Books That Will Keep the Halloween Spirit Alive All Year Long
This content contains affiliate links. When you buy through these links, we may earn an affiliate commission.
It's always a sad thing when November 1 rolls around and the Halloween season is officially over. Halloween is just so magical. Can we pause over the fact that there's free candy? When else is there ever free candy?? Sugary treats aside, Halloween is about so much more than costumes, pumpkins, and scary movies.
The holiday as it's celebrated in the U.S. traces its roots back to various European traditions ranging from Druidic beliefs regarding death to Greek celebrations of the harvest to Catholic honoring of saints. But when people talk about having "Halloween spirit," they're typically not referring to any of that.
Halloween spirit is, IMHO, characterized by a playful, fun-loving spirit paired with a deep love of hygge. It's pumpkin spice in an attitude: a little out there, a little unusual, and so, so delicious.
Unfortunately, for all you Halloween lovers out there, it's just not socially acceptable to run around in a costume all year. I wish it was, believe me, but it's not. (That's the sort of thing that could lead to breakups, job loss, or just general ostracization. Which is boring because costumes are amazeballs.) And for the parents in the room, it can be a challenge to get the kiddos to take their costumes off—even for simple things like bathing and sleeping.
Lucky for you, books are a phenomenal way to keep the Halloween spirit alive any time of the year. The Halloween picture book scene is chock full of wonderful stories with phenomenal illustrations to keep Halloween lovers of all ages happy during the poor 11 months of the year that don't have Halloween in them.