This content contains affiliate links. When you buy through these links, we may earn an affiliate commission.
In a time when Harry Potter has been read by people of all ages around the world and comic books are being turned into movies faster than most of us can keep track, it seems bizarre to say that comics and children's literature are struggling for recognition. But popularity doesn't guarantee respect in the literary world–often quite the opposite–and both comics and children's literature face a continuing battle to be accepted as equals by their adult literature counterparts. Nowhere is this more obvious than at the intersection of this genre bias: comics and graphic novels written for children and young adults. Even within the world of children's literature, itself unhappily used to being looked down upon, children's graphic novels are frequently assumed to be simply not as good as "real" books.
And yet despite this, or perhaps because of it, children's graphic novels are now the genre leading an uncoordinated yet impressive push for literary recognition.
Literary quality is a difficult, if not impossible, thing to asses. There's no way to quantify something that is ultimately a matter of opinion, not that that's ever stopped anyone and everyone from trying. Commercial success and popularity are unreliable markers–if anything, they're often interpreted as being inversely proportional to the quality of a work, though that's obviously a load of hogwash. Reviews are another more formalized marker of quality, whether they come from established journals or trusted internet sources. But if we're looking for an all-round respected standard of merit, perhaps the best (if still flawed) option is the system that was set up specifically to do just that: literary awards. If a book has a shiny seal on the cover, or if its creators are the proud owners of a sparkly trophy or three, that's a clear indicator of literary greatness. Right?
The problem is, not all awards are created equal–or even created at all. While there are a number of prestigious awards for adult comics, adult literature, and children's literature, there are no awards designed specifically for children's comics. True, there are a few youth categories of the Eisner Awards, and the Harvey Awards have recently begun to follow suit with a "Young Readers" category. But these minor categories are largely ignored by both adult comics fans and children's literature fans alike. To win a legitimate seat at the awards table, children's comics must compete directly against their better-respected "real" book rivals.
It's a tall order. But just the past ten years, that's exactly what has begun to happen.
The first astonishing breakthrough came in 2006, with the publishing of Gene Luen Yang's fantastic graphic novel American Born Chinese. The book hauled in a number of impressive awards, including an Eisner Award for Best Graphic Album (despite it having been published for teens), and a Printz Award for teen literary merit (despite being a graphic novel). But most significantly of all, American Born Chinese was named a finalist for the National Book Award in the Young People's Literature. Not only was it the first children's graphic novel to achieve this honor, it was the first graphic novel of any kind, period.
Recognition of this kind on the national stage was unheard of for children's graphic novels. So unheard of, in fact, that it didn't happen again until 2009, when David Small's graphic memoir Stitches likewise won a National Book Honor for Young People's Literature, despite not having been published originally for children. In 2013, Gene Luen Yang doubled down on his earlier success with a pair of graphic novels, Boxers and Saints, which were jointly awarded a National Book Honor in that same category. Yet despite these isolated successes, nothing seemed to have changed.
Then came 2015.
In the world of American children's literature, no two awards are more prestigious than the Newbery Medal, given each year for "the most distinguished contribution to American literature for children" and the Caldecott Medal, given each yet to the "most distinguished American picture book for children." With only a few exceedingly rare (and fascinating) exceptions, the Newbery Medal and Honors are always given to prose or verse novels, and the Caldecott Medal and Honors to traditional picture books.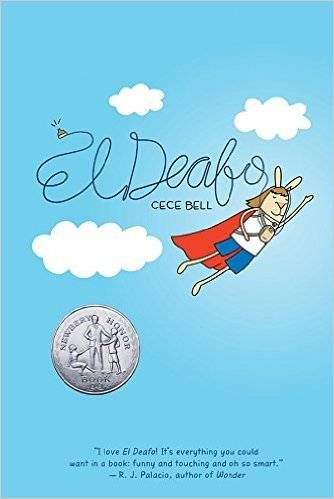 Yet in 2015, one of the two books to receive a Newbery Honor was a graphic novel: El Deafo by Cece Bell, the first graphic novel ever to receive the Newbery seal. The very same morning, the graphic novel This One Summer by Mariko Tamaki and Jillian Tamaki was awarded a Caldecott Honor, further breaking the boundaries for children's graphic novels and challenging the once-simple definition of "picture book". (And if there was any doubt of El Deafo's visual quality or This One Summer's textual worth, the titles went on to receive an Eisner Award and a Printz Award, respectively.)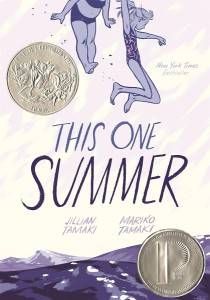 A few months later, Noelle Stevenson's webcomic-turned-graphic novel Nimona became the fourth graphic novel for children–in fact, the fourth graphic novel, period–to clinch a National Book Award Honor, once more in the category of Young People's Literature.
2015 was certainly a remarkable year for children's graphic novels, and while 2016 hasn't had quite the same watershed results, the trend hasn't regressed, either. For the second year in a row, a graphic novel was awarded a Newbery Honor, this time Roller Girl by Victoria Jamieson. Still no children's graphic novel has won an award outright–yet. And the trend, such as it is, is new enough that it's hard to say which way it will lead, and in what ways it will shape both the publishing industry and awards organizations. But precedents have been set. Merit has been awarded, and attention drawn to a genre–two genres–which have far too often been overlooked. If you too are a fan of comics, children's lit, or best of all both together, then it's time to start getting excited. I suspect many more successes are just around the corner.