Children's
15 Children's Books to Celebrate Hispanic Heritage Month
This content contains affiliate links. When you buy through these links, we may earn an affiliate commission.
Editor's Note: The original version of the post erroneously included Cendrillon: A Caribbean Cinderella by Robert D. San Souci. The title has been removed from the list and replaced with a correct selection.
_________________________
National Hispanic Heritage Month begins on September 15. During the next month the United States will celebrate and recognize the histories, cultures, and the many contributions of Hispanic and Latinx Americans. We have previously shared their contributions to the literary world with these 5 amazing Hispanic authors you should be reading now, these 5 Latin American women writers to immediately add to your TBR list, a few Latinx LGBTQ books, and an exhaustive list of 100 must-read Latin American books. Here are 15 books just for the kids:
Santiago Stays by Angela Dominguez
For ages 2 to 5: A charming tale about a stubborn French bulldog, Santiago, who stays at his post no matter the temptation of the boy who tries to engage him.
Green is a Chile Pepper: A Book of Colors by Roseanne Thong (Author) and John Parra (Illustrator)
For ages 3 to 5: Children discover all the bright colors within their Hispanic American neighborhood.
The Secret Footprints by Julia Alvarez (Author) and Fabian Negrin (Illustrator)
For Ages 3 to 8: In Dominican legend, ciguapas are creatures who live in underwater caves and have backward feet so their footprints cannot be followed by humans. Although most ciguapas fear humans, Guapa is curious about a boy she sees at night when on a hunt for food. When she gets too close to his family and is discovered, she learns that some humans are kind, but she promises to never get close to humans again.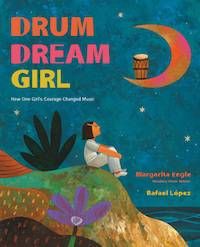 Drum Dream Girl: How One Girl's Courage Changed Music by Margarita Engle (Author) and Rafael López (Illustrator)
For ages 4 to 7: Inspired by Millo Castro Zaldarriaga, who broke Cuba's traditional taboo against female drummers, the drum dream girl dreams of playing the congas and the bongós, but must practice in secret because the long held rule on the island is that "Girls cannot drum."
Just a Minute: A Trickster Tale and Counting Book by Yuyi Morales
For ages 5 to 8: A tribute to the rich traditions of Mexican culture and an introduction to counting in both English and Spanish.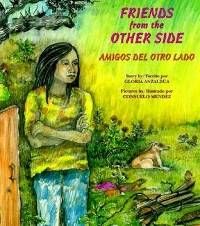 Friends from the Other Side by Gloria E. Anzaldúa
For ages 6 and up: A Mexican American girl befriends a boy who has crossed the Rio Grande from Mexico with his mother to begin a new life in the United States.
Max Loves Muñecas! by Zetta Elliott
For ages 7 to 10: Max wants to visit a boutique that sells handmade dolls, but it worried that other kids will tease him. When he finally enters the store, he meets Señor Pepe who has been making dolls since he was a boy in Honduras. Señor Pepe reminds Max that "There is no shame in making something beautiful with your hands. Sewing is a skill just like hitting a baseball or fixing a car."
Luz Sees the Light by Claudia Davila
For ages 7 and up: Luz wants to transform a run-down city lot into a garden, but her friends, Anika and Robby, and the neighborhood are dismissive of the idea.
Gaby, Lost and Found by Angela Cervantes
For ages 8 to 12: Gaby Ramirez Howard loves volunteering at the local animal shelter, but has been feeling like a stray herself lately. Her mother has recently been deported to Honduras, and Gaby has to live with her inattentive father. She is waiting for her mother to come home so the family can adopt Gaby's favorite cat from the shelter. When the cat's original owners show up at the shelter, Gaby worries that her plans for a perfect family are about to fall apart.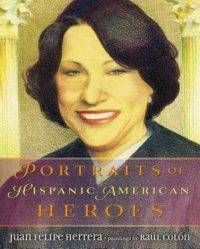 Portraits of Hispanic Heroes by Juan Felipe Herrera (Author) and Raúl Colón (Illustrator)
For ages 8 to 12: A showcase of 20 Hispanic and Latino men and women who have made outstanding contributions to the arts, politics, science, humanitarianism, and athletics. Each biography is accompanied by a portrait and includes quotes and timelines.
The Dreamer by Pam Muñoz Ryan (Author) and Peter Sís (Illustrator)
For ages 8 to 12: Neftali finds beauty and wonder everywhere. Against all odds, Neftali is able to prevail against his father's cruelty and his crippling shyness to become one of the most widely read poets in the world.
Zombie Baseball Beatdown by Paolo Bacigalupi
For ages 8 to 12: The apocalypse begins on the day Rabi, Miguel, and Joe are practicing baseball near their town's local meatpacking plant. The boys decide to launch a stealth investigation into the plant's dangerous practices. With no trusted grownups around, Rabi and his friends grab their bats to stay alive and maybe even save the world.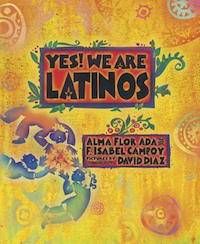 Yes! We Are Latinos: Poems and Prose About the Latino Experience by Alma Flor Ada and F. Isabel Campoy
For ages 8 to 12: A presentation of the broad spectrum of Latino culture that provides a resource for young Latinos to see themselves and helps non-Latino readers learn of the contributions made to the United States by Latino Americans.
Call Me María by Judith Ortiz Cofer
For ages 8 to 12: María is a girl caught between two worlds: Puerto Rico, where she was born, and New York, where she lives in a basement apartment in the barrio with her father, who is the building's superintendent. As María struggles to lose her accent, she tries to fit into the barrio's unfamiliar culture.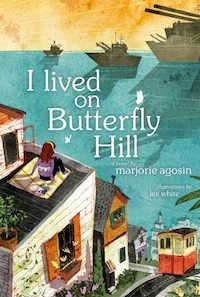 I Lived on Butterfly Hill by Marjorie Agosin and Lee White (Illustrator)
For ages 10 to 14: Celeste is a dreamer who lives in the idyllic town of Valparaiso, Chile. When Chile's government declares artists, protesters, and anyone who helps the needy to be dangerous to the country's future, Celeste's parents must go into hiding, and she is sent to America.
Save