Children's
For Kids: 20 Fantasy Books To Read After Harry Potter
This content contains affiliate links. When you buy through these links, we may earn an affiliate commission.
One of the great things about the Harry Potter books are how they grow in complexity as Harry (and the reader) grows up. That said, the first books are spot on for young readers, but the later ones are not so hot for young readers. Which is why adults don't tend to list Harry Potter and the Sorcerer's Stone as their top favorite of the seven books…
What do you read next if you're a young reader who isn't quite ready for snake caverns under the school and dead girls in the bathroom? What book do you press into your adult's hands if you want more magical stories, but when you lay down with your eyes closed, you're still kind of freaked out by the reveal of Voldemort at the end of Sorcerer's Stone?
One of my students had this question for me and it's one that I've been wrestling out for my own children. A lot of the lists for books for Potter fans tend to focus on people like me, adults who grew up with the books. But The Magicians is not an appropriate follow-up to HP for a 6-year-old. Without further preamble, here is my list of suggested fantasy books for kids who are growing up with the books right now, but aren't quite ready for the death and fascism of the later books.
I've split the list into books that will appeal strongly to younger kids, and ones that will appeal to older kids and grownups. If you're picking from the first list, you may not find the read scintillating; if you're reading from the second, you may find yourself fielding questions. As always, your mileage may vary depending on what your particular kid likes to read, but I consider these are all pretty solid bets for your youngest Potterheads!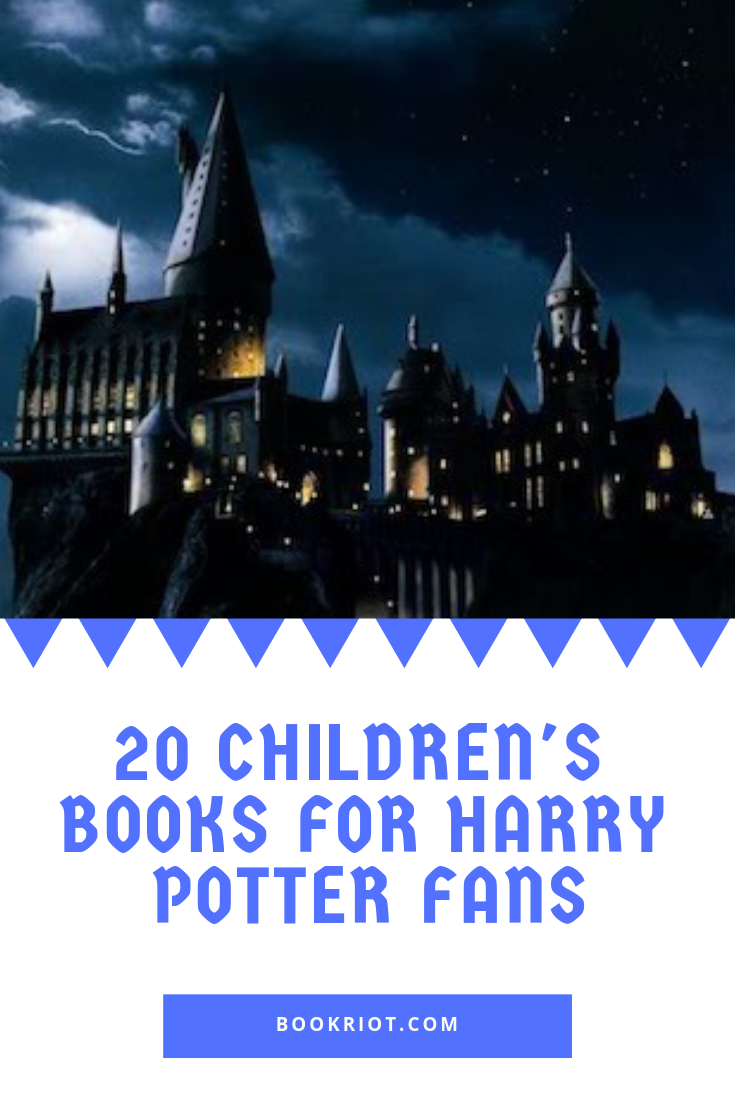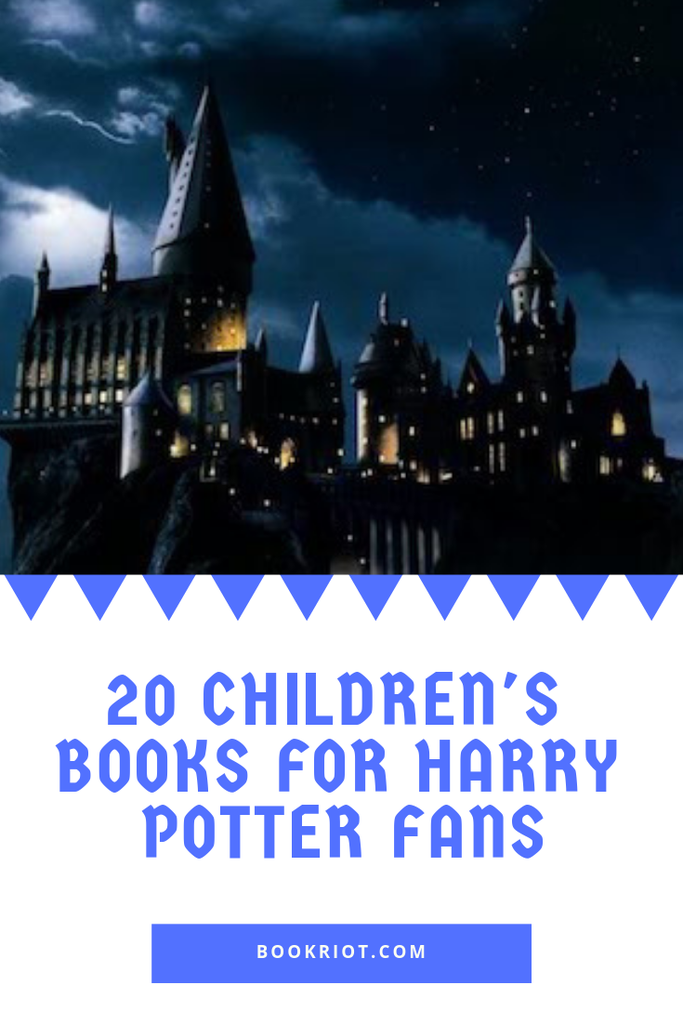 Books Appealing to Younger Readers
I tell my students that this series is a magical-science-adventure-mystery. Zoey and her cat Sassafras use scientific method to help magical creatures (and plants) in need. These books are so PERFECT in what they are doing and I haven't yet had a student who didn't enjoy them.
One of Scholastic's Branches series that has hooked dozens of my students. Each book pairs a young kid and a dragon in an empathic bond. While Worm and Drake are our main characters, each book introduces a new dragon/dragon master pair. Perfect for young readers!
Cucumber just wants to read his books and learn magic, but finds himself on a quest to save all of the kingdoms in Dreamside from the Nightmare Knight. He picks up a crew of friends, including his sister Almond who is much better prepared for being a hero than Cucumber is. The art is cute and bright, and the Nightmare Knight is a conflicted character rather than a scary character.
Mildred Hubble is in her first year at Miss Cackle's Academy for Witches and she can't seem to do anything quite right. If you ever wanted Neville as the main character, but you also want the hero to be a girl, give Mildred a try. She'll win you over completely!
When Jaxon has to spend the day with a kooky neighbor called "Ma," who is NOT his grandmother, he finds out that she is a witch! Jaxon ends up helping Ma out, carrying young dragons in his bag with two rules: don't give them sweets and don't let them out of the bag. Clearly, the dragon immediately break those rules and Jaxon and his friends must get them back!
Harriet is a hamster and a princess. When she finds out that she is cursed to prick her finger and fall asleep on her 12th birthday, Harriet takes it as a sign that she can go off and be as bold as she'd like as an adventurer! If you haven't seen a hamster star in a fairy tale retelling, pick this one up!
Books with More Complexity
This is the most Harry Potter-ist of my suggestions. Morrigan Crow is a cursed child, causing misfortune around her, until the ginger-iest man in existence rescues her and takes her to a magical city with Magnificats and a bff who is a dragon rider. If you're looking for that richness of world and that particular British-ish (Townsend is Australian) sense of absurd humor, this is your Brolly Rail stop.
I have waxed lyrical about this book several times, including rating it as my favorite read in the first half of last year. Aru Shah is a 12-year-old girl who lights an ancient lamp in and sets off a chain of events that threatens time itself. She must journey through realms of Hindu mythology and lore with her pigeon teacher and her new friend at her side.
One of my childhood favorites that my mom first read to me when I was in first grade. Princess Cimorene doesn't want to be a princess, so she runs away to work for a dragon, while wizards meddle and try to destroy dragon society. Lots of fractured fairytales sprinkled throughout the stories, each changed by a lens of practicality.
Taking the Snow Queen story in a different direction from Frozen, this book imagines it set in a neighborhood in Minnesota. Hazel is dealing with plenty at home, but ends up also pushing her best friend Jack away, until she throws a snowball into Jack's eye. He is taken away by the Snow Queen and Hazel must trek into the snowy woods near their town to find him. While there are some slightly creepy elements, Hazel's journey is of the external variety, which allows her to deal with her internal strife.
The youngest of five sisters, Leonora digs up her family's old book of magic recipes. Leo decides to use the book to teach herself magic, with chaos in her wake. Expect the talk of food to make you hungry for Mexican pastries!
I'm still recovering from the amazing audiobook experience I had with this book. DasGupta writes a heroine who is utterly unflappable as she finds out that she's actually a princess in hiding and dives into Hindu cosmology. I've got my hold placed on the audiobook of the sequel. Waiting, waiting, waiting…
Alex and Bailey find their way into a world of fairy tales where all the fairy tale characters have lived through the stories we know, but that wasn't the end of their adventures. Written by Glee's Chris Colfer, these books fly off the shelves.
Grace Lin said she realized after writing that this is a sort of Wizard of Oz story set in ancient China. Minli's family scrapes out a living on the edge of Fruitless Mountain until the day Minli leaves home to speak to the Man of the Moon. I read the first chapter aloud with two of my wiggliest classes and they were still and spellbound through out the entire reading. Lin is a master and now I really want to reread this book.
Miss Drake is feeling extra crotchety because her pet has recently died, but soon has a new pet, Winnie. However, Winnie thinks that Miss Drake is HER pet, and even as Miss Drake tries to settle her new pet, Winnie sets off magical mayhem with her sketchbook.
Adventurine, a fierce young dragon ends up stuck in a human body after she develops a taste for chocolate. Regardless of her outsides, she's still the bravest creature around and is now a chocolatier's apprentice!
Alice in Wonderland, but less creepy and somehow weirder in a good way. Valente is a total word-nerd, which, combined with her boundless imagination, will have you reading passages such as, "She liked anything orange: leaves; some moons; marigolds; chrysanthemums; cheese; pumpkin, both in pie and out; orange juice; marmalade. Orange is bright and demanding. You can't ignore orange things."
Lee takes Korean folk tales into space, with Min who runs away and disguises herself on a starship in order to help her brother. The story tackles Min's identity as a shape-shifting fox, known as gumiho, and the ways that she must limit herself until she gets her own adventure underway where she can really stretch herself. Korean fox-magic on a spaceship is everything I want in a story.
This is my kids' favorite read on-the-go right now. Roz is a robot who survives a high seas disaster and is washed onto an island inhabited only by animals. Eventually Roz learns how to speak to the animals, how to make her way on the island, and becomes an adoptive mother to Brightbill, a baby gosling. The chapters are short, the art is lovely, and Roz and the animals are all doing their best to care for each other.
This is one of the MOST popular series among my chapter book readers. A prophecy says that five dragonets will end a long war, but when the dragonets are brought together, they don't even want to have a great destiny. While this leans to the violent side (you know, war), the characters are whole and enthralling themselves.
What books would you add to this list for young Harry Potter readers, not ready for the full series?
Find more Book Riot thoughts on Harry Potter. Tease apart mystery minutia (we all love it!) from the series, or get oriented in Potter fan fiction for your own expanded Potter reading.