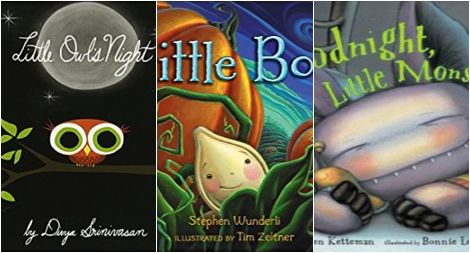 Children's
6 Adorable Children's Books for Halloween
This content contains affiliate links. When you buy through these links, we may earn an affiliate commission.
Halloween may traditionally be a time for all things horrifying, but it's also a time for things that are cute. Sometimes you see a monster, and instead of screaming in terror, you want to pinch its cheeks and coo. In honor of the less frightening aspects of the season, here are six adorable children's books for Halloween that are (mostly) about the holiday.
Creepy Carrots! by Aaron Reynolds and Peter Brown
Carrots aren't usually creepy, not unless they are overcooked at any rate, but that hasn't stopped them from haunting Jasper Rabbit. After his years and years of eating carrots, the vegetables finally seem to be seeking their revenge.
I haven't traditionally described people I like as "little monsters," but this book might inspire me to start. After all, when little monsters go to bed, they need a snack of worm juice and beetle bread, creepy pajamas, a howling moon…and a nightlight to keep away the truly scary creatures.
"Eek! Halloween" is what I say after discovering that it's October 25 and I have yet to pick out a costume for the office Halloween party. In the case of Boynton's book, however, it's a response from chickens. Chickens who have seen a pumpkin with flickering eyes. Chickens who spotted a witch. Chickens who are anxious.
I may be a chicken.
Little Owl's Night may not be a traditional Halloween tale, but it certainly captures the spirit of nighttime. A baby owl watches his hedgehog, skunk, and opossum friends enjoy the glories of a full moon while his mother tries to explain that day can be pleasant too.
Did I ever tell you about the time I was convinced I saw a ghost in my apartment? No? Well, this book would have been helpful back then. In it, a young witch lives in a haunted house, and her way of managing her translucent houseguests includes stuffing them in the washing machine, hanging them to dry, and giving them new lives as bed sheets.
Little Boo by Stephen Wunderli and Tim Zeltner
Guys. Guys. Little Boo is a pumpkin seed. And all he wants to do is grow up to be something scary. Unfortunately this little seed can't manage to scare bees, or snowflakes, or anyone. He just has to be patient and wait until he grows into something magical.
Though there are other lovable Halloween children's books out there, these are the ones that caught my eye. With charming carrots, little monsters, and nervous birds, who needs scary monsters?
What are your favorite children's books for Halloween? And, we've got even more picture books for your reading pleasure.