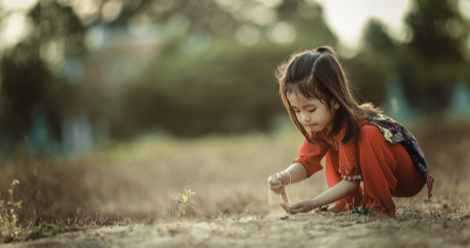 Children's
Beyond The Lorax: Children's Books for Earth Day
This content contains affiliate links. When you buy through these links, we may earn an affiliate commission.
I like The Lorax, really I do. The Dr. Seuss classic weaves together a beguiling tale of a man who cuts down Truffula trees to make Thneeds and the Lorax who "speaks for the trees." In the end, the forest of Truffulas is gone and the man regrets his intended, and unintended, actions. Although I like The Lorax, my toddler loves The Lorax. We listen to the audiobook version, narrated by Ted Danson, in the car almost once a day. Recently when my partner took her to the bookstore to pick out any book she wanted, she came home with The Lorax.
I'm not complaining that my little one loves a particular book. I have my favorites too! To celebrate Earth Day, though, I want to broaden our horizons. The Lorax has a great message, but there are other children's books for Earth Day out there are just as educational and engaging. So, I went in search of some other options to read and enjoy on April 22nd. If you are looking for a book to borrow from the library or to add to your collection this Earth Day, try one of these fantastic children's books for Earth Day below.
This bilingual picture book would be a great addition to almost anyone's bookshelf. Focusing on trees, which, of course, is great for Earth Day, the repetitiveness of Gonzalez's words make this a great bedtime option.
This alphabet book puts a compost spin on the ABCs and shows just how much of the world around us can be composted. I don't compost now, but this book certainly encouraged me to explore it as an option in the future…maybe for Earth Day!?!
With Parr's signature illustrative style, and to-the-point writing, The Earth Book is great for the littlest picture book lovers. Polar bears, owls, and bunnies grace the pages so this book would be great for animal lovers too.
Michael Recycle by Ellie Bethel, Illustrated by Alexandra Colombo
Do you have a superhero lover in your family? If so, this book is for them. When Michael Recycle drops by the town of Abberdoo-Rimey and encourages them to clean up their mess, the citizens take the advice to heart. This is the first book in Bethel's Michael Recycle series and (bonus!) there are lots of practical suggestions for conservation in the back of the book.
Ever wonder if there is something useful you can do with all of your plastic bags? This book tells the story of Isatou Ceesay in Gambia who finds a way to repurpose the plastic bags that are making her family's livestock ill. She, along with some friends, cleans the bags, makes them into something new, and sells them at a market. A great nonfiction recommendation for Earth Day (or year round)!
Over and Under the Pond by Kate Messner, Illustrated by Christopher Silas Neal
This book is beautifully written and stunningly illustrated. It's so pretty that I've thought about framing the pages and hanging them on the wall. Featuring a mother and sun canoeing on a pond, they discuss the animals, plants, and wildlife that they see. This book is perfect for readers who like science and discovering the world around them.
On April 22nd, this is the book my daughter and I will be reading. Now I'm sure we'll read it a lot between now and then too, since she adores it so much, but this will be the book we talk about that day. The Watcher is about Jane Goodall's life in Gombe with the chimps, but it also shows her as a young girl and as an activist today.
Any other suggestions for an Earth Day children's book? Share your recommendations in the comments!
Looking for Earth Day book recommendations for yourself? Here are 15 Books to Celebrate, as well as Nature Essays.