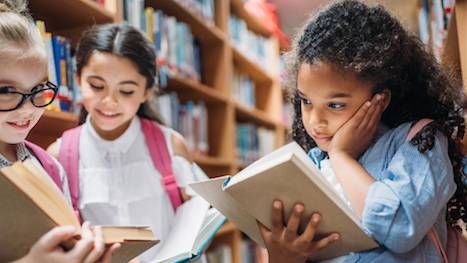 Children's
25 Children's Books for African American History Month
This content contains affiliate links. When you buy through these links, we may earn an affiliate commission.
Last year I wrote a post with the 100 Best Books for African American History Month, but so many new, wonderful books have come out in the last year that I had to update my list with twenty-five more children's books for African American History Month, which are listed below. (This book list originally posted on "The Kids Are All Right" Book Riot newsletter on 1/28/18. Subscribe to the weekly newsletter here.)
(All book descriptions from Goodreads.)
Picture Books
They participated in some of NASA's greatest successes, like providing the calculations for America's first journeys into space. And they did so during a time when being black and a woman limited what they could do. But they worked hard. They persisted. And they used their genius minds to change the world.
This beautiful picture book tells the uplifting story of the first African American woman to dance for a major classical ballet company and how she became a huge inspiration for Misty Copeland. Theodore Taylor III's unique, heavy line style of illustration brings a deeper level of fluidity and life to the work, and Misty Copeland's beautifully written foreword will delight ballet and dance fans of all ages.
A beautiful picture book about Ann Cole Lowe, a little-known African-American fashion designer who battled personal and social adversity in order to pursue her passion of making beautiful gowns and went on to become one of society's top designers.
Elizabeth Cotten was only a little girl when she picked up a guitar for the first time. It wasn't hers (it was her big brother's), and it wasn't strung right for her (she was left-handed). But she flipped that guitar upside down and backwards and taught herself how to play it anyway. By age eleven, she'd written "Freight Train," one of the most famous folk songs of the twentieth century. And by the end of her life, people everywhere—from the sunny beaches of California to the rolling hills of England—knew her music.
Life Doesn't Frighten Me by Maya Angelou, paintings by Jean-Michel Basquiat
Maya Angelou's brave, defiant poem celebrates the courage within each of us, young and old. From the scary thought of panthers in the park to the unsettling scene of a new classroom, fearsome images are summoned and dispelled by the power of faith in ourselves. Angelou's strong words are matched by the daring vision of artist Jean-Michel Basquiat, whose childlike style reveals the powerful emotions and fanciful imaginings of childhood. Together, Angelou's words and Basquiat's paintings create a place where every child, indeed every person, may experience his or her own fearlessness.
Mae Among the Stars by Roda Ahmed, illustrated by Stasia Burrington
When Little Mae was a child, she dreamed of dancing in space. She imagined herself surrounded by billions of stars, floating, gliding, and discovering.
She wanted to be an astronaut.
Her mom told her, "If you believe it, and work hard for it, anything is possible."
Little Mae's curiosity, intelligence, and determination, matched with her parents' encouraging words, paved the way for her incredible success at NASA as the first African American woman to travel in space.
Muhammad Ali was one of the most electrifying, inspiring, and confrontational athletes of his generation. At the height of his boxing career, Ali was as despised as he was adored. Loud and aggressive as well as confident and dedicated, he was the quintessential showman, the undeniable champion of his sport, and one of the most recognizable faces in the world. He was challenged at every turn: faced with racial discrimination in his everyday life, mocked by the sports media as his career began, ridiculed for adopting a new religion, and stripped by the U.S. government of his very livelihood for refusing to go to war.
Jackie Robinson broke boundaries as the first African American player in Major League Baseball. But long before Jackie changed the world in a Dodger uniform, he did it in an army uniform. As a soldier during World War II, Jackie experienced segregation every day—separate places for black soldiers to sit, to eat, and to live. When the army outlawed segregation on military posts and buses, things were supposed to change.
Be A King by Carole Boston Weatherford, illustrated by James E. Ransome
Featuring a dual narrative of the key moments of Dr. King's life alongside a modern class as the students learn about him, Carole Weatherford's poetic text encapsulates the moments that readers today can reenact in their own lives. See a class of young students as they begin a school project inspired by Dr. Martin Luther King Jr. and learn to follow his example, as he dealt with adversity and never lost hope that a future of equality and justice would soon be a reality. As times change, Dr. King's example remains, encouraging a new generation of children to take charge and change the world…to be a King.
Pete Souza served as Chief Official White House Photographer for President Obama's full two terms. He was with the President during more crucial moments than anyone else—and he photographed them all, capturing scenes both classified and candid. Throughout his historic presidency, Obama engaged with young people as often as he could, encouraging them to be their best and do their best and to always "dream big dreams." In this timeless and timely keepsake volume that features over seventy-five full-color photographs, Souza shows the qualities of President Obama that make him both a great leader and an extraordinary man.
Hey, Black Child by Useni Eugene Perkins, illustrated by Bryan Collier
Hey black child,
Do you know who you are?
Who really are?
Do you know you can be
What you want to be
If you try to be
What you can be?
Amid the scholars, poets, authors, and artists of the Harlem Renaissance stood an Afro–Puerto Rican named Arturo Schomburg. This law clerk's life's passion was to collect books, letters, music, and art from Africa and the African diaspora and bring to light the achievements of people of African descent through the ages. When Schomburg's collection became so big it began to overflow his house (and his wife threatened to mutiny), he turned to the New York Public Library, where he created and curated a collection that was the cornerstone of a new Negro Division. A century later, his groundbreaking collection, known as the Schomburg Center for Research in Black Culture, has become a beacon to scholars all over the world.
Let the Children March by Monica Clark-Robinson, illustrations by Frank Morrison
In 1963 Birmingham, Alabama, thousands of African American children volunteered to march for their civil rights after hearing Dr. Martin Luther King Jr. speak. They protested the laws that kept black people separate from white people. Facing fear, hate, and danger, these children used their voices to change the world.
Muddy Waters was never good at doing what he was told. When Grandma Della said the blues wouldn't put food on the table, Muddy didn't listen. And when record producers told him no one wanted to listen to a country boy playing country blues, Muddy ignored them as well. This tenacious streak carried Muddy from the hardscrabble fields of Mississippi to the smoky juke joints of Chicago and finally to a recording studio where a landmark record was made.
Jean-Michel Basquiat and his unique, collage-style paintings rocketed to fame in the 1980s as a cultural phenomenon unlike anything the art world had ever seen. But before that, he was a little boy who saw art everywhere: in poetry books and museums, in games and in the words that we speak, and in the pulsing energy of New York City. Now, award-winning illustrator Javaka Steptoe's vivid text and bold artwork echoing Basquiat's own introduce young readers to the powerful message that art doesn't always have to be neat or clean—and definitely not inside the lines—to be beautiful.
Chapter Books
Dr. Martin Luther King Jr. believed it was possible to change the world with peaceful protest. His powerful words and actions helped the civil rights movement achieve many great changes. His incredible leadership is still remembered and celebrated today. Beginning readers will learn about the milestones in Martin Luther King Jr.'s life in this Level Two I Can Read biography, which combines a traditional, illustrated narrative with historical photographs at the back of book—complete with a timeline, illustrations, and interesting facts.
Martin Luther King Jr. devoted his life to helping people, first as a Baptist minister and scholar and later as the foremost leader in the African-American civil rights movement. An organizer of the Montgomery bus boycott and cofounder of the Southern Christian Leadership Conference, Dr. King won the Nobel Peace Prize in 1964 for combating racial inequality through nonviolent resistance. As a result of his actions, the United States Congress passed the historic Civil Rights Act of 1964.
Venus and Serena Williams are two of the most successful professional American tennis players of all time. Coached at an early age by their parents, the sisters have both gone on to become Grand Slam title winners. They have both achieved the World Number One ranking in both singles and doubles! Although completely professional and fiercely competitive, the sisters remain close. Who Are Venus and Serena Williams? follows the pair from their early days of training up through the ranks and to the Summer Olympic Games, where they have each won four gold medals—more than any other tennis players.
Middle Grade Books
Frederick Douglass (1818–1895) is best known for the telling of his own emancipation. But there is much more to Douglass's story than his time spent enslaved and his famous autobiography. Facing Frederick captures the whole complicated, and at times perplexing, person that he was. Statesman, suffragist, writer, and newspaperman, this book focuses on Douglass the man rather than the historical icon.
March Forward, Girl by Melba Pattillo Beals, illustrated by Frank Morrison
Long before she was one of the Little Rock Nine, Melba Pattillo Beals was a warrior. Frustrated by the laws that kept African-Americans separate but very much unequal to whites, she had questions. Why couldn't she drink from a "whites only" fountain? Why couldn't she feel safe beyond home—or even within the walls of church? Adults all told her: Hold your tongue. Be patient. Know your place. But Beals had the heart of a fighter—and the knowledge that her true place was a free one.
On her way to church one day in July 1854, Elizabeth Jennings was refused a seat on a streetcar. When she took her seat anyway, she was bodily removed by the conductor and a nearby police officer and returned home bruised and injured. With the support of her family, the African American abolitionist community of New York, and Frederick Douglass, Elizabeth Jennings took her case to court. Represented by a young lawyer named Chester A. Arthur (a future president of the United States) she was victorious, marking a major victory in the fight to desegregate New York City's public transportation.
Featuring forty trailblazing black women in American history, Little Leaders educates and inspires as it relates true stories of breaking boundaries and achieving beyond expectations. Illuminating text paired with irresistible illustrations bring to life both iconic and lesser-known female figures of Black history such as abolitionist Sojourner Truth, pilot Bessie Coleman, chemist Alice Ball, politician Shirley Chisholm, mathematician Katherine Johnson, poet Maya Angelou, and filmmaker Julie Dash.
Becoming Kareem by Kareem Abdul-Jabbar and Raymond Obstfeld
At one time, Lew Alcindor was just another kid from New York City with all the usual problems: He struggled with fitting in, with pleasing a strict father, and with overcoming shyness that made him feel socially awkward. But with a talent for basketball, and an unmatched team of supporters, Lew Alcindor was able to transform and to become Kareem Abdul-Jabbar.
After the murder of Emmett Till, thirteen-year-old Rose is struggling with her decision to stay in Mississippi. Torn between the opinions of Shorty, a boy who wants to meet violence with violence, and Hallelujah, her best friend who believes in the power of peaceful protests, Rose is scared of the mounting racial tension and is starting to lose hope. But when Rose helps Aunt Ruthie start her own business, she begins to see how she can make a difference in her community. Life might be easier in the North, but Mississippi is home and that's worth fighting for. Mid-Century Mississippi comes alive in this sequel to Midnight Without a Moon.
Jabari Asim goes beyond what's taught in the classroom and tells a fact-filled history of African Americans through politics, activism, sports, entertainment, music, and much more. You'll follow the road to freedom beginning with the slave trade and the middle passage through the abolitionist movement and the Civil War where many African Americans fought as soldiers. You'll learn how slave songs often contained hidden messages and how a 15-year-old Jamaican-born young man named Clive Campbell helped to create hip-hop in the early 1970s.
What are your favorite children's books for African American History Month?