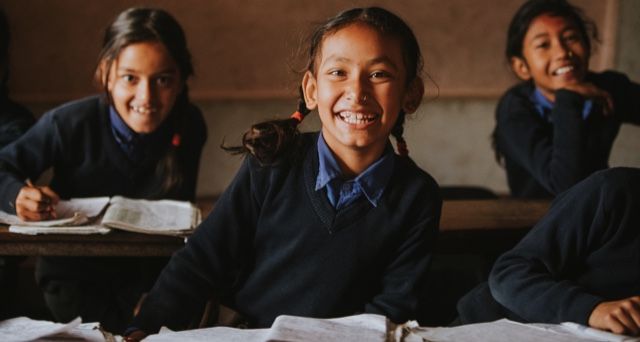 This content contains affiliate links. When you buy through these links, we may earn an affiliate commission.
Small acts of kindness can have ripple effects that change the lives of those around us. When we teach kids to be kind, we can help them learn how to treat others and themselves with love. Whether you use them at home or in the classroom, these 12 children's books about kindness, both picture and chapter books, are perfect for helping kids develop compassion.
Picture Books About Kindness
Shelter by Céline Claire and Qin Leng
A snowstorm blows into the forest and brings with it two arctic visitors. These visitors knock on the doors of every animal family to find help, but nobody will let them in. Because they don't know the visitors, they see no reason to help. But when the fox family's home is struck by the storm, the visitors offer them help when nobody else could. This book is perfect for teaching kids to be kind to those who are new to their community and might not fit in.
On the way home from school, Vanessa is bullied by another boy in her neighborhood. Other children see how sad this makes her but don't know what to do. But then, another girl down the street has an idea. By simply walking home with Vanessa every day, she encourages the whole community to help. This wordless picture book uses beautiful illustrations to show students that small acts of kindness can change someone's world.
Extra Yarn by Mac Barnett and Jon Klassen
When Annabelle finds a trunk full of yarn, she thinks she might be able to knit a few sweaters. But this yarn is magical and, no matter how much Annabelle knits, it never runs out. What can she possibly do with that much yarn? Knit colorful keepsakes for everyone in town, of course! You can use this picture book to show kids how sharing can make the world a brighter place.
When Omu makes her famous stew, everyone in her neighborhood wants some. But after she gives everyone who comes a bowl, she's left with none for herself. But the neighbors aren't going to let Omu go to sleep hungry, and they repay her kindness back tenfold. Thank You, Omu! is a colorful and sweet reminder to show gratitude to those who are special to you.
Every day, Amos McGee the zookeeper visits his animal friends and makes sure they're doing okay. But when Amos gets sick, who will check up on him? When Amos's case of the sniffles keeps him away from the zoo, he receives some unexpected—but much needed—guests. This award-winning picture book shows students the difference a friend can make to those in need.
My Heart by Corinna Luyken
How often do we think about all of the things our hearts feel or do? This lyrical picture book reminds us that our hearts are complex but beautiful things. Sometimes our hearts are wide open to the whole world, and sometimes they're fenced in to keep others out. By paying attention to and nurturing our hearts, we can show better love to others and ourselves, too.
Chapter Books About Kindness
Twelve-year-old Jonas lives in a seemingly utopian world where everything is literally black and white. All color, sorrow, passion, and ambiguity in life has been eradicated in favor of a pain-free existence. For everyone, that is, except the Receiver. Their job is to hold all of the memories of how life once was so others don't have to experience them.
When Jonas is assigned to become the next Receiver, he trains to become strong enough to hold these memories for the safety of others in his society. But is life truly worth living without love, loss, and the fullness of what it means to be human?
Thirteen-year-old Genesis keeps a list of 96 things that she hates about herself—like #61, how her family is often evicted from their home due to her father's gambling addiction. Or #95, because kids at her school call her "charcoal" or "eggplant" due to her dark skin. When Genesis and her mom move in with her grandma, however, her entire life changes. At her new school, her teacher encourages her to nurture her talents and the self-compassion that she deserves.
This middle grade book can help young readers discover that kindness also involves treating yourself with love and respect.
As a child with high-functioning autism, Rose Howard doesn't always know how to deal with social interactions or her emotions. But her dog Rain understands her better than anyone else. Ever since Rose's father brought the lost dog home, the two have shared a powerful bond. Between her absent parents and unkind classmates, the one one who's always there for her is Rain. But when Rain goes missing during a storm, Rose risks everything to find her dog. She doesn't expect, however, for Rain's original owners to find the dog first. Bittersweet and tender, Rain Reign explores unconditional love and loss.
Wonder by R.J. Palacio
August Pullman is starting 5th grade at Beecher Prep after being homeschooled for his entire life. Because of a facial deformity that he's had since birth, his parents worry that other students will tease him. But Auggie is determined to attend school and wants nothing more than for his classmates to treat him as normal. As he navigates making new friends, adjusting to school life, and responding to bullies with bravery and grace, he and his peers learn important lessons about compassion.
After Ari's family moves across the country, his parents have even less time for him than before. His mother is preoccupied with her artistic endeavors, and his father keeps going on long "sales trips" to stay out of the house. But Ari needs someone who understands him now more than ever. He's often bullied because he's overweight, and he doesn't know how to deal with his body-image issues. As he makes new friends—like avid gamer Pick and Lisa, who's struggling with her own problems—he tries to develop acceptance for others and himself.
Same Sun Here by Silas House and Nella Faswani
When Meena and River are assigned to be pen pals, they have no idea how much their lives are about to change. Meena's family immigrated to New York City from India and are studying for the citizenship exam. River is the son of a coal miner in a small Kentucky town facing mountaintop removal. Although their lives are different in some ways, they bond over the challenges and joys that each day brings and ask each other for advice. As their letters bring them together as close friends, they learn to challenge their cultural misconceptions about each other and treat those they might not understand at first with kindness.
---
Need more books to share with your children or students? Check out these mind-blowing science fiction books for kids!