Children's
Young At Heart: 25 Children's Books About Grandparents
This content contains affiliate links. When you buy through these links, we may earn an affiliate commission.
Grandparents are special. They dry our tears, always have a hug, and give us unending chocolate. In the best scenarios, they support us and adore us, and we in turn support and adore them.
I remember jumping rope with my gigi and holding her hand on walks; puttering around my gidaddy's old electronic shop; going to the circus for the first time with my nana; and watching my grandpa put up a fence. I was lucky as a child to have four living grandparents, three of whom are still alive today, and my daughter is lucky in the same way. She will grow up surrounded by family, knowing how proud they are of her, no matter what. And I mean that literally. I was talking on the phone with Nana the other week, and she said she was so proud of Marian (my daughter) for being so smart. And then she said, "But you know, I'd be just as proud of her if she were dumb." Lol, thanks Nana. Did I mention that grandparents are also honest?
These children's books about grandparents show city-hopping nanas and gardening grandpas, dolphin-riding grandmas and science-minded grandfathers. They also show grandparents in transition, from moving in with their now-adult children to dealing with disabilities. And grandchildren mourning their deaths, for these are often the first deaths our children mourn. I've separated those out at the end. You'll need your tissues handy when you read those.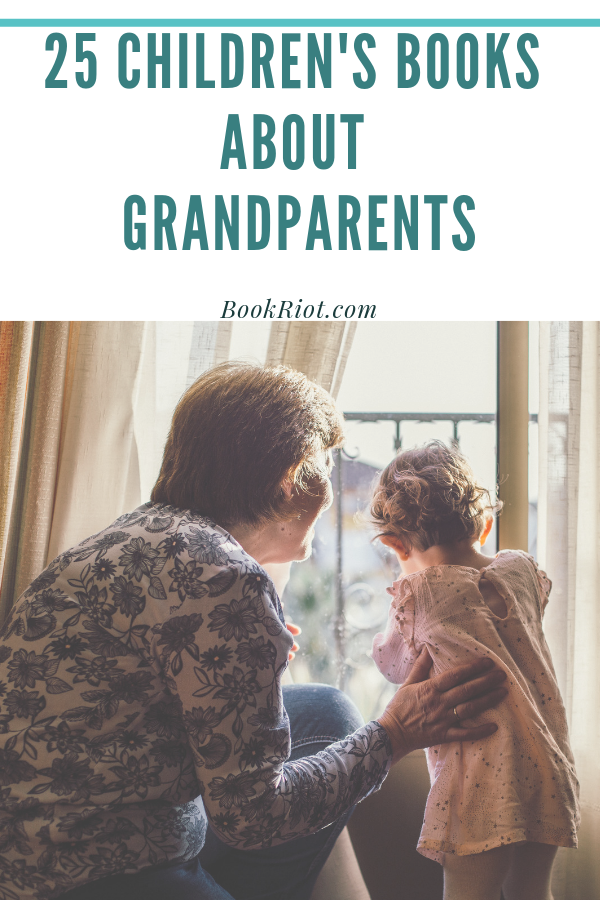 This board book is perfect for little hands. Each page gives something special Grandma does—"Grandma sends me mail"; "Grandma cuddles with me"—along with a colorful, playful picture of a child with their grandmother. It's sure to make Grandma feel special when she reads it to her grandchild, who already knows they're the best thing in the world because everyone always tells them so.
What do you do when your grandmother gives you a lemon tree planted in an old coffee tin for your birthday instead of the million other things you wanted, like a robot!? This little girl definitely won't throw it away (okay, that was one of her first thoughts). Instead, she creates a business and a beautiful garden with her super savvy grandmother. The book includes a recipe for lemonade in the back!
I haven't researched Brantley-Newton, but after reading this, I'm convinced she's had at least one toddler living with her. Because toddlers LOVE going through purses. Minutes after my mom sets down her purse, my daughter will be picking through it, finding all the treasures. I own the picture book version of this, but there's a new board book edition shaped like a purse. So cool!
Ojiichan's Gift by Chieri Uegaki, Illustrated by Genevieve Simms
Mayuni may not live in Japan with her grandfather, but she visits every year to help tend the stone garden he built in honor of her birth. But then one summer she visits and everything is dusty, the stone garden in disarray, her grandfather ill. A sweet and lovely picture book about the bond between a grandfather and his granddaughter.
A Day With Yayah by Nicola I. Campbell, Illustrated by Julie Flett
This book is extra special because it contains some words in Nlaka'pamux. The author's note explains that the Nlaka'pamux indigenous peoples are part of the Interior Salishan peoples in what is now called British Columbia. In this picture book, Yayah passes down her knowledge to her grandchildren on a mushroom hunt. I recommend this book for upper elementary ages.
Stardust by Jeanne Willis, Illustrated by Briony May Smith
Do your children have sibling jealousy? Because the protagonist in Stardust feels like her older sister does everything better than she does, and that everyone knows it. But when her grandfather explains how she's really a star, and where stars come from, she knows she must be special. This is a perfect collaboration of text and illustrations. And science!
In Grandma's Arms by Jayne C. Shelton, Illustrated by Karen Katz
In this colorful board book, a little girl can go anywhere with her grandmother, as long as she's tucked into her arms (and a good book helps too). From pink clouds to Mars, these two travel anywhere they want. This is a great book for babies and toddlers.
Drawn Together by Minh Lê, Illustrated by Dan Santat
The language barrier between a little boy and his grandfather engulfs them in silence, until they begin to draw together and magic happens. This picture book is so beautiful and sweet. The story alone pulls on my heartstrings, but then add Dan Santat—one of my favorite children's book illustrators—and this book is perfection. And the back end page can be colored in!
Abuela by Arthur Dorros, Illustrated by Elisa Kleven
On a trip to Central Park with her Abuela, a little girl imagines a flock of birds carries her and her grandmother into the sky, and they fly through the city, waving at people waiting for the bus, circling the Statue of Liberty, and buying limonadas at her tio's shop. Illustrated in bright, childlike collages, this one is a classic for a reason.
Nora is bored bored bored, but when her grandmother tells her there's a tiger in the garden, she and her BFF Jeff the giraffe go on an adventure, and find that imagination is the best cure for boredom. This book makes me remember my own childhood, and both my daughter and I love the illustrations. Marian has been pulling this book out to look at a few times a day. We even recently reviewed it.
This one made me cry. I knew nothing about the devaluing and change in currency in Mexico until reading this. It isn't the first time I've learned things from my daughter's picture books. The Abuela in this story sets aside money from every paycheck for a special treat for Niña. But when times get hard in Mexico, things change. But that doesn't break the bond between the two. The pastel illustrations with geometric shapes reflect the nostalgia of the lovely story.
I'm pretty sure my daughter would disown me if I didn't include a Llama Llama book on the list because they're her absolute favorites, though she's one—what does she know? But seriously, these Llama Llama books have a cadence that mesmerize children. In Gram and Grandpa, Llama Llama is having a blast with his grandparents, until he realizes he left his fuzzy llama at home. There ensues some llama drama, but thankfully, these two know how to handle it.
This is the grandma book of my own heart because I really want to be left alone for five minutes please for the love of all that is good go away. Will I ever be alone again? If this grandmother hasn't had a moment alone in decades, it doesn't look promising for me. I need to borrow her wormhole. Seriously though, this book is very true and very funny.
A Morning With Grandpa by Sylvia Liu, Illustrated by Christina Forshay
As Mei Mei's grandfather practices tai chi in the garden, she watches curiously. Soon he's teaching her the moves and she's practicing alongside him. She makes up for her lack of calm with her exuberance. This one will have you smiling.
Joy By Corrinne Averiss, Illustrated by Isabelle Follath
Few books look at depression in the elderly. In Joy, when Fern's nana has to use a wheelchair, she loses the smile Fern loves. When Fern's mother mentions that Nana needs some joy, Fern decides to try and catch some for her. But joy isn't so easy to catch. This book is as vibrant, emotional, and uplifting as the art is colorful. It's a really gorgeous book.
Cities are scary—so many people and loud trucks and new smells. The protagonist doesn't want to stay overnight with his Nana. But his Nana shows him the city through her eyes and ears and nose, and by the end of his visit, he sees how cities can be beautiful. The watercolor illustrations capture the vibrancy of a city at fall. I call one of my grandmothers Nana, and I can remember being a bit scared when I stayed overnight with her. This book will ring true for many children.
Mango, Abuela, And Me By Meg Medina, Illustrated By Angela Dominguez
When Mia's grandmother moves into her house to live, there's a big problem. Abuela doesn't speak English, and Mia doesn't speak Spanish. But with the help of a feather, a parrot, and post-it notes, these two form a bond of love and friendship. So sweet.
A child retells his great grandfather's life. What really makes this picture book special are the illustrations. In each scene, the topiary from Grandpa's garden depicts what's going on in Grandpa's life story, from a topiary turning into a little girl the Grandpa kisses, to planes flying by in WWII.
All Around Us by Xelena Gonzalez, Illustrated by Adriana Garcia
"Grandpa says circles are all around us. We just have to look for them. He points to the rainbow that rises high in the sky after a thundercloud has come. He traces the colorful arc with his hand and says, 'Can you see? That's only half of the circle.'" Sometimes picture books are as lovely and poignant as a poem. That's how I feel about All Around Us, where a grandfather explains the cycles of life and nature to his granddaughter. The illustrations are mesmerizing.
Grandmother's Pigeon by Louise Erdrich, Illustrated by Jim LaMarche
Most of the picture books I've chosen are newer, but I had to mention this classic. I remember reading it as a child, and as the daughter and granddaughter of two bird watchers (who would eventually turn into a bird watcher herself), many daydreams ensued about what exactly Grandmother had been up to, and what powers the birds around me might possess. Louise Erdrich is probably well known to Rioters, so you know you're going to get a memorable story with this one.
How many recipes for chicken soup could there possibly be? Sophie loves her Bubbe's Jewish chicken soup with kreplach, and she loves her Nai Nai's Chinese chicken soup with wonton. When she brings the two grandmothers together, they discover there are more similarities between their two chicken soup recipes than anyone had previously thought. And the best thing about this already fun book? There are recipes in the back! Yum. Or Mmmmmm, as my daughter would say.
Children's Books About Dealing With The Death Of A Grandparent
Grandmother's Visit by Betty Quan, Illustrated by Carmen Mok
A little girl remembers her grandmother teaching her how to cook rice, walking her to the bus, and telling her stories about her life in China. But her grandmother is now gone, and instead, she's left with these special memories. To honor her memory, the girl's mother decides to follow Chinese custom and leave the lights on outside the house in case the grandmother's ghost wants to say goodbye. Illustrated in soft blues and grays, this is a poignant book about dealing with loss.
Grandpa's Stories by Joseph Coelho, Illustrated by Allison Colpoys
"If all the world were dreams, I would mix my bright Grandpa feelings and paint them over sad places." This picture book is stunning, from its gorgeous and colorful illustrations that feel like they need to be framed and put on the wall, to the gentle lyricism of the text. In it, a little girl remembers all the wonderful games she played with her grandpa, and the stories he told her about India. It's also a story about mourning the death of a loved one, and celebrating their life.
You will need the tissues handy when you read this one. More for yourself than your little one. Tommy's great grandmother stays mostly in a bed upstairs, and his grandmother mostly stays in the kitchen downstairs. Thus, he calls them Nana Upstairs and Nana Downstairs. He loves them both so much. This is a book about taking care of grandparents, and also about how to heal from the death of a grandparent.
The Yellow Suitcase by Meera Sriram, Illustrated by Meera Sethi
Asha travels from California to India to mourn her grandmother's passing. She brings her yellow suitcase, the same suitcase she fills with goodies to give to her grandmother every time she visits. But this time, there's no grandmother to give them too. Yet by the end of the story, the suitcase is filled. This is a bittersweet picture book balanced by bright, child friendly illustrations.
Do you have a favorite kid's book about grandparents?