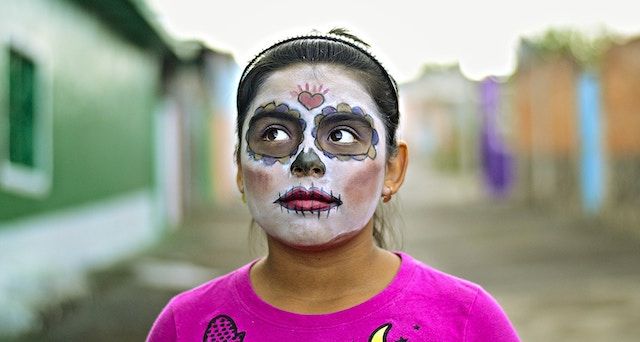 Children's
Calaveras Come To Life: 10 Children's Books About El Día De Los Muertos
This content contains affiliate links. When you buy through these links, we may earn an affiliate commission.
El Día de los Muertos (The Day of the Dead) is a Mexican holiday that occurs from October 31st to November 2nd. It's a time for Mexican families to honor their dead and celebrate with them. Altars, marigolds, calaveras, and pan de muerto abound.
I am not Mexican, so while I knew about the holiday, I'd never read any books about it. And then my daughter decided to become obsessed with skeletons. Nothing gives her as much joy as seeing a nice white skeleton. She'll even settle for a skull. I should add that she's not yet two. So for October, I picked up lots and lots of children's books about El Día de los Muertos from the library and the used bookstore I work at, and I'm so glad I did. I enjoy reading about this celebration as much or more than my daughter does. These are our ten favorites.
10 Children's Books About El Día de los Muertos
This is a book told in two parts. The first part tells the story of a family in Mexico City making "calaveras come to life." The family creates their own calaveras from wheat paste, torn pieces of brown paper, and molds, then let their paper mache creations dry in the sun. When they're finished, they have the perfect decorations for El Día de los Muertos. It then shows how this tradition is passed on through the generations. This seems like such an excellent craft to do at home or in the classroom to accompany reading this book. Part two of the book is the abecedaria. Each letter of the alphabet is paired with a corresponding element of El Día de los Muertos, all demonstrated with calaveras. The funniest to me is E: Enfermera.
The abecedaria is in Spanish, while the story in the first half is told in English, with a smattering of Spanish. This is my daughter's favorite book on the list. As with most one-year-olds, it's hard to say why she likes it so much, but Mama likes it too!
This bilingual Spanish/English picture book is an excellent read-aloud. I love how the English and Spanish pair together to create a poetic summation of two children celebrating El Día de los Muertos. The vivid colors and big illustrations make it a lot of fun visually, and also easier to read aloud to a group of children. It's also quite short and simple and lovely.
José Guadalupe Posada was a famous Mexican artist who created his art via lithography—the process of printing from a flat surface—engraving, and etching. This picture book biography tells how he became famous for illustrating skeletons to accompany humorous El Día de los Muertos poems. It also gives instructions on printmaking. This would be a great book to accompany some beginner printmaking activities!
Día De Los Muertos By Hannah Eliot, Illustrated By Jorge Gutierrez
This is the first El Día de los Muertos book I bought for my daughter's collection, and that's because it's one of two board books on the list (the other is La Catrina: Emotions—Emociones). It's part of the Celebrate the World series. Filled with happy and colorful skeletons and lots of yum yums, it's a book that toddlers will want to read by themselves. It also has many Spanish words, though it's mainly in English.
Day of the Dead By Tony Johnston, Illustrated By Jeanette Winter
As with many holidays, much cooking occurs in preparation for El Día de los Muertos. This picture book shows a family preparing for the holiday through all the cooking that must be done. It also teaches children about patience. At the end, the family goes to the graves of the children's los abuelos to honor them, leaving marigolds on their graves.
A fully bilingual picture book, I Remember Abuelito is told from a little girl's perspective as she prepares for El Día de los Muertos. She's recently lost her grandfather, and the preparations remind her of how much she misses him. It shows how celebrating this holiday can be a positive way to discuss death and dying and to honor those who've died.
Well, this one makes me cry, though it's also a sweet and endearing tale. It's about Conchita honoring her deceased twin sister Rosita on El Día de los Muertos. She makes a skeleton doll of her sister and prepares her favorite meal, all in the hopes of helping Rosita find her way back to visit on this special holiday. But Rosita's travels back to Conchita keep getting foiled! As Conchita adds more and more to Rosita's altar, the closer Rosita gets to reuniting with her sister. I'm going to cry every time I read this. It's completely bilingual.
The Dead Family Diaz By P.J. Bracegirdle, Illustrated By Poly Bernatene
The Dead Family Diaz takes place in the land of the dead, as a dead family prepares to visit the land of the living for El Día de los Muertos. All of the skeletons are excited except for Angelito, who is more than a little wary. He's scared of humans and their squishy hot bodies. I love how this inverts the story by having a skeleton scared of a human. It's a funny tale with fantastic illustrations and a smattering of Spanish.
Just a Minute isn't exactly an El Día de los Muertos story, but it is related and too funny not to include on this list. When Señor Calavera shows up at Grandma Beetle's door to escort her to the land of the dead, she convinces him to let her sweep. And then to boil some tea, and make some tortillas, and on and on and on until it's time to celebrate Grandma Beetle's birthday and all her grandchildren show up. At first a good sport, Señor Calavera gets increasingly frustrated as Grandma Beetle procrastinates. The numbers are in both English and Spanish, though the rest of the story is in English. This is a good way to teach children their Spanish numbers, and also make them laugh.
A skeleton introduces babies and toddlers to emotional expressions in this board book primer. Each emotion is listed in both English and Spanish, paired with a close up on a skeleton's face portraying the emotion. This is definitely my daughter's favorite book about emotions.
Día De Los Muertos By Roseanne Greenfield Thong, Illustrated By Carles Ballesteros
In rhyming English prose with highlights of Spanish, this colorful picture book shows a family preparing for El Día de los Muertos. A lot of books on this list show the preparations for this holiday. What makes this one special is the bright blue background color and the comical flatness to the character illustrations.
---
If you're looking for more, Book Riot also has several lists of bilingual Spanish/English children's books, as well as a guide to finding bilingual children's books.