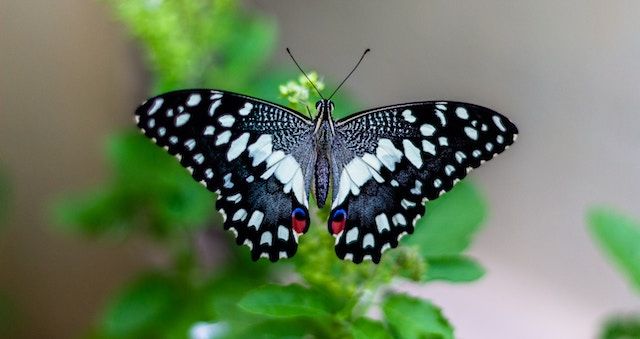 Children's
18 Whimsical Children's Books About Butterflies
This content contains affiliate links. When you buy through these links, we may earn an affiliate commission.
Butterflies are wonderful and magical creatures. You'd be hard pressed to find anyone who doesn't stop and smile at a butterfly when they flutter by. As such, it's not surprising that they are a constant theme in most children's books. If you're looking to add a touch of whimsy to your child's collection, consider some of the following children's books about butterflies.
Picture Books About Butterflies For Preschoolers
I love books like this since they are a wonderful fun way to introduce children to reading. They will be delighted as you slide and show the hidden pictures in the book as the characters search for Flutterby Butterfly.
This is another lift-the-flap surprise book. Kiddos will gleefully lift the flaps for butterfly to find the surprise that her mommy and daddy have left for her. They will also meet other springtime creatures hidden in the engaging illustrations throughout the book, and at the end will be rewarded with a beautiful rainbow along with their new butterfly friend.
Ten Magic Butterflies
by Danica McKellar (author) and Jennifer Bricking (illustrator)
The second in McKellar's Math line, this book uses butterflies, fairies, and flowers to help teach children about mathematics. Also full of beautiful illustrations, this is a way to help your child get ready for school and get them ahead of the curve with learning their numbers.
Senorita Mariposa
by Ben Gundersheimer (Mister G) (author) and Marcos Almada Rivero (illustrator)
This is one of the ones that uses rhymes and engaging illustrations to show the migration of monarch butterflies from Canada to Mexico. A book that combines learning, singing, and fun. That's a triple threat of awesomeness right there!
This is a wonderful and fun way to introduce your child to the world of butterflies and moths. This book helps to teach the difference between the two. It talks about the different types of butterflies one might find in their backyard. The embossed pictures are also a great tactile way for your toddler to learn as they touch and feel.
Children's Books About Butterflies
Velma is having a hard go at entering first grade, due to constantly getting compared to her older sisters. She feels overlooked by everyone. This all changes when, after a visit to the butterfly conservatory, a monarch chooses her finger to perch on for days. This is something that never happened to Velma's sister, and helps to ensure no one will ever forget her!
Apples and Butterflies
by Shauntay Grant (author) and Tamara Thiebaux-Heikalo (illustrator)
An illustrated exploration of Prince Edward Island in the fall, this picture book is sure to delight readers. Told in rhyme, this book is sure to delight young readers as they follow the narrator and her family through their getaway vacation and adventure.
La Mariposa
by Francisco Jimenez (author) and Simon Silva (illustrator)
This book follows Francisco, a young child who is struggling in school to understand a new language. An intolerant bully isn't making this adjustment any easier either. He tries to learn this new language on his own by memorizing the information in a book about the cycle of a butterfly. But he still struggles to understand what those words actually mean. This is a good story for introducing children about developing understanding and tolerance for others.
Butterfly Boy
by Virginia Kroll (author) and Gerardo Suzan (illustrator)
This story is about Emilio, a little boy who takes his wheelchair-using grandfather out each day to look at the butterflies. Even though his grandfather can no longer speak, Emilio knows the joy that they bring him. That is why, then the butterflies suddenly go away, he does his best to get them back for his grandfather. A story about the loving relationship between a boy and his grandfather, this one is sure to delight little and big book dragons alike.
A beautifully illustrated book about Kiri, a young girl who receives origami paper and an instruction book for her birthday. When she struggles with making a purple butterfly, she is at first angry and frustrated. As she begins to practice the craft a bit more, she is able to create more beautiful pieces. This ends up including a beautiful yellow butterfly.
After moving to a new city, a little girl becomes determined to revitalize the butterfly park there and bring the colorful creatures back. Soon her efforts are successful, resulting in the butterflies, as well as the little girl, being able to call this new location home.
The Butterfly Boy
by Laurence Yep
(author) and Jeanne M. Lee (illustrator)
A story that is inspired by the writing of Chinese philosopher Chuang Tzu, this book is about a boy who dreams of being a butterfly. But once he is a butterfly, he dreams he is a boy. This story is sure to delight since it features a little boy who doesn't care what others think about him and is happy the way he is.
Taking place in Mexico, the destination for migrating monarch butterflies, this story is about Isabel, a little girl who delights at this time of year. Then, after a particularly rough year though, it seems that this annual joy will soon be a thing of the past since the family may need to chop down the trees where the butterflies live for survival. Is this the end of Isabel's butterfly house? Or is there hope for the family and the butterflies?
Nonfiction Children's Books About Butterflies
This is an illustrated biography about Maria Merian, one of the first female entomologists. Children will learn all about this pioneering woman in this book. They will also have the experience of being able to review some of Merian's own paintings throughout the book.
This beginner reader is a must have for any budding scientist or butterfly aficionado. Not only does it detail the life cycle of the butterfly, but it also lists the different types so children know which ones they can look for when they're having a day out.
Another book that details the life cycle of the butterfly with the aid of collage style illustrations, this one is sure to delight and teach. Chock full of facts about the butterfly, this should field any and all questions your little one can come up with; at least with regards to butterflies! As an added bonus there are notes for teachers and parents to help promote further reading on the topic.
This is another National Geographic title that is perfect for ages 3 to 7. This book teaches about butterflies, including their importance to our environment and plant life, and about how they turn from caterpillars to beautiful butterflies.

Where Butterflies Grow
by Joanne Ryder (author) and Lynne Cherry (illustrator)
This book beautifully illustrates the cycle that takes a caterpillar to a butterfly. What makes it stands out is that it follows a black swallowtail butterfly rather than the traditional monarch. There are also suggestions for children to help them create their own butterfly garden.
---
Are there any that we missed? Let us know some of your favorite children's books about butterflies!