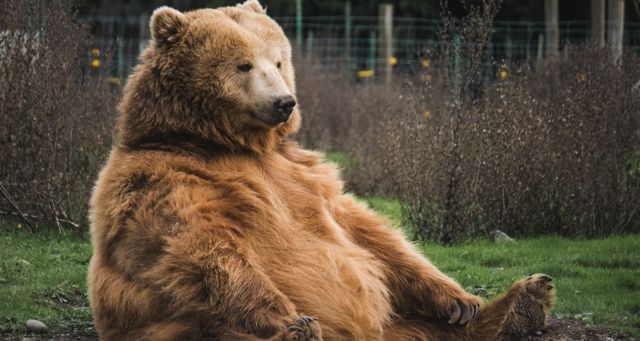 Children's
Exit, Pursued By A Bear: Children's Books about Bears
This content contains affiliate links. When you buy through these links, we may earn an affiliate commission.
As we head into hibernation season, it's a great time to introduce you to some children's books about bears. From Winnie-the-Pooh to Paddington, children's literature has always had a fascination with these fuzzy, growly animals. In real life, we do our best to avoid them, but many books show them as cute and cuddly and definitely, 100% not out to eat us.
I saw a real bear in the wild once, and I dealt with it better than expected – I marveled at its cuteness (I kept mumbling "That's a bear, right? A bear? It's so adorable! But, like a bear?") while my partner and I slowly backed out of the park. The bear itself was small and therefore not menacing, but it did devotedly follow us to the park's entrance. A valuable lesson was learned that day: if a park has literally plastered a massage board with Be Bear Alert posters and handouts, perhaps that is not a park to visit.
Here are 15 picture books about bears, you know, to prepare children for that future experience should it come to them. I mostly provided fiction but threw in a couple of nonfiction for further reading. If you want some general animal books, I have suggestions for those too.
Fiction Children's Books About Bears
Muffin the cat is protective of The Little Bear Bakery and does not mess around with suspicious noises. Muffin tries to figure out who is in the bakery and finds a hungry bear cub. It's real cute, friends. Sarcone-Roach's painting style is luminous, bright pinks and oranges under a darkness-inspired blue.
Bear's Book by Claire Freedman and Alison Friend
This is a beautifully illustrated story about friendship and creativity. Bear's favourite book falls apart and so he decides to write a book of stories to replace it. With help from his friends, eventually Bear is able to find inspiration in the forest.
This is a silly lift-the-flap book about Polar Bear's quest to find his underwear. Along with his friend Mouse, he tries to figure out where his underpants have gone! It's a funny, weird story that subverts expectations and will delight kids quite a bit.
A mother bear teaches her cubs about the interconnectedness of things, urging them to be thankful for the natural world's gifts. This book is in English and Dakelh, and Gauthier's art suits his story perfectly.
Lily loves to draw. One day, she draws a bear and suddenly her imagination soars with fun activities for her and her new friend to do together. The story does a great job of working in the concept that friendship is about love and kindness and, occasionally, compromise.
These curious cares range from realistic (gathering honey) to whimsical (mountain biking), as rhyming text unravels the story of a bear family throughout the seasons. The charming illustrations make this even cuter.
Bear likes to keep his home tidy, easy enough given that he only shares it with a stuffed friend named Ursa. Until…he spots a spider making a web. Bear tries to remove Spider and ends up injuring Ursa in the process, but then his new roommate helps to fix the damage. A very lovely story pairs well with Grant's always delightful illustrations.
I really dig these retro-style illustrations by Wass, which give blazing, hilarious energy to this story of a park ranger and a bear who battle over access to park visitor's food. This is Doherty's debut book, but I'm certain we will see more from her.
When Bear finds a chicken frozen in the snow, he brings it home for dinner. A defrosted chicken watches as Bear makes soup, and worries he is the final ingredient to be added. (He isn't.) A funny, gently suspenseful story about an adorably unlikely friendship.
Katakawa's book is inspired by a Japanese tale, traditionally shared through the oral storytelling tradition of rakugo. Mouse, Fox, Spider, and Snake all want to scare Bear; however, Bear is clever, and manages to outsmart them for his own yummy benefit.
Oh, this one has such gorgeous art. Once upon a time in the forest, Bear finds a discarded piano. He teaches himself to play and eventually becomes a huge star playing the stages of New York City. The problem is, though, that he misses home and his friends. The Bear, the Piano, the Dog, and the Fiddle (Lichfield's follow up to this) is equally delightful.
A little boy can't go to sleep because there is a bear already stretched out in his bed. Wan's signature art is always cute, and the story is a silly one that is sure to make adults and children smile. Overall, I'd say it is light on plot but heavy on entertainment.
This is a beautiful tale about embracing otherness, as Bear and Wolf meet in the winter woods and find common elements that bring them together. Not only is this a celebration of both nature and kindness, its watercolour illustrations are almost unbearably gorgeous. Definitely pick this one up.
Nonfiction Children's Books About Bears
This is a joke-filled information book about bears. It's a great one for reluctant readers, as it is in a comic book style that is easy to process and won't intimidate kids.
Springtime with the Polar Bears by Inhabit Education and Emma Pedersen
This book is in Inuktitut and English, produced by a Nunavut-based educational publishing company. A mother polar bear and her cubs come out of hibernation, and they are ready to play.
---
Enjoy these children's books about bears from the safe, warm comfort of your home and remember: bears are cute as hell in books (and, okay, real life), but if you are hiking in a nature-y place, stay bear aware.