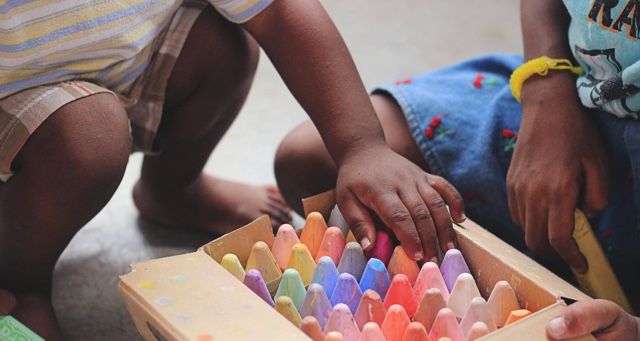 This content contains affiliate links. When you buy through these links, we may earn an affiliate commission.
Studies show that art and creativity are integral aspects of early childhood education and beyond, yet art programs are continuously cut in elementary schools. This makes reading books about art at home and at school even more important, so kids have the early exposure they need. And beyond development, art is just fun. The following list of children's books about art aren't instruction books, but rather art appreciation books to inspire children's imaginations and to show the value in art. Book Riot also has some suggestions for art instruction books.
Children's Books About Art
This board book features famous works of art for the smallest artists paired with simple text that defines love. Gozansky includes title and artist for each piece. Here are my daughter's favorite pages from the book. Also check out My Art Book of Sleep, in the same series, and My Art Book of Happiness will release in May 2020.
Art This Way By Tamara Shopsin And Jason Fulford (November 18, 2019)
This is an interactive board book with lift the flaps, foldout pages, cutouts, and more that help little fingers explore famous works of art.
My Forest Is Green By Darren Lebeuf, Illustrated By Ashley Barron
This book is great for children living in a city. A boy explores his nearby urban forest for art materials and creates beautiful collage pieces from what he finds. Children can do the same thing by exploring nearby parks or their backyards. I love the appreciation of both art and nature, and the illustrations are vibrant and green, as they should be!
I love it when illustrations for an artist's picture book biography emulate the same techniques as the artist, and that's the case here. Jean-Michel Basquiat is one of my favorite modern artists (he died in 1988). His art used everything available to create works that stretch the imagination and often comment on social issues. This picture book won a Coretta Scott King Award in 2017 and is a must-read children's biography.
The Iridescence Of Birds By Patricia Maclachlan, Illustrated By Hadley Hooper
"If you were a boy named Henri Matisse" this picture book begins, and then imagines how this boy became the famous artist. It's a simple, fast read that's full of colors and lovely illustrations, and shows the importance of having supportive parents and lots of color and creativity in a child's life.
Finally, there's an introduction to Bob Ross for young readers and artists! Peapod is a squirrel in need of a home. Luckily for Peapod, Bob is an artist with an empty canvas. With some paintbrush magic and happy little accidents, Bob Ross paints a home for Peapod.
This picture book is a joyous celebration of community and art. Mira is surrounded by gray gray gray. But when she and an artist begin to paint a colorful mural, the entire community shows up to help.
Julie Morstad is one of my favorite illustrators, and she always works on excellent projects, so when I first heard about this one, I knew I needed to pick it up. Gyo Fujikawa was a Japanese American illustrator famous for her more than fifty children's books featuring diverse characters in a time when children's books were predominately white. This picture book tells the story of how a little girl who couldn't stop drawing became that famous illustrator passionate about diversity. I owned several of her children's books growing up and didn't realize!
This is a gorgeous wordless picture book about a child's first visit to an art museum, and all the wonderful things he sees there. The boy interacts with the art and museum in unusual ways, showing that the interpretations of art can be just as creative as the art itself! Because there are no words, it works as a work of art itself, with the young reader left to interpret it however they please. I'm taking my soon-to-be 2-year-old to our local art museum soon for an Eric Carle exhibit, and this is the perfect book to read before and after.
Drawn Together By Minh Lê, Illustrated By Dan Santat
When a boy is dropped off at his grandfather's house for a visit, he feels disconnected. He and his grandfather don't share a language. That is, until the boy picks up a pencil and begins to draw. Together, the two realize that art transcends language barriers. This is a gorgeous picture book in every way.
---
You may also be interested in these bookish art posts: