This content contains affiliate links. When you buy through these links, we may earn an affiliate commission.
Fifteen years ago, I was taking my usual route to work – the A subway line from Dyckman Street to 4th Street, then the long walk across the city going along the bottom of Washington Square Park. As I crossed MacDougal Street, my eyes drifted toward other pedestrians, many who were standing at the corner of the street, their eyes focused somewhere in the distance. I followed their sight lines to a spot two miles away. There is a fiery hole in the middle of the North Tower of the World Trade Center.
As I watched and as more people gathered, a low roar of voices filled my ears. Did I see the plane? It crashed right into that tower! How could that have happened?
And we watched as the second plane hit the second tower, and the reality of what was happening became all too real. I raced to work, wanting to get answers and feeling scared and confused. After watching the news with my co-workers for half an hour, our boss sent us home. Subway service had been canceled for security reasons, so I joined the thousands of other New Yorkers that filled the streets heading uptown. Occasionally I found myself walking next to people covered in white dust. The only thing I could do was squeeze their hand or lay a hand on their shoulder and ask if they were okay. I got home around dusk – my apartment was thirteen miles away from work – my feet blistered and my soul broken.
Most of us over the age of twenty have our own 9/11 story. We remember where we were when the towers were hit. We remember watching the news. We have friends who worked in or near the towers or know of emergency responders who take those first calls. My husband, who I had yet to meet, was in the second tower and was evacuated once the first tower was hit. I will always be grateful for security personnel who made smart split-second decisions that resulted in so many saved lives.
As we approach the fifteenth anniversary of 9/11, I think of all the stories of people who lived through that day and the many days and months and years of recovery afterwards. I am grateful for all the people who have written down stories for us and for our children, continuing the healing and giving us a greater desire for a peaceful future.
Picture Books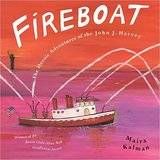 Fireboat: The Heroic Adventures of the John J. Harvey by Maira Kalman
The John J. Harvey fireboat was the largest, fastest, shiniest fireboat of its time, but by 1995, the city didn't need old fireboats anymore. So the Harvey retired, until a group of friends decided to save it from the scrap heap. Then, one sunny September day in 2001, something so horrible happened that the whole world shook. And a call came from the fire department, asking if the Harvey could battle the roaring flames. In this inspiring true story, Maira Kalman brings a New York City icon to life and proves that old heroes never die.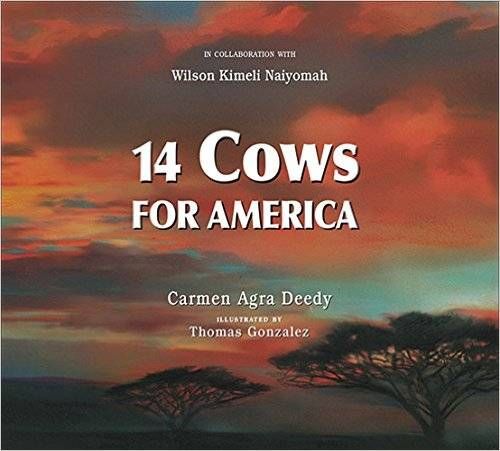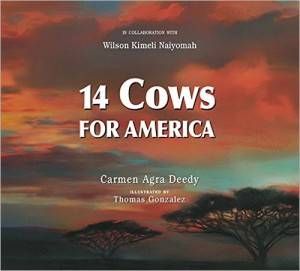 Fourteen Cows for America by Carmen Agra Deedy in collaboration with Wilson Kimeli Naiyomah
In June of 2002, a very unusual ceremony begins in a far-flung village in western Kenya. An American diplomat is surrounded by hundreds of Maasai people. A gift is about to be bestowed upon the American men, women, and children, and he is there to accept it. The gift is as unexpected as it is extraordinary.
A mere nine months have passed since the September 11 attacks, and hearts are raw. Tears flow freely from American and Maasai as these legendary warriors offer their gift to a grieving people half a world away.
Word of the gift will travel newswires around the globe. Many will be profoundly touched, but for Americans, this selfless gesture will have deeper meaning still. For a heartsick nation, the gift of fourteen cows emerges from the choking dust and darkness as a soft light of hope and friendship.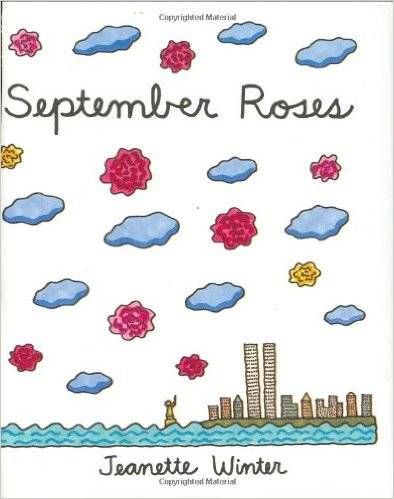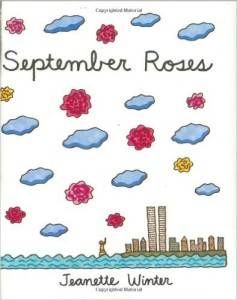 September Roses by Jeanette Winters
On September 11, 2001, two sisters from South Africa are flying to New York City with 2,400 roses to be displayed at a flower show. As their plane approaches the airport, a cloud of black smoke billows over the Manhattan skyline. When they land, they learn of the terrorist attack on the World Trade Center. All flights are canceled; the sisters cannot go home, and they are stranded with boxes and boxes of roses.
In the days that followed September 11, Jeanette Winter was drawn to Union Square and saw, among the hundreds of memorial offerings, twin towers made of roses. In the pages of this small and vibrant book, she tells a moving story.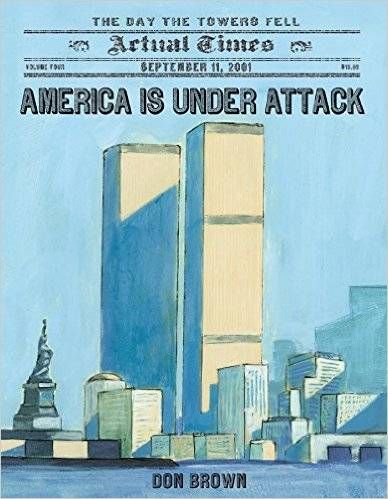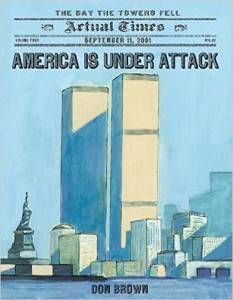 America is Under Attack by Don Brown
The events of September 11, 2001 changed the world forever. In the fourth installment of the Actual Times series, Don Brown narrates the events of the day in a way that is both accessible and understandable for young readers. Straightforward and honest, this account moves chronologically through the morning, from the terrorist plane hijackings to the crashes at the World Trade Center, the Pentagon, and Pennsylvania; from the rescue operations at the WTC site in New York City to the collapse of the buildings. Vivid watercolor illustrations capture the emotion and pathos of the tragedy making this an important book about an unforgettable day in American history.
Middle Grade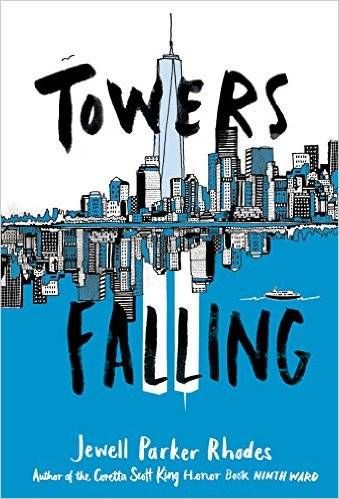 Towers Falling by Jewell Parker Rhodes
When her fifth-grade teacher hints that a series of lessons about home and community will culminate with one big answer about two tall towers once visible outside their classroom window, Deja can't help but feel confused. She sets off on a journey of discovery, with new friends Ben and Sabeen by her side. But just as she gets closer to answering big questions about who she is, what America means, and how communities can grow (and heal), she uncovers new questions, too. Like, why does Pop get so angry when she brings up anything about the towers?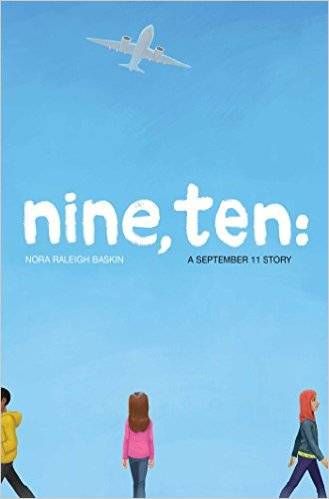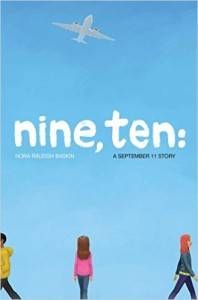 Nine, Ten: A September 11 Story by Nora Raleigh Baskin
Ask anyone: September 11, 2001, was serene and lovely, a perfect day—until a plane struck the World Trade Center.
But right now it is a few days earlier, and four kids in different parts of the country are going about their lives. Sergio, who lives in Brooklyn, is struggling to come to terms with the absentee father he hates and the grandmother he loves. Will's father is gone, too, killed in a car accident that has left the family reeling. Naheed has never before felt uncomfortable about being Muslim, but at her new school she's getting funny looks because of the head scarf she wears. Aimee is starting a new school in a new city and missing her mom, who has to fly to New York on business.
These four don't know one another, but their lives are about to intersect in ways they never could have imagined.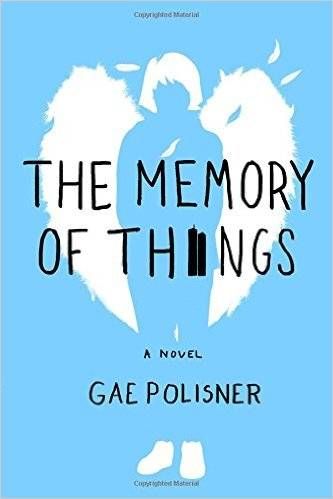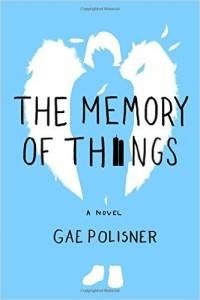 The Memory of Things: A Novel by Gae Polisner (September 6, 2016, St. Martin's Griffin)
On the morning of September 11, 2001, sixteen-year-old Kyle Donohue watches the first twin tower come down from the window of Stuyvesant High School. Moments later, terrified and fleeing home to safety across the Brooklyn Bridge, he stumbles across a girl perched in the shadows, covered in ash, and wearing a pair of costume wings. With his mother and sister in California and unable to reach his father, a NYC detective likely on his way to the disaster, Kyle makes the split-second decision to bring the girl home. What follows is their story, told in alternating points of view, as Kyle tries to unravel the mystery of the girl so he can return her to her family. But what if the girl has forgotten everything, even her own name? And what if the more Kyle gets to know her, the less he wants her to go home? The Memory of Things tells a stunning story of friendship and first love and of carrying on with our day-to-day living in the midst of world-changing tragedy and unforgettable pain―it tells a story of hope.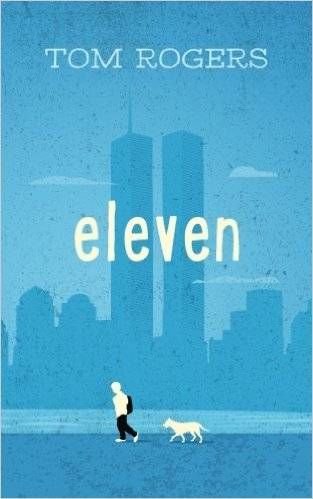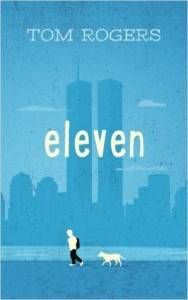 Eleven by Tom Rogers
Alex Douglas always wanted to be a hero. But nothing heroic ever happened to Alex. Nothing, that is, until his eleventh birthday. When Alex rescues a stray dog as a birthday gift to himself, he doesn't think his life can get much better. Radar, his new dog, pretty much feels the same way. But this day has bigger things in store for both of them.
This is a story about bullies and heroes. About tragedy and hope. About enemies with two legs and friends with four, and pesky little sisters and cranky old men, and an unexpected lesson in kindness delivered with a slice of pizza. This is Eleven: the journey of a boy turning eleven on 9/11.