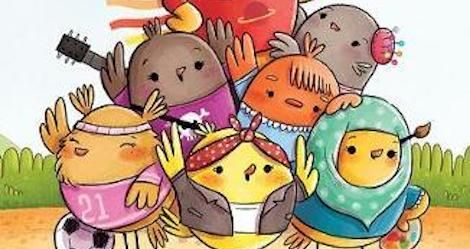 Children's
Children and Chicks Rule This Children's Book Week!
This content contains affiliate links. When you buy through these links, we may earn an affiliate commission.
To celebrate Children's Book Week, which is from April 29th to May 5th, I read a children's book that's been on my TBR for awhile: Chicks Rule! Written by Sudipta Bardhan-Quallen and illustrated by Renee Kurilla, Chicks Rule! Is a fun book aimed at kids aged 4-8, with a simple yet universal message that will also appeal to adults.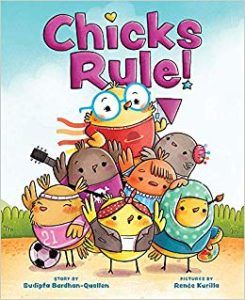 I want to publish a children's book, but I don't read enough of them. Chicks Rule! was one of the few that interested me enough to read the whole thing. First, I've seen many children's books that feature a girl in a hijab on the cover, but Chicks Rule! was the first I've seen with an animal! Second, I was intrigued by the clever title (I'm a sucker for puns), and then once I read it I appreciated the empowering message.
Regardless of the story and illustrations, when a book has a meaningful, trending theme, it resonates with everyone. Everyone can relate to Chicks Rule! because it deals with a topic that both kids and adults are exploring these days: gender inclusivity. I read to my 2- year- old nephew and help my 7- year- old niece choose books, and Chicks Rule! is exactly the type I would get them. In fact, both of them could relate to it.
Besides the adorable illustrations, Chicks Rule! has a powerful theme: girls (chicks) can be, and are, whatever they want to be, no matter what others say. My favorite examples in the book include 'Nerdy Chick' and 'Wordy Chick.' Most importantly, the girls succeed when they support one another and work together. Each chick has her own individual interests, but she is able to get together with the other chicks to support theirs. Their interests can be diverse, but every activity should be inclusive. They engage in science, soccer and coding, among others. When faced with sexism and discrimination, the chicks turn toward one another to achieve their goals. Specifically, in the book they engage in rocket building. The story is told in an uplifting, energetic tone that can only excite and motivate young readers.
Chicks Rule! is the best book to celebrate Children's Book Week. Since it promotes female education, Chicks Rule! fits in perfectly with this year's Children's Book Week theme: 'Read Now-Read Forever.' Children's Book Week is celebrating its 100th anniversary this year, in fact it is the longest-running national literacy initiative in the country. Children's Book Week offers events across the country, which you can search for on their website under 'Event Locations'. If you can't make it to any events, you can download their many free activities under 'Fun Stuff,' including this year's poster, bookmarks, and activity sheets. I recommend 'CREATOR CORNER,' award-winning KidLit TV's new online activity, which features authors and illustrators talking about their latest characters. I actually found out about Children's Book Week from KidLit TV's tweet.
If you're looking for Chicks Rule! activities, like me, you'll find them here. I just can't get enough of the adorable chicks, namely the hijabi. Thankfully she is featured on the activity pages, and you can even make a finger puppet of her.
For her part, prolific Chicks Rule! author Sudipta Bardhan-Quallen has a number of free downloads on her webpage as well, such as bookmarks, teachers guides, and event kits. (Chicks Rule! is not on her webpage yet, but she does have another unrelated book called Chicks Run Wild.)
If you know of other children's books that feature hijab'ed animals, let me know in the comments below. I obviously need to peruse more children's literature, and this is the perfect week to do it!