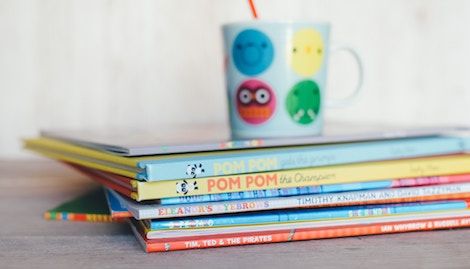 Children's
38 Children's Book Gift Ideas For Clueless Grown-Ups
This content contains affiliate links. When you buy through these links, we may earn an affiliate commission.
Even the most confident adult can become paralyzed with terror when it comes to children's book gift ideas. Whether you're going to a baby shower, a child's birthday party, or preparing for holiday gifting season—we're here for you. One challenge is that many recipients likely already own copies of well-loved classics like Love You Forever, Goodnight Moon, and The Velveteen Rabbit…leaving well-intentioned adults in search of something different, something a bit less well-known.
The picture books on this list are ones well on their way to becoming new classics and would each make a great children's book gift. Each combines an engaging, often hilarious and sweet story with gorgeous illustrations.
All the World by Liz Garton Scanlon, illustrated by Marla Frazee
This book affirms the importance of all things great and small in our world, from the tiniest shell on the beach, to warm family connections, to the widest sunset sky.
What's in a name? For one little girl, her very long name tells the vibrant story of where she came from—and who she may one day be.
This true (clever) story about the (misunderstood) Blobfish is sure to make you smile. Full of fun facts about sea creatures in the deepest reaches of the ocean, this book is perfect for any science lover.
With buoyant rhymes and brilliantly caricatured illustrations evoking the early nineteenth century, Chris Van Dusen presents a hugely entertaining tale about the bonds of community—and a rare hidden-pictures spread for eagle-eyed readers of all ages.
But Farmer Brown's problems REALLY begin when his cows start leaving him notes…Join the fun as a bunch of literate cows turn Farmer Brown's farm upside down!
Poor Duncan just wants to color. But when he opens his box of crayons, he finds only letters, all saying the same thing: We quit! A playful story that will have children laughing and playing with their crayons in a whole new way.
As the sun sets behind the big construction site, all the hardworking trucks get ready to say goodnight.
Gorilla Loves Vanilla by Chae Strathie, illustrated by Nicola O'Byrne
This delightfully wacky book will have kids howling with laughter and asking for more, more, more of this deliciously funny story.
If I Had A Gryphon by Vikki VanSickle, illustrated by Cale Atkinson
Sam is bored by her new pet hamster. After reading a book about mythological creatures, Sam gets some ideas for more exciting pets. But taking care of magical beasts might not be as wonderful as she thought…
Iggy Peck, Architect by Andrea Beaty, illustrated by David Roberts
With Andrea Beaty's irresistible rhyming text and David Roberts's puckish illustrations, this book will charm creative kids everywhere, and amuse their sometimes bewildered parents.
A favorite joke inspires this charming tale, in which a little chicken's habit of interrupting bedtime stories is gleefully turned on its head.
With a little help from her fairy godrobot, Cinderella is going to the ball—but when the prince's ship has mechanical trouble, someone will have to zoom to the rescue!
The bear's hat is gone, and he wants it back. Patiently and politely, he asks the animals he comes across, one by one, whether they have seen it. This delicious take on the classic repetitive tale plays out in sly illustrations laced with visual humor—and winks at the reader with a wry irreverence that will have kids of all ages thrilled to be in on the joke.
Jack's Granny is sick, and the only cure is the fruit of the fantastic flumflum tree which grows on the faraway Isle of Blowyernose. It's a perilous journey, but Jack bravely sets sail, with a motley crew of only three.
You've played the game. Now read the legend of how it all began! ROCK, PAPER, and SCISSORS were the strongest, smartest, and fastest in all the land. When the warriors meet, the most epic round of battles begins…and never ends.
Little Blue Truck by Alice Schertle, illustrated by Jill McElmurry
Filled with truck sounds and animals noises, here is a rollicking homage to the power of friendship and the rewards of helping others.
From a debut author-illustrator! What if a little owl fell from his nest? A reassuring story for the very young told with whimsy and simple, vibrant artwork.
In this infectious rhyming read-aloud, Baby Llama turns bedtime into an all-out llama drama! Children will relate to Baby Llama's need for comfort, as much as parents will appreciate Mama Llama's reassuring message.
Monkey Puzzle by Julia Donaldson, illustrated by Axel Scheffler
When little monkey can't find his mother, butterfly offers to help in the search. With Julia Donaldson's effortless rhyme and Axel Scheffler's vibrant illustrations, this circular tale combines funny miscommunication with a little bit of science for a charming feel-good adventure.
Bruce the bear likes to keep to himself. Until a gaggle of goslings become convinced he's their mother. What's a bear to do?
Bold, hilarious artwork captures the innocent charm of affable George, a dog who is trying to be good—with disastrous results.
Petra by Marianna Coppo
The humorous adventures of an irresistible little rock who finds herself in constantly changing circumstances, Petra is a picture book that celebrates the power of perspective and believing in yourself.
Pizza for Pirates by Adam & Charlotte Guillain, illustrated by Lee Wildish
George, a young explorer, longs to meet a real pirate crew. So he sets sail with a cheesy treat to sustain him on his voyage. Join George on his travels as he finds scurrilous sea dogs and marine monsters—not to mention a feathered friend!
The Pout-Pout Fish by Deborah Diesen, illustrated by Dan Hanna
Bright ocean colors and playful rhyme come together in this fun fish story that's sure to turn even the poutiest of frowns upside down.
Princess Pinecone knows exactly what she wants for her birthday this year: a BIG, STRONG horse fit for a WARRIOR PRINCESS! But she doesn't quite get the horse of her dreams…
Every preschooler who is mad for machines will revel in this bright, boisterous picture book about the exciting process of building a road.
Little wombat spends a day doing favorite things—what could they be? Are they your favorites, too? Let's look and see! This is a sweet-spirited bedtime story to ease young ones to sleep.
Stuck by Oliver Jeffers
When Floyd's kite gets stuck in a tree, he's determined to get it out. But how? Well, by knocking it down with his shoe, of course. But strangely enough, it too gets stuck. Surely there must be something he can use to get his kite unstuck. An orangutan? A boat? His front door? Yes, yes, and yes. And that's only the beginning.
Poor Mouse! A bear has settled in his favorite chair, and that chair just isn't big enough for two. Mouse tries all kinds of tactics to move pesky Bear, but nothing works. Once Mouse has gone, Bear gets up and walks home. But what's that? Is that a mouse in Bear's house?
This beautiful book follows a young girl as she contemplates colours in the known and the unknown, in the immediate world and the world beyond what she can see.
This Is a Taco! by Andrew Cangelose, illustrated by Josh Shipley
This hilarious send-up of a children's nature primer teaches kids that the most important story is the one you write yourself.
This Is Sadie by Sara O'Leary, illustrated by Julie Morstad
Sadie is a little girl with a big imagination. She likes to make things—boats out of boxes and castles out of cushions. But more than anything Sadie likes stories, because you can make them from nothing at all. For Sadie, the world is so full of wonderful possibilities…This is Sadie, and this is her story.
Tyrannosaurus Wrecks! by Sudipta Bardhan-Quallen, illustrated by Zachariah Ohora
In this read-along picture book, a classroom full of young dinosaurs plays with toys, does art projects, and reads books. But each activity is another opportunity for the over-enthusiastic Tyrannosaurus Rex to wreak havoc.
When four friends encounter a cranky bear, Moose, Lion and Zebra all think they know how to cheer him up. But it is plain, boring Sheep who has the answer.
Violet and Victor are twins on a mission: to write the best book in the whole, entire world!
This wordless picture book tells the story of a young girl whose family moves into a new house. Outside, she can hear other kids playing, but she's too shy to say hello. So she picks at the old wallpaper in her room—revealing an entryway to a fantastic imaginary adventure world behind the walls.
Here is the blue sheep, and here is the red sheep. Here is the bath sheep, and here is the bed sheep. But where is the green sheep? This is a wildly wonderful adventure in search of the elusive green sheep.
Yak and Dove are best friends…and complete opposites. One day as Yak and Dove list their differences they come to the conclusion that maybe they aren't meant to be friends. So Yak decides to hold auditions for a new best friend.