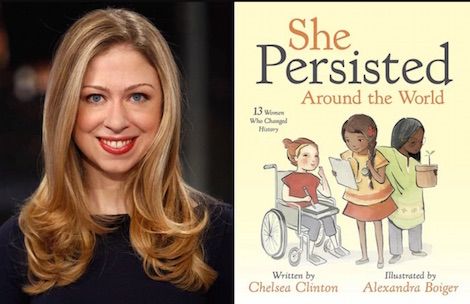 Chelsea Clinton Reveals Her All-Time Favorite Books: Critical Linking, March 18, 2018
Critical Linking is sponsored by Force of Nature by Jane Harper from Flatiron Books
____________________
Chelsea Clinton is back with She Persisted Around the World, a sequel to her best-selling children's book She Persisted, which celebrates the accomplishments of women across the globe, throughout history. In honor of the book's publication, the author answered EW's questions about the books that have meant the most to her in her life — as well as a few other topics, such as her literary hero and her literary crush. (Hint: He's none too saintly.)
I love seeing what books influenced influential people.
____________________
So far, the project has been a resounding success. Each day, dozens of children, some as young as four, rush to their bus as it parks in various neighborhoods across West Kabul for two hours a week.
The bus has even found regulars, like a precocious young boy who refers to himself as Tarzan.
"He asked us for a book about the king of the jungle, we didn't have it, so we gave him a similar story, but within minutes he saw through it and demanded the actual book," said Mohammad Shaheer Qateh, a university student who was one of the founding members of the project.
Hope where so often there is little.
____________________
Still, crime and mystery writers have long excelled at (and taken pride in) telling stories within tight confines. These books come in all varieties and inclinations. Some rely on dense atmospherics; others lean on taut dialogue and swift action; then there are the effervescent tales where the prose lacks all spareness and lights up like a roman candle, then quickly snuffs out the flame. Whatever the modus operandi, fine crime writing can hit you hard and quick and leave a mark.
To celebrate the art of brevity, we've rounded up a list of 25 compact crime and mystery reads—noirs you can (and mostly likely will) read in the course of an afternoon (or an evening, or even a morning, whatever time suits you). Don't let the page count belie the ambition or the achievement. These are books of impact, import, and verve. Happy reading.
Maybe some of these can fulfill a Read Harder task of two?