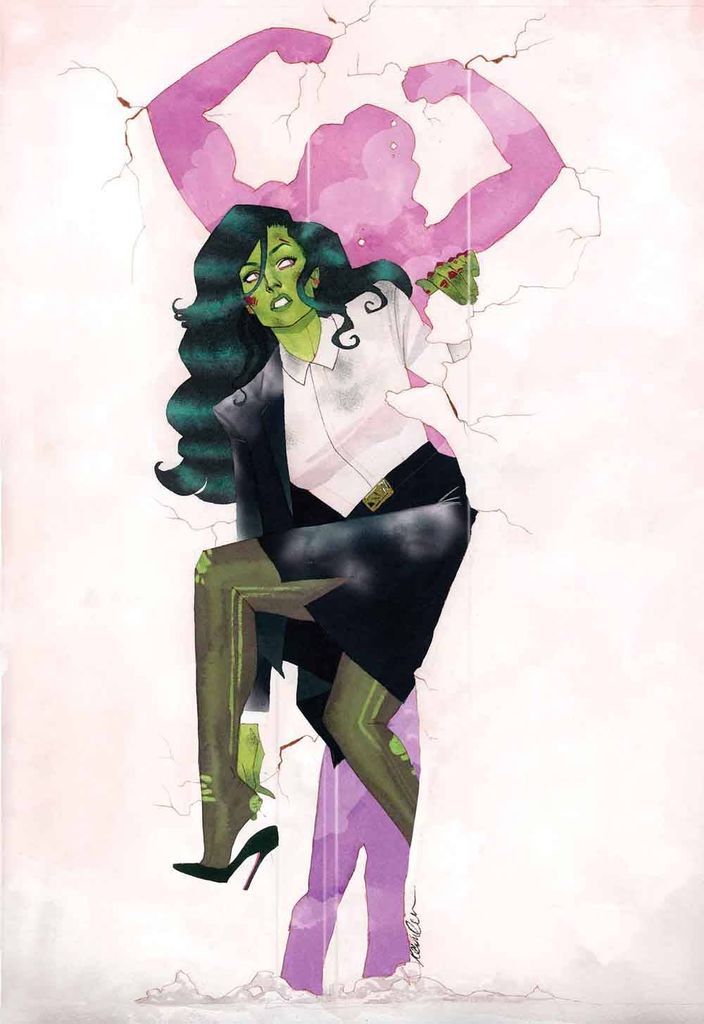 Last month, we got news of two different Marvel projects set in ye olde times: 1872, which takes place in the Wild West, and 1602: Witch Hunter Angela, which takes place just after the murder of Queen Elizabeth I. Why stop there? What other Marvel heroes should we send off through time in a phone booth (without, sadly, time travel tour guide George Carlin)?
Agent Melinda May, S.H.I.E.L.D. — Revolutionary War
Agent May travels back to the 1770s and we find out the answer to a 200+ year old mystery: Who was Agent 355? You know May could sell water to a well; winning General Washington's trust would be a walk in the park.
Tony Stark — The Roaring '20s
Tony Stark is all about that glitz and glamour. He'd be right at home at a Gatsby affair, if he weren't caught up in trying to throw an even bigger, better, and more outlandish party.
Nick Fury, Maria Hill, Phil Coulson — The Great Depression
You know what it takes to build a dam? Bureaucracy. S.H.I.E.L.D.'s got that in spades. These three would be working behind the scenes to push through New Deal legislation and keep the wheels of the WPA greased.
Jennifer Walters, She-Hulk — Women's Suffrage Movement
Every good political movement, while it may start on the streets, ends up in the courtroom or on the Senate floor. Jennifer Walters is the Wendy Davis of the Marvel universe–badass and stylish–who could use her brawn to fight for equality, but would use her brain instead.
The Guardians of the Galaxy — Roswell UFO Incident
1947, Roswell, New Mexico. Just what…or who…crashed to Earth that summer? Unearthly hot, angsty teenagers or ragtag group of space bandits? The Guardians are all about the prison break so busting out of a 1940s American military facility should be a hilarious walk in the park. But not before Rocket makes waves by insisting to their captors that he knows Captain America.
Sam Wilson, Falcon — Civil Rights Movement
As demonstrated in Captain America: The Winter Soldier, Sam understands that in a democracy, patriotism means challenging your country to be better.
Dr. Strange — Woodstock
Like, totally psychedelic, man.
The Young Avengers — The '80s
The Young Avengers–a brain (Loki), and an athlete (Teddy), and a basketcase (Billy), a princess (Kate), and a criminal (Tommy)–are stuck in detention, along with loner Miss America Chavez. Their beleaguered principal? Clint Barton. Stick with creative team Kieron Gillen and Jamie McKelvie, but have Matt Fraction and Chip Zdarsky guest on the "We Are Not Alone" dance scene, as we've already seen their choreography bonafides in Sex Criminals.
Cindy Moon, Silk — The Future
For Cindy, the present practically is the future, since she's spent the last ten years in a bunker, so we already know she can roll with whatever punches the future may have in store.
Tell us: Which Marvel characters would you send back in time?
____________________
Follow us on Facebook for more comics fun.