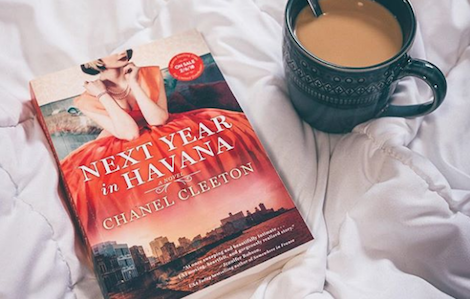 Fiction
A Love Letter to Chanel Cleeton's NEXT YEAR IN HAVANA
This content contains affiliate links. When you buy through these links, we may earn an affiliate commission.
To the book of my soul,
When I first read Next Year in Havana by Chanel Cleeton, I was breathless. From page one, I was awash with an overwhelming emotion that warmed my heart and sent chills down my spine. This was the first novel that captured my soul and finally made me feel seen in ways that I've only dreamed of. Next Year in Havana changed me, as a Cuban reader, and shined a light on my culture and history in a way that I've never expected to experience.
My life as a reader has been an endless journey to find a novel that I could connect with on all levels. I had never read about a character who was Cuban American, someone who shared the same culture, interests, and passions as me. I never had a story that represented my struggle between not feeling both American or Cuban enough, something I never speak of often to others. That was until I read Next Year in Havana.
This novel follows the lives of two Cuban woman. Elisa is living during the 1950s in Cuba which is on the brink of a life-changing revolution. There she falls for a Cuban rebel and is forced to hide her greatest love from her family. The second point of view follows Elisa's granddaughter, Marisol, who is a Cuban American journalist traveling to Cuba for the first time after her Elisa's passing. She is tasked with the job of spreading her grandmother's ashes somewhere on Cuban soil and is finally able to see her family's country for the first time.
Next Year in Havana showcased what I've always wanted to see, as a reader: what it means to be Cuban, whether you're born on the island or not. Marisol struggles with her identity as a Cuban American while Elisa grapples with leaving her homeland and never turning back. Both of these issues are what Cubans face, today, and struck home to me. This was one of the few times I saw the complexities of being Cuban shown in a raw and nuanced way. It made my heart race to see how different both of these women's lives are while also capturing the essence of what it means to be Cuban, no matter the time period.
Both Cuban history and its politics are shown throughout both Elisa and Marisol's point of view and spoke to me because I had never seen our complexities laid out in a story for others to see and understand. Cleeton showcased the mixed feelings Cubans have towards their government while also highlighting the beauty and heart of both Cuba and our people.
To be Cuban is to be political, to be proud, to be resilient, to persevere, to see the light in the darkness, to hold your head up high while facing troubling times, to stand hand in hand with your community, to make the best of the situation you're in, to be embrace your history and culture, and to never back down. And finally I have stumbled upon the novel that encompasses all my feelings about being a proud a Cuban woman and the diaspora that comes along with living in a country that your family immigrated to while never seeing the island you've only dreamed of one day exploring.
Next Year in Havana tells the story of my family living in Cuba, of them having to leave their livelihood, their dreams, and their relatives behind. This also tells the story of a Cuban American woman immersing herself in her culture and family history while seeing the different sides of Cuban life, on the island. This is the story I've been waiting for all my life.
While not everyone may connect to this story on the level I did, I'm glad that so many readers are picking it up. Nothing makes me happier than seeing others trying out this novel and falling in love with the story, the characters, and the history woven in between. It's time for a piece of Cuban culture to be shared with the world in a stunning historical fiction story. It's time for Cuban readers to see themselves reflected in the books they pick up.
This novel was one of the few that left caused me to highlight nearly every line I read. Tears welled in my eyes when I closed this book and realized that I finally, finally had a piece of my identity reflected in such a moving story. My culture, history, and politics were finally spoken about in a story full of love, rebellion, danger, and a raw, unabashed love for Cuba. It made me proud to have Cuban roots and made me ache to see my family's homeland that I've never visited before.
This novel is what reading is all about. This is why I read.
Thank you, Chanel Cleeton, for telling the story I've been searching far and wide for.
Thank you for Next Year in Havana.
Sincerely,
A Cuban reader who finally feels seen.