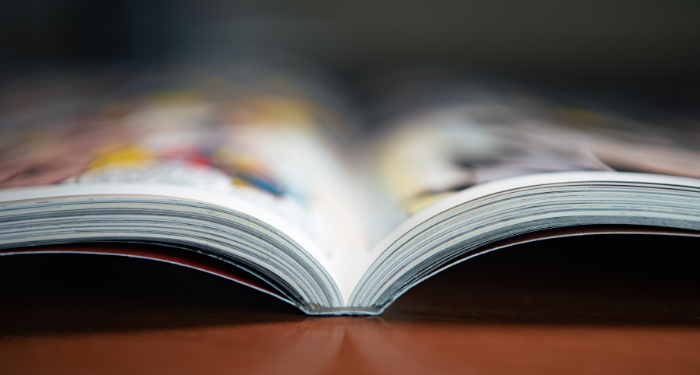 Children's
When Championing Graphic Novels, Is It Possible To Go Too Far?
I remember where I was when the panic hit me. I was shelving in my elementary library, struggling under the weight of a large stack of graphic novels that I hand-carried over to their section. Graphic novels don't have a place in my unofficial book truck sorting system, not because they're underrepresented, but because so many of them are returned each day that it's easier to get them immediately back on the shelf. There are often as many graphic novels in the book drop as all the other types of books combined. As I started automatically slipping the books into their neatly ordered spots, I realized I had almost every title in our impressive section memorized. My pride sort of curdled as I further realized that I couldn't claim the same for our chapter book section. It could have been a passing thought, but it stuck, and it twisted, and then my mind took a leap. My hand trembled as I added a tattered Baby-Sitters Club graphic novel to a bursting book basket. Were the graphic novel doubters right?
When I inherited my school library in the fall of 2017, graphic novels still lived in the Dewey section, tucked neatly in numerical order. Students knew that "those cool books with comics" were labeled 741.5, and they flocked to that shelf to fight over the handful of graphic novels available. New to the job and desperately hoping to get students excited about reading, I thrilled in searching out new graphic novels and growing our section. I ordered bright rad GRAPHIC NOVEL spine stickers and cleared a shelf near the fiction section to give the illustrated wonders more space to breathe. The book industry was on my side, printing new graphic novels by the dozens, and then hundreds. Remakes of popular middle grade titles were rampant, but original series, quirky characters, and video game spinoffs were available, too. Students were enamored, and so was I.
There were the occasional parents or classroom teachers who forbade students from checking out graphic novels, and I approached the ignorance with enthusiasm and vigor. "Oh, you don't need to worry! It's exactly the same as reading a book with no images, except some students are more likely to pick these up! Graphic novels are so important for students. The library promotes pleasure reading, and letting students make their own choices about what they read is one of our values. I'm so glad you understand!" The argument never got entirely heated, and even if not every adult was sold, my students knew that reading is reading, and graphic novels are "real" books.
Fast forward six years later, and I'm standing in front of a large shelf structure full of engaging graphic novels. It is by far the most visited section. It is one of the only things I am completely responsible for bringing to our library. It's my pride and joy. But as I realized how comfortable and secure and strong I was recommending and graphic novels, I felt the chapter book section looming behind me. When was the last time I had pressed an image-less middle grade novel in a 4th grader's hand? The question was uncomfortable. Just a glance at my book trucks showed me that I wasn't replacing as many chapter books on the shelves. Even my "Mrs. Swicker's Current Read" display had been full of graphic novel titles for the past several months.
Voices of parents and teachers from the past came flooding back at that moment. I thought about the differences I had noticed in my older students' reading stamina and the ways that I had to "sell" quiet reading time to reluctant kids. What if They (the named and anonymous Graphic Novel Doubters) were right? What if my push to get graphic novels in students' hands had robbed my kids of imagination, ability, and interest? What if I was the problem? What if it was too late?
I think anyone who works with children has these crises of confidence occasionally. Pedagogy and popular practice are always changing, and anyone who cares is always going to be wondering if they could have done better. This moment overtook me, but don't fear. I did not trash the graphic novels and arrange an academically rigorous display. I took a deep breath and thought it through.
Was it true that stamina had decreased recently? Yes. But this was something happening across the board to students who had missed several years of in-person school due to COVID and safety measures. Had it been awhile since I had recommended a middle grade novel to students? Yes. But that spoke more to my reader's advisory skills than students suffering from graphic novel poisoning. Kids were still reading novels! Diary of a Wimpy Kid and fantasy series were flying off the shelves. Before I roped off the graphic novels, I vowed to spend some time ordering and book talking the things I thought my students might like.
Working in a school library is always a balance, and being in education, in general, is a practice of testing new trends while preserving things that you know have worked in the past. Did I go too far in insisting that students be allowed to choose graphic novels? No. Graphic novels are important books that open doors for many students and increase the ability to read for pleasure across the board. The only thing I intend to shift is the way I book talk, order, and plan. No matter what is popular in the world of libraries, my goal remains the same: to present students with multiple opportunities to choose books and help them find the ones they need.