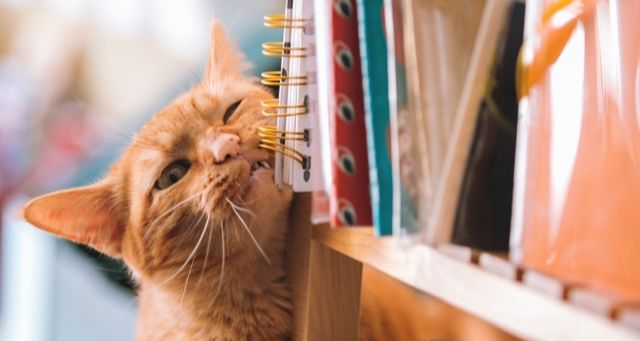 Lists
Curl Up With These Cozy Cat Mystery Books
This content contains affiliate links. When you buy through these links, we may earn an affiliate commission.
There has always been an interesting overlap with cozy mysteries and cats. Some might argue this started way back in the sixties with Lilian Jackson Braun's The Cat Who… series and the trend of cat mystery books has continued on. There are numerous options for these types of mysteries and characters which feature bookstore owners, pet sitters, and in some cases ones where the cat themselves as the detective. With there being such a wide pool, you're sure to find one that suits your liking. If you're looking for a place to jump off from, you might want to check out some of these cat mystery books for your winter reading!
Disclaimer: There are tons of mysteries, cozies or otherwise, written by authors of color; however, there is a noticeable dearth in ones which feature cats as part of the cast. As such this list unfortunately will not be as diverse as we would otherwise prefer them to be.
This series is cheekily touted as being co-written with her cat Sneaky Pie. It features 'Harry' Haristeen, her husband Fair, and their menagerie of four-legged creatures. This story opens up with the pair finding a tree they hoped to deck the halls with. Unfortunately, it came pre-decorated with a dead body. When more prominent men start getting bumped off, Harry enlists the help of her furry friends to figure out who the murderer is, before they decide to make this her last Christmas.
This series features Kathleen Paulson and her magical cats Owen and Hercules. This 'tail' begins during a fundraiser event for the library that Kathleen works for. During the gala to raise money for the Reading Buddies program, a guest drops dead. The victim turns out to be a woman with numerous hidden connections to different people in the town. It's up to Kathleen, boyfriend Marcus, and her unique cats to find out who the culprit really is.
This series is one that features a cat as the detective in the form of Joe Grey. In this 16th appearance of the sleuthing kitty, Joe, fellow feline friends Kit and Dulcie, and a lonely prison cat set out to solve a Christmas murder in Molena point. Don't let the fact that a cat is the detective here deter you though as this book includes a delightful twist. Perfect for fans of the aforementioned Rita Mae Brown and Lilian Jackson Braun!
Another long-running cat mystery books series featuring plus-sized former cop turned PI Savannah Reid and her two black cats Cleopatra and Diamante. With the 90 degree California weather, Savannah is finding it difficult to get into the holiday spirit. A rapist who has donned the outfit of jolly old Santa Claus to do his crimes is also a factor to her Scrooginess. This leads to her landing a full-time job teaching self-defense to the women of her small town and eventually a bodyguard for the daughter of her former boss when the crime turns to cop killing. Savannah has to work overtime to ensure that everyone, except for the criminal, can enjoy some happy holidays.
Charlie Harris and Diesel, his Maine Coon, are our detectives for this series. Also taking place around the Christmas holiday, Charlie is busy preparing for his first one as a grandfather. He is also avoiding interactions with his neighbor and overly aggressive real estate agent. That plus the sudden arrival of five kittens set this up to be a very challenging Christmas. When his neighbor winds up dead, it only adds to the chaos. It's up to Charlie and his girlfriend having to wrap up this mystery before their holidays are ruined.
Book 10 in this series starring Gemma Rose finds the heroine snowed in for a white Christmas at a country Manor. Things become a bit less festive when a body turns up in the library with a house full of suspects. It's up the Gemma, the Old Biddies, and her tabby cat Muesli to find out who the killer is, to save the holiday so a festive time can still be had by all.
This series includes mystery writer Sophie Katz and her cat Mr. Katz. The holiday novella acts as an 'in-between' for the other novels.This story opens up with Leah, the sister of Sophie, being hired to organize a Swan Lake flash mob. That screeches to a halt when the prima ballerina turns up dead and an engagement ring goes missing. It's up to Sophie and Leah to who the real killer is before they wind up in jail, or worse, dead.
This series centers around freelance author Jaine Austen and her cat Prozac. Jaine has landed a new gig writing brochures for the local matchmaker, leaving her excited for a chance at playing Cupid. To her chagrin, it turns out to be a bit of hell on earth when her new boss turns out to be a tyrant. In a turn of events surprised nobody, she ends up dead at the local Valentine's Day mixer. Jaine makes it her task to find out who killed her new boss, even as the pool of suspects proves to be endless.
This series stars Darcy Sweet, her psychic cat Smudge, and the ghost of her great-aunt Millie. These are all short, quick novellas that center around the happenings of Darcy and crew at her bookstore. Centered around the titular holiday where Darcy figures her biggest challenge will be what to get her boyfriend for the romantic holiday. Then her brother-in-law goes missing, and the family fears the worst as they all rush to find him before it's too late.
This is the first in a series starring Lacy Marie Crocker, owner of the Furry Godmother, a pet boutique and organic treat bakery. Her grand opening comes to a screeching halt when someone is found murdered with one her glitter glue guns. This, of course, makes her the prime suspect. Then a string of jewel heists also breaks out. Lacy decides to find out what really happened that night to save her dream from becoming 'defurred'.
---
And there you have it! Hopefully one of these cat mystery books catch your interest for a 'purr'fect reading session with a warm blanket and warm beverage.
Pardon the cat puns. I just couldn't help myself.